Press Release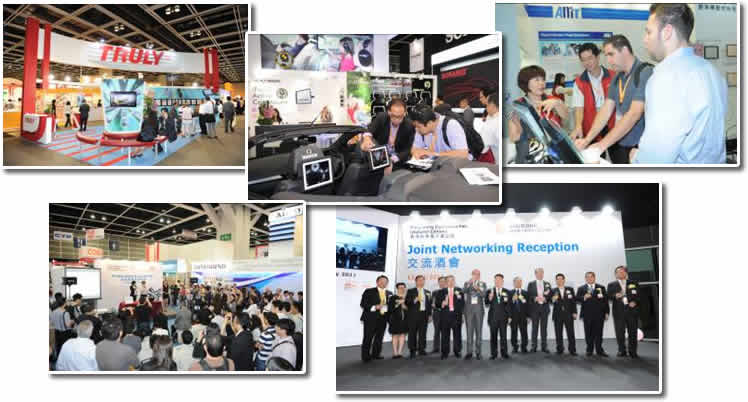 Hong Kong, key player in the global electronics industry, is also the host of Asia's two most influential trade events
HKTDC Hong Kong Electronics Fair (Autumn Edition) 2012 and electronicAsia 2012 will run concurrently in October
Last year's images for download:
HKTDC Hong Kong Electronics Fair (Autumn Edition)
:
http://filesharing.tdc.org.hk/hktdc/download.php?fid=_phpfknO0K
electronicAsia
:
http://filesharing.tdc.org.hk/hktdc/download.php?fid=_phpDQ0PA1
(11 July 2012)
Electronics is at the heart of so many of today's growth industries that demand remains consistent. Smart phones and tablets, 3D televisions and televisions with OTT (over-the-top) features are fuelling growth as the digital world continues to expand. Hong Kong is one of the world's major suppliers of electronic merchandise and components and its two great electronics industry trade events, HKTDC Hong Kong Electronics Fair (Autumn Edition) and electronicAsia, are the hubs around which global electronics trading revolves.
Any electronics industry player wishing to secure a foothold in the Asian market must start in Hong Kong. The Hong Kong Electronics Fair (Autumn Edition) is the largest fair of its kind in the world. Together with electronicAsia, the international trade fair for components, assemblies & production, display technology, solar & photovoltaic, the two concurrent fairs will host over 3,700 exhibitors from around the world on 13-16 October 2012. The two fairs will present clear advantages to all electronics, electrical and component trade players who come to Hong Kong to source from reputable suppliers as well as showcase Hong Kong's own electronics industry, which is its largest export earner, accounting for 55% of Hong Kong total exports in 2011.
Smartphones and tablets have become indispensable to the many people who require instant information and who rely heavily on social media. Their demand for IT products, especially for tablets, is expected to remain robust over the medium term due to the introduction of new and low-cost models as the market becomes more competitive. The Mobile Device and Accessories Zone at the Electronics Fair will gather all smart electronics and related accessories under one roof. In the meantime, the inaugural Key Components for Smart Devices Zone at electronicAsia 2012 will cater to manufacturers' needs.
The Hong Kong Electronics Fair maintains supremacy through an intimate knowledge of the fast changing market needs. The fair's Spring Edition introduced a Small-Order Zone, which will return for the Autumn Edition. The nature of business has changed dramatically with new models continually introduced, and consumers turning to online retail. Traders who adapt to these trends would buy in smaller volume, more frequently. The Small-Order Zone brings together suppliers who are selling in small orders and understand this particular business sector.
The trend towards branded wares is unstoppable and so the Hall of Fame once again showcases those exhibitors whose names are resonant with consumers or, in the case of manufacturers, synonymous with innovation, quality, design and reliability. Some confirmed big brands will include Alcatel, Binatone, Coby, Desay, Fujikon, Goodway, Malata, Motorola, Nextbase, Philips, Pierre Cardin, Princess, Skyworth, VTech and Westinghouse.
For 2012, electronicAsia has adopted the theme, 'Connecting tomorrow's world…today'. Its special features which are virtually 'fairs within a fair' are World of Display Technology and World of Solar, responding very much to hot trends in the industry. electronicAsia 2012 will also feature the Hong Kong Metal Parts & Components Pavilion and hosts the World of Solar Conference.
Industry seminars and cocktail receptions are among the many value-added events that will be offered at both fairs. They are designed to help industry players stay abreast of the latest trends and technological developments and network with one other. A conference featuring solar and PV technology will host discussions on New Applications of Solar Technology for Electronic Products. Leading players of the industry will speak at the Conference on 15 October.
To facilitate the continued growth of the electronics industry, the Hong Kong Electronics Industries Association (HKEIA) and HKTDC join hands again to organise the HKEIA Award for Outstanding Innovation and Technology Products. The competition is free and open for entry to exhibitors of the Hong Kong Electronics Fair (Autumn Edition) and electronicAsia 2012. The award will be presented at the Networking Reception of the fairs on 13 October.
Hong Kong Electronics Fair (Autumn Edition) and electronicAsia 2012 are scheduled for 13-16 October 2012 in the Hong Kong Convention and Exhibition Centre. The electronics trade fair is organised by the Hong Kong Trade Development Council (HKTDC), while electronicAsia is organised by MMI Asia Pte Ltd (MMI) in partnership with HKTDC.
Fair Websites
HKTDC Hong Kong Electronics Fair (Autumn Edition):
www.hktdc.com/hkelectronicsfairae
electronicAsia:
http://electronicasia.com
~ END~
For media queries:
HKTDC Hong Kong Electronics Fair (Autumn Edition)
Ms Hermia Chan, Exhibitions
Tel: (852) 2240 4049 Fax: (852) 2169 9193 Email:
hermia.ts.chan@hktdc.org
electronicAsia
Hong Kong Trade Development Council
Ms Hermia Chan, Exhibitions
Tel: (852) 2240 4049 Fax: (852) 2169 9193 Email:
hermia.ts.chan@hktdc.org
MMI Asia Pte Ltd
Ms Ong Lee Fund
Tel: (65)6236 0988 Fax: (65)6236 1966 Email:
leefund@mmiasia.com.sg
Ms Joanna Wong
Tel: (852)2511 5199 Fax: (852)2511 5099 Email:
joanna@mmiasia.com.sg