Welcoming Muslim Visitors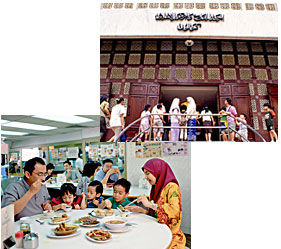 Photos appear courtesy of the Hong Kong Tourism Board.
HKTDC would like to extend a warm welcome to all Muslim visitors. In order to ensure that our Muslim exhibitors and buyers feel comfortable at HKTDC trade fairs and are able to fulfill their religious duties, we provide information regarding food and worship, both at our facilities and in the city at large.
Hong Kong is a cosmopolitan city that plays hosts to visitors from all around the world. In fact, the city has been home to a vibrant Muslim community for more than a century, so therefore, Muslim visitors will have no difficulty following their daily religious duties. A range of restaurants throughout the city serve Halal food, with Halal Restaurant Certificate issued by the Incorporated Trustees of the Islamic Community Fund of Hong Kong. Cuisines include Indian, Pakistani, Middle Eastern, Western and Chinese.
Major Mosques / Islamic Centres in Hong Kong
There are three major mosques in Hong Kong, all of which are happy to play host to overseas Muslim visitors.
| | | |
| --- | --- | --- |
| Mosques | Address | Tel. |
| Jamiah Masjid/Shelley Street Mosque | 30 Shelley Street, Central, Hong Kong | (852) 2523 7743 |
| Kowloon Mosque and Islamic Centre | 105 Nathan Road, Tsim Sha Tsui, Kowloon | (852) 2724 0095 |
| Masjid Ammar & Osman Ramju Sadick Islamic Centre | 40 Oi Kwan Road, Wanchai, Hong Kong | (852) 2575 2218 |
Source: http://www.islam.org.hk/eng/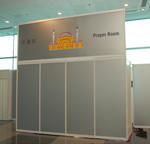 Exhibition On-site Services
Halal Food
Halal Food is now available at the Hall 3B Cafeteria during trade fairs at the Hong Kong Convention & Exhibition Centre.
Prayer Room
In addition, an onsite prayer room is available for use during the duration of trade fairs at the Hong Kong Convention & Exhibition Centre and AsiaWorld-Expo. Separate facilities are available for women.

For further information, please contact our Customer Service Centre at the fairground.