Source quality products at
high-energy fair
HKTDC Hong Kong International Medical Devices and Supplies Fair 2017 is Asia's leading source of products and services for the healthcare sector, serving increased demand driven by rising affluence and an ageing population. The eighth edition is expected to feature more than 260 exhibitors while the 2016 fair welcomed more than 10,000 buyers.

Comprehensive sourcing


NEW in 2017

World of Healthcare presents healthcare products and services across all age groups. These include fitnees products, health foods and beverages, nutrition supplements and related services.

Building Technology and Hospital Furniture Zone displays hospital construction and design service, hospital security system, medical beddings and clinical beds, etc.

Hospital Equipment Zone offers buyers electro-medical equipment, ultrasound and imaging equipment, and surgical instruments.

Household Medical Products Zone responds to a growing market for self-monitoring of health through products such as blood pressure monitors, sleep apnea recorders and fitness equipment.

Physiotherapy Zone supports buyers of massage equipment and supplies, and exercise-related products.

Rehabilitation & Elderly Care Zone serves the ageing population with mobility aids, monitoring devices and wheel chairs.

Tech Exchange is the place to look for concepts, innovations and prototypes with commercial potential offered by entrepreneurs and research institutions.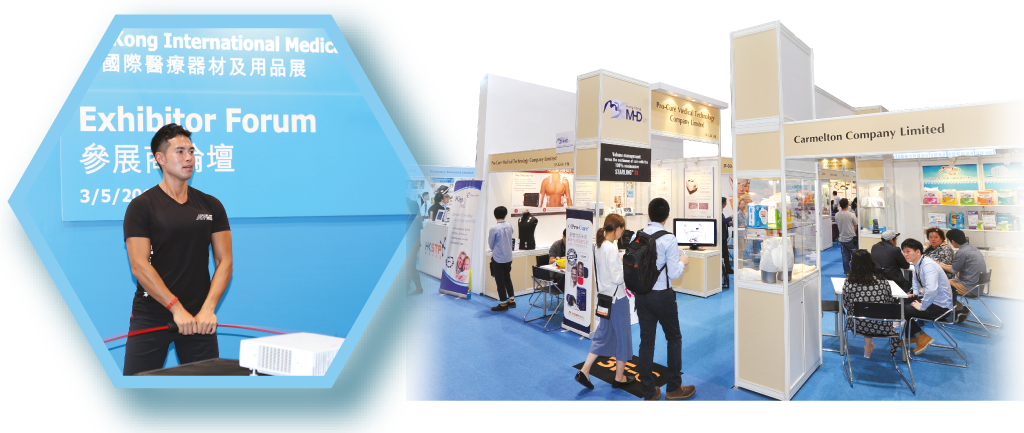 Industry information hub
The prestigious Hospital Authority Convention is a two-day event concurrent with the fair. It attracts high-level speakers and over 5,000 delegates. In addition, the fair itself runs excellent seminars as well as Exhibitor Forums and Buyer Forums to illuminate products and markets.

At your service
Register as a buyer to enjoy a number of valuable online services and to gain information on hotels and trip packages. At the fairground the VIP Lounge provides Internet access, meeting rooms and complimentary snacks and beverages. Guided Tours help buyers identify potential business partners.
Benson Medical Services Pty Ltd
Snoreben
DBP Solutions Limited
DBP Sophie- IoT system
Fortune Island Food Ltd.
Vinegar Drinks
Healthy Living Medical Supplies Ltd
Outdoor & Indoor Wheelchair
Kwong Fai Rubber Products Limited
Three-Limb Infusion Tube
Microderm Technologies Limited
Wound Care Wound - Irrigation Solution
Starlight Enterprises Ltd
Kardia Band for Apple Watch
TM System Co., Ltd.
Stratasys J750 (3D Printer)
U.S. Pacific Nonwovens Industry Ltd
Lifting Sling
Buyer's Comment
"I am visiting this Medial Fair for the first time to learn about new technologies and source new offerings. The exhibition features many exhibits and I've found some interesting medical devices, nebulisers and disposable consumables for infection controls. I've identified two potential suppliers from Hong Kong. This is quite a good fair. We can find many exhibitors especially from Hong Kong and the Chinese mainland here and the timing is just perfect for me."
Yeo Siew Meng, Pharmacist/Director, Ziwell Medical (S) Pte Ltd, Singapore

"This is my fourth visit to Hong Kong International Medical Devices and Supplies Fair to find new products. I have identified four suppliers from Hong Kong and the Chinese mainland for different items such as ultrasound scanner, physiotherapy device, endoscopic surgical equipment with video function and apparatus designed to enable psycho-emotional calm. This fair is successful. Many Chinese mainland exhibitors are providing quality medical equipment here."
Dima Zhukov, Owner, Royal Medical Trading Co Ltd, Russia