The Healthy Approach
to Market Expansion
According to United Nations, by 2050, there will be 2.1 billion people who are aged 60 or above, accounting for 25% of the world's total population. The World Health Organisation shows the total global expenditure for health is around US$6.5 trillion a year. Servicing the healthcare sector is a flourishing business and the place to establish contact with trade buyers is the HKTDC Hong Kong International Medical Devices and Supplies Fair. More than 260 exhibitors engaged with over 10,000 buyers at the 2016 edition.
Highlighted Thematic Zones for Maximum Exposure
NEW World of Healthcare is a brand new zone for healthcare products and services, showcasing health foods and beverages, nutrition supplements and healthcare services.
Rehabilitation & Elderly Care Zone covers mobility aids, monitoring devices and wheel chairs.
Hospital Equipment Zone houses exhibitors of electro-medical equipment, ultrasound and imaging equipment and surgical instruments.
Household Medical Products Zone showcases blood pressure monitors, sleep apnea recorders and fitness equipment, etc.
Physiotherapy Zone displays physiotherapy massage equipment and exercise-related products.
Medical Cosmetology Zone provides space for IPL devices and laser devices for beauty and dermatology applications.
Tech Exchange allows entrepreneurs and research facilities to show their innovations and new concepts.
Meeting the Industry
The Hospital Authority Convention is a prestigious concurrent event with over 5,000 delegates from the international healthcare sector.
Exhibitor Forums unveil the exhibitors' innovative products.
Seminars cover important topics delivered by expert speakers.
Pre-fair press conference and media breakfast meeting garner exhibitors' exposure and publicity.
Exhibitor's Quotes
"We have received a lot of interest from many visitors including buyers from Hong Kong, India, Pakistan and the Philippines. We are very impressed with the turnover of visitors. The organiser has done a great job bringing together a large number of buyers here."
Julian Cosgrave, General Manager, APL Group Pty Ltd, Australia
"Many representatives of local hospitals and elderly homes came to us and they expressed strong interest in our offerings. With more hospitals coming on stream and increasing demand for home care and rehabilitation products, we are positive about business growth. This fair is a good place to meet buyers and raise our presence."
Jeffrey Tai, Managing Director, Janley Limited, Hong Kong
Buyer's Quotes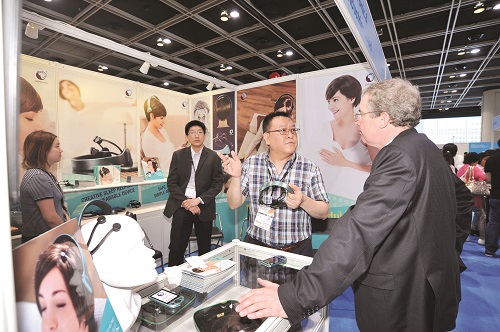 "With an ageing population, rising life expectancy and ongoing breakdown of joint families, more elderly people are living by themselves in India, thus giving rise to demand for silver products. I am visiting this Medical Fair to find home care and rehabilitation products as well as medical equipment. So far, I've found 10-15 potential suppliers from the Chinese mainland for various items. Initial order may range from several thousand US dollars to US$10,000 for each product. I will come again to find more opportunities."
Dr Mukesh Daftary, President, Biomed Healthtech (P.) Ltd., India