The must-attend trade fair for a fruitful sourcing experience
Getting your sourcing work off to an even more satisfying start when you take advantage of the Hong Kong International Stationery Fair, held from 11 – 14 January 2016! Organised by the Hong Kong Trade Development Council and Messe Frankfurt (HK) Ltd, the show is highly recognised as Asia's most effective trading platform for a vast array of products and innovations relating to kids & school, DIY supplies, gift stationery, paper & printing products to writing instruments and office supplies.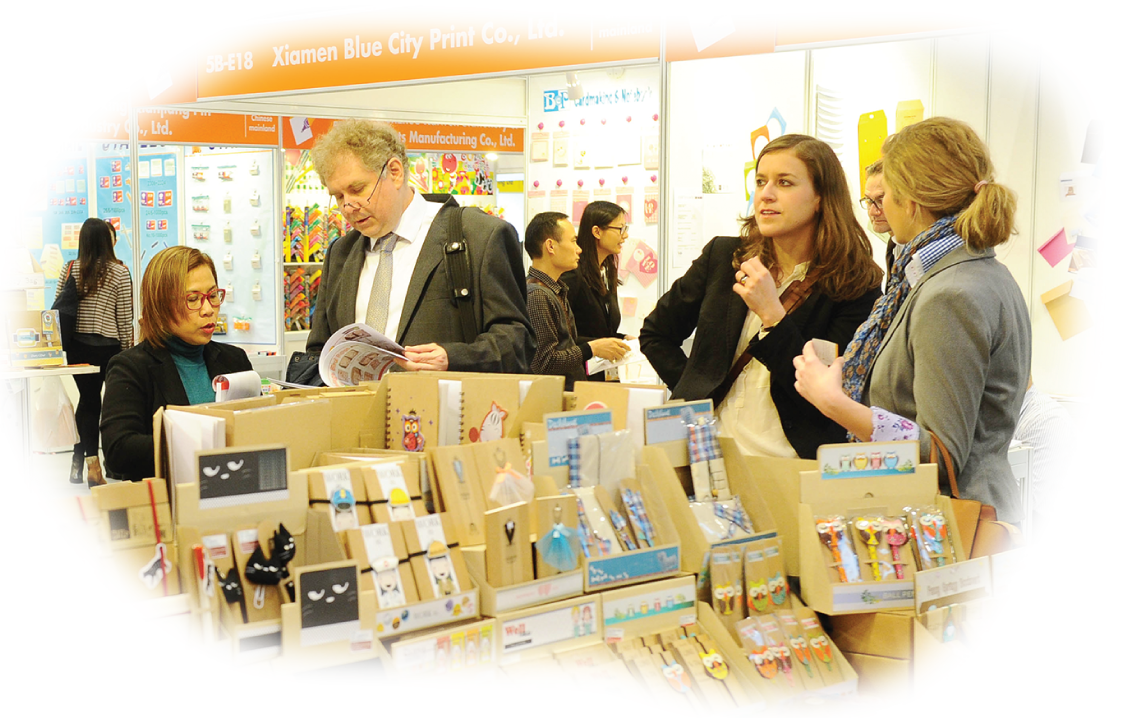 • International pavilions from Korea, Taiwan and Thailand, as well as exhibitors from British Virgin Islands, the Chinese mainland, France, Greece, Hong Kong, Indonesia, Malaysia, and the United States will participate in the 2016 fair, bringing a variety of high-quality products.
• More than 200 quality manufacturers and agents are expected to exhibit at the 2016 fair. In 2015, more than 20,400 trade buyers visited the fair to explore boundless business opportunities.
• A strong line-up of seminars and business matching meetings will provide insightful market intelligence and networking opportunities for different levels and sectors of industry players. These seminars will cover 2016 market and product design trends and new business ideas.
DIY Supplies
Pen & Paper
Gift Stationery
Smart Office
Kids & School

95% of the trade buyers were satisfied with the 2015 fair, among which 40% were very satisfied.
"The quality of the exhibitors at the fair is very good. The fair is very international. Not only can I source my desired products here, I can also know more about the market trends. I am very satisfied, and will definitely come again next year."
Sudrak Chambundabongse, Vice President - Merchandising, B2S Company Limited (Thailand)
"We are a leading chain store for lifestyle products in Taiwan, 35% of our products are related to stationery. The show is useful for us because this show's offerings are close to our needs and our shop style. I would rank this fair as the top three trade fairs for stationery and office supplies sectors in Asia Pacific. Our company will definitely visit the show again."
Sky Wei, Vice President, Jing Shing Fa Co Ltd (Taiwan)

Football shaped zipper foldable bag
China Direct Manufacturing Ltd
Customised masking tapes
Feng Peng Label Print Co Ltd

Spine pressure free school bag
Foot Print Limited
Modular container bubble
Interlink Enterprise Co Ltd

Leather stationery series
Ju Feng Co
Magnetic paper
Kai Rong (Magnets) Industrial Co Ltd

Shoe shaped pencil case
MW Trading (HK) Ltd
Feather Pen Set
Ngai Lam Giftware Company Limited

Fingerprint & RFID card calculating time recorder
Nito Office Machines Limited
Superstar Sunglasses Design Kit and Fun Tape Craft Kit
Gold Phoenix Shanghai Corporation

Business Bag
Yee Hop Leather Ware Factory Co Ltd
Lipstick highlighters with light
Uni-Pac International Ltd

Washable water color pens sets
Wenzhou Kaiwen Stationery & Sports Manufacturing Co Ltd
Educational magnets
Wise Magnets Int'l Co Ltd
Erasable pen
Xiamen Yong Heng Guan Industry Co Ltd
Animal face sticky note pads
Yung Hsin Hang Stationery Co Ltd