29 Oct 2014
Dressing America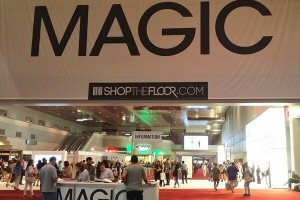 Fashion of every kind dominated at February's Magic Market Week in Las Vegas. The bi-annual event comprises 10 trade shows and several co-located shows, covering everything from apparel and shoes to swimsuits and accessories.

While the show is still heavily dominated by Chinese manufacturers, other regions are gaining greater prominence and increased square footage, with brands keen to diversify their supply chains. Near-shoring, the trend of moving manufacturing closer to home, remains a hot topic as speed-to-market and North American Free Trade agreements begin to significantly affect sourcing choices.

"Near-shoring is getting real," said Chris Griffin, President of WWDMAGIC and Sourcing at Magic. "This time, we have 30 booths from Mexico, compared to only three at the last show."
Sourcing Trends
Global sourcing is moving towards a de-centralised model, with companies looking for the right supply chain formula as the need to increase speed and agility becomes paramount, according to Amy Burns, Research Manager of Kurt Salmon, a New York-based management consultancy. "Currently, 35 per cent of respondents are using the de-centralised mode," Ms Burns said. "Technology, improvements in supply chain management, and near-shoring are enabling this."

As near-shoring continues to gain ground, the Americas presence at the event has jumped from 25 per cent to 35 per cent in one year, according to the "2014 Excellence in Global Sourcing Report." The change was also evident on the show floor and in panel discussions, with a strong presence by Andean Community countries, including Peru and Colombia.

Noticeably, China was missing from the list of growth countries in the report this year, with the mainland dropping six points compared to the previous year. "China is still the dominant force, but Chinese vendors are moving their production to Vietnam and India," said Dianne Jefferies, Vice-President of Sourcing and Production for swimwear manufacturer Speedo.

"Vietnam continues to be a very good source. There are still challenges with infrastructure in India. We have seen some clients toying with Africa, which might work for certain types of product categories, but we don't see it as a next big location."

Instead of chasing cheap labour around the world, Ms Jefferies emphasised the need to be strategic.

"We're looking at every part of the world and building smarter supply chains," she said. "Labour costs are only a small factor in our thinking. Speed to market and balancing near-shoring and duty continue to be important. There is no utopia. Africa is not going to be the next China."

Corporate social responsibility also remains an important factor when it comes to sourcing. "Social responsibility has to be pristine," said Jim Lunney, Vice-President of Sourcing for the VF Corporation, the parent company of Wrangler and Lee Jeans. "There's just too much risk. You have to set up standards. It's worth the work."

While the "Made in USA" portion of the show had grown considerably since last year, this segment of the industry is still trying to define its role in supply chains. Several experts noted the lack of a properly trained labour force, indicating that US apparel manufacturing could only gain market share through innovative technology.
Finding just that kind of manufacturer, however, proved a challenge for one participant. "I'd love to find local sourcing, but I'm having trouble; even looking at the US as a whole," said Russell Cochran, a Partner at Claire Cochran Consulting, an Oregon-based specialist that helps small designers source suppliers. Mr Cochran noted, however, that he had no problem identifying companies in Peru, Guatemala and Egypt.

Slightly more successful was Jeff Brown, Vice-President for Business Development at New York's Cu Fusion. Mr Brown was in Las Vegas looking for a US manufacturing partner for an anti-bacterial yarn it developed in Korea. "Our clients are the healthcare and transportation industries and they're asking us to source here," he said. During the show, he connected with a leading US yarn manufacturer.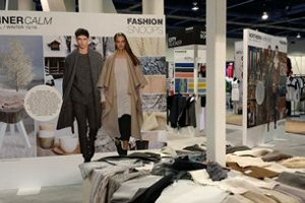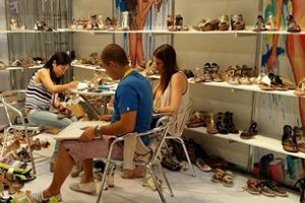 Denim Grows Up
The central focus at this year's event was the "All About Denim" display, a promotion to rekindle the industry's love of denim, while showcasing new technology, washes and looks. Denim sustainability has become a more prominent issue, with brands looking to reduce their use of water, energy and chemicals in textile processing.

"Denim is disappearing," said Graham Anderton, co-owner of Aztex, a Mexico-based denim manufacturer. "Things are now made out of everything except denim. Normally, at a show like this, about 75 per cent of people are wearing jeans. If you look around, it's less than 50 per cent. Jeans have become so basic. They're selling them at Walmart for US$19.99."

According to Mr Anderton, consumers are now moving towards comfort clothing. Jean manufacturers, he says, are trying to combat this via personalisation, be it through on-demand accents, the use of recycled denim or a coating that makes the cloth look like leather.

"We're trying to re-invent denim in a way that's differentiated from that worn by your neighbor," he said. At a future event, he hopes to introduce a laser machine that jean brands can use in-store to etch accents on to pockets.

Talk of comfort clothing continued at the Cotton Inc seminar, where the Mom jeans was the star. "The overall trend that I believe is the most important is the anti-skinny jeans," said Shanna McKinnon, an adjunct professor at the Fashion Industry of Technology. "Think volume. Think higher waistlines – even if it goes against everything we think denim should do."

A step away from the roomier Mom jeans, but still rooted in comfort is the sports jeans, another emerging trend. Typically, 98 per cent cotton, it comes with a lighted ounce in knit-type denim with a softer feel. "We're seeing a lot more athletically inspired jeans. Denim jumpsuits, rompers and overalls, hallmarks of comfort in the 1980s, are all making a comeback," said Ms McKinnon.
Spring Flowers
As the buying show for the spring season, Magic featured several seminars to update buyers on the latest trend.

In his pre-runway show presentation, James Campbell, a Los Angeles-based fashion show producer, gave a nod to the usual favourites – artisanal touches and the easy-fit comfort of soft pants and oversized jackets. The show-stopper next season though, will apparently be florals, in everything from details and accessories to head-to-toe patterned outfits.

"Mixing florals of various scales and dimensions is going to be huge for 2015. It's very fresh," said Mr Campbell, who in his presentation included examples of painterly prints from a floral perspective, designed to make a statement but retain a playful vibe. In the same vein, according to Mr Campbell, tropical motifs are also promising. "Whether it's foliage, bright colours, birds, oranges or greens," said Mr Campbell, "it's going to be a super explosion for 2015."
For more market opportunities, please visit: http://research.hktdc.com/