28 Nov 2014
Branding through Design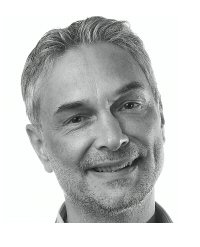 Global technology company Lenovo Group is a world leader in providing innovative consumer, commercial and enterprise technology. A Fortune 500 and Hong Kong-listed company, Lenovo is the world's largest PC maker. In October, the company finalised acquisitions of both Motorola Mobility and IBM x86, making Lenovo the top-three smartphone and x86 server business in the market.
Andreas Schupp is a Design Director of Lenovo Group's Design and User Experience Centre, where he is responsible for strategic design, design research and visionary projects across multiple device categories.
Originally from Germany, Mr Schupp has lived in Asia for more than 20 years, mostly in Hong Kong. Mr Schupp will discuss Lenovo's experience in using design to drive brand development at the Inno Design Tech Expo from 4-6 December, at the Hong Kong Convention and Exhibition Centre. In First Person, Mr Schupp discusses the Eastern and Western approach to design, and how they complement each other.
How important is the design factor in product branding? Is design the key to a successful brand?
Absolutely. I don't want to say it's the only differentiator, but it's definitely the most important. By design, one part is aesthetics; the other is the coolness factor, the unique function element, the special user experience. So design, as we approach it here at Lenovo, is not just designing a device; it's how we connect and tell the story behind the design.

What is Lenovo's design philosophy?
As a philosophy, we came up with a new form factor innovation that addresses the multi-mode use of our products. We have expanded into other areas, how to accessorise, how do we tie them in with other peripherals. So it's a very broad element. We call it the end-to-end experience cycle.

This has also been part of Lenovo's evolution. In the beginning it was mainly to sell PCs in China. So Lenovo's first innovation was to roll out the Chinese character card in the 1980s, which was then built into the imported PCs and introduced to Chinese consumers.

The second innovation was to address user behaviour, not just from the hardware perspective, but from how consumers use the software. Having a design philosophy enriches the user experience. But at the same time, we don't want to overcomplicate the hardware/software ecosystem. Building that consistency to highlight the unique design elements is the most important thing.

What are some of the challenges for Lenovo in shifting your focus from PC to mobile devices?
When transitioning into new product categories, we do it in two ways. First, we have to address the changing market and consumer dynamics in our overall strategy, which is protecting our core PC business, while attacking the faster-growing mobile, enterprise and ecosystem/cloud businesses.

That means building the structure and ecosystem very quickly, as well as partnerships with vendors, development teams. It also means addressing the differences between smartphone use versus notebook use from an app ecosystem, providing unique platforms for our customers that are Lenovo-specific. The challenges are always there and continuing as this ecosystem is expanding. People are now talking about the Internet of Things, smart connected devices, so as an IT leader, we have to be fully aware of that.

What are your thoughts on design and innovation in Asia?
Asian design has become more globally appealing and approachable.

German design, which was my previous design mindset, is very technical and detailed on the function. It's more the rational aspect of design. What I've learned from colleagues is Asia is this much higher mode of emotional thinking about design, which is rather philosophical. The inspiration comes from either traditional philosophies, or from nature, or from specific emotions or engagement with people. The difference in these two styles is complementary. It's also very inspirational because, as designers, we have to be open-minded and venture outside the box.

How do you think Hong Kong's design community has evolved over the years?
Twenty years ago, it was an entirely different picture. Hong Kong has done a lot since. There are organisations, like the Hong Kong Design Centre, that support design and establish Hong Kong as a good base for design thinking.

At the same time, design is also about nurturing creativity, helping talent do something with their ideas. Young millennials returning from overseas are setting up their own business. There are opportunities for them in Hong Kong. Design management, selling and market design, how to create new business innovation, are also opportunity areas that Hong Kong can nurture more.

What is your advice for design startups?
Being a design entrepreneur has become much more accessible because of open-sourcing platforms such as Kickstarter or Indiegogo, which allow you to create your own brands and distribution channels. These communities have been great for designers around the world, and helps put regional designers on the map.

Coming up with an idea and starting something is the easiest part. Building a business reputation is the most difficult part; how to stand out and how to create this uniqueness for yourself. Everyone can design something using 3D software and make a quick prototype using a 3D printer and write up a business plan and put this on Kickstarter or Indiegogo. Selling to a larger audience is difficult.

I've met young design students with fantastic skills-set in terms of using the computer and having a creative mind. But they are unable to sell their idea. As a designer, you also have to be a good salesperson.
Related Links
Inno Design Tech Expo
Lenovo