29 Dec 2014
Grounded in Fashion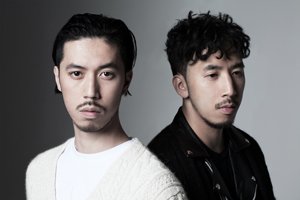 Brothers Eri and Philip Chu are behind the Hong Kong contemporary streetwear label Ground Zero. Eri, a graphic artist by training, and Philip, who studied fashion design in London, launched Ground Zero in 2008, when the brand was first stocked in the Pineal Eye boutique in London's Soho district. Their designs are now featured in 40 shops around the world, including Hong Kong's I.T.

Showcasing their work on the Hong Kong runway for the first time, the brothers will feature their spring/summer 2015 collection at the Hong Kong Fashion Extravaganza in January. In First Person, Philip Chu says persistence is key to breaking into the fashion business.


Tell us how you got into the business of fashion together.
We're brothers. We share a lot of interests; movies, music, cartoons, robots. Of course fashion is something we always talked about and dreamed off.

I wanted to be a composer. Eri always wanted to be a graphic designer. Sometimes I wear his clothes and he wears mine. This is how we linked in fashion. One day, Eri showed me this graphic design and I thought it would be so cool to put into fashion, that's how we initially had this idea.

Where do you find inspiration for your designs?
I think our creation is quite inspired by cartoons and pop culture. The brand idea is kind of a recognition of pop culture, street culture, mixed with ready-to-wear.

Explain your design philosophy, which you describe as conflicting and contrasting.
We find it interesting to put two elements that conflict with each other in order to create something new. Like our spring/summer 2015 collection, the idea is to put street culture into ready-to-wear. We created a denim jacket silhouette, but using chiffon and ruffles, and other feminine elements into it. This is the type of contrast we always use. Another example is a drapy dress that we put street graphics on. I think that's quite interesting.

What were some of the challenges in getting your fashion label off the ground?
We lacked experience. Money is the biggest issue, of course. But also connections; we didn't even know one buyer. This is how we started: I would carry my designs in a luggage case and would visit shops to ask if they would be interested in looking and buying our collection.

At first, we did a lot of consignments for some small but cool boutiques in London. Then we connected with an agent in Paris. They were selling a lot of good brands like Jean Paul Gaultier, and that's how we had a chance to sell to many good boutiques around the world.

What's your business model and future business expansion plans?
At the moment, we are selling our designs through consignment including at I.T in Hong Kong. We plan to open an online shop sometime in the future, as having one is very important. It's better to have a link where people can buy immediately.

Having a standalone store is still important, but not as important as before because people can absorb your brand image from the social media platform more than when they see your shop.

But having your own store is a very big investment, especially if you want to open in a nice area in Hong Kong. We're looking to open our first standalone store in Shanghai because it has a lot of fashionistas as well. Then we'll eventually target second-tier cities.

Based on your experience, what would be your advice for young designers hoping to break into the business?
You have to be bold and show your collection to many people because you never know what can happen.
You can also consider using social media platforms. You don't need to rely on magazines to show your designs. But other brands are also using social media, so it's very competitive. At least you can start gradually building a fan base, which is a good thing.

How did you come up with the name Ground Zero?
Eri was working in a dead-end job and I was jobless at the time. So we decided to name ourselves Ground Zero, to constantly remind ourselves where we started; the zero point.

How do you feel about showcasing your work in Hong Kong for the first time at Hong Kong Fashion Extravaganza?
I think Hong Kong has a very special characteristic, in that Hong Kong designers are influenced by the East and West, and this fusion is in our blood.

We have done a few Paris shows, but we have never done any in Hong Kong, so we're very excited to have the local support, and see the reaction of local media and friends.
Related Links
World Boutique