9 Jan 2015
Coining it in on the Web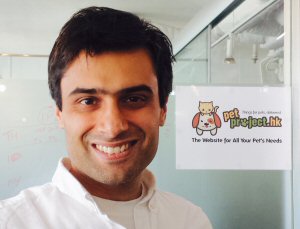 "E-commerce is not just about setting up a website," says Hong Kong-based entrepreneur Nishant Kapoor, who offered his insights at a recent HKTDC seminar on strategies for doing online business. With 10 years of experience in the e-commerce sector in London and India, Mr Kapoor moved to Hong Kong and established Lifeproject.hk, a website dedicated to selling household products, ranging from organic snacks to pet food. In First Person, Mr Kapoor shares tips on running a profitable online business.
What inspired you to set up Lifeproject.hk?
When I first moved to Hong Kong three years ago, I could not find any good quality e-commerce website to get supplies for our dog, which we brought from India. It came to me that maybe I should start my own online pet shop in Hong Kong. During my research, I found that there are about 400 to 500 pet shops in Hong Kong; that's a lot of pet shops for a small city. The market is already really competitive for physical shops, but not so much in the online space.
As I set up Petproject.hk, I came across a US website called wag.com, in which they have multiple websites running on one portal: they have a website for baby supplies, one for family groceries and another for toys. So I thought I can create a smaller version, a website that focuses on family needs, in Hong Kong. This is how Lifeproject came about.

What is the winning formula for e-commerce businesses?
There's a whole art and science behind an e-commerce business. Running an e-commerce business is not just about having a website. It's about getting the right traffic to your website, converting the traffic into transactions, and providing good customer service to make sure they become repeat customers. Because I come from an e-commerce background, I am aware of those, but I don't find people in Hong Kong are aware of this, so it seemed like a good way to start.

Everyone wants customers, but you don't get customers easily online. If you take a physical store like ParknShop for example, on average, nine out of 10 people will buy something. In an online store, the dynamics are very different, only two to three out of 100 people will make a purchase; 95 plus people will just leave without buying anything.

So you only get orders when you convert the traffic. Once you get an order and get them to order again, they become your customers.

What's the difference between organic search and paid search?
Paid search is more expensive, but the result is instant: you paid for a click, you get that click on the website. But when you switch off your ad, your traffic disappears, which means if you stop paying for the ad, the traffic will go away.

On the other hand, organic search involves more hard work, but the result is more permanent. You have to spend more time and effort to build the website content, and once you get the traffic, the traffic will keep coming.

To start your business and get your initial customers, paid search can be very helpful. So I'd recommend starting with paid search to get your initial customers, then you can start working on organic search. It's the strategy we use; we start with paid search then slowly reduce its involvement once we build the customer base using organic search.

What are some of your strategies for driving traffic into a website?
Our strategy is always very product-driven, so researching keywords will help a lot. People usually focus on putting top-searched words into their webpage, then they put these words on organic search and paid search. Ninety-five per cent of Hong Kong's online marketing agency will recommend doing the top-10 keywords. What I would recommend is to ignore the top 10 or 20 keywords, because they will drive more competition. If you work on the keywords for your product or your product category, you will drive people straight to the page.

What are the advantages of setting up an online business compared to a bricks-and-mortar store?
You can have a much broader range of products than in a physical store. Especially when you are in a place like Hong Kong where rents are so high, you can't place too many products in your store. It's also more convenient, you can order anytime on your computer. Good e-commerce websites usually have many user-generated reviews, including negative ones, to give a fairer view. This is a commonly accepted practice used by big players like Amazon.com. It also shows you products based on those you have bought before. It's very difficult for physical stores to replicate that, but it's very easy for an online business.

What is your general advice for would-be e-commerce entrepreneurs in Hong Kong?
Fashion websites selling bags and handbags, which are non-essential products, will face more competition online. My advice is rather than hosting a fashion website selling bags and handbags, try to do something that people need. People will go and search for it and it will be a good way to drive traffic to your site, because when they are already researching your products, they will be using the search engines. Also, don't invest too much into technology; try instead to use simple ready-to-use platforms. Instead of building your e-commerce website, try using existing solutions like Shopify. This way, you can reduce your dependence on technology and developers and focus on the products and customers.
Related Link
Life Project