29 Jan 2015
Sustainable Play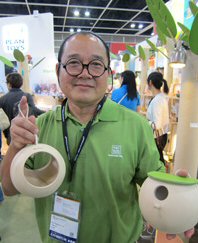 Children who play with PlanToys products are helping to fulfil the company's green mission. Producing up to four million toy sets each year, PlanToys transforms disused rubber into innovative toys. The company also regularly hosts factory visits and educational workshops to raise children's awareness about environmental issues.

PlanToys' award-winning designs featured at this month's HKTDC Hong Kong Toys and Games Fair. Company founder Vitool Viraponsavan says the fair is an important source for meeting new buyers from around the world.

How did you come to set up PlanToys?
I have a very special bond with the rubber tree forest in Trang, south of Thailand, where I was born and raised. I was very attracted to this wonderful nature and all the things we can do with it. Then I went to Bangkok to study architecture and I met some like-minded friends from university who also want to build a better and more sustainable world. I partnered with seven friends to create Plan Group, shortly after creating PlanToys.

What makes your toys sustainable?
Rubber trees are grown for extracting latex. And eventually, in some 20 years, the rubber will dry out. Rubber tree is a medium-hardwood tree, making it really difficult to process. Traditionally, when a rubber tree stops producing latex, it would be cut and burned. We are the first company to recycle this wood, and transform it into eco-friendly playthings.

Our toys are produced entirely our own facility, so we have complete control over every aspect of the manufacturing process. The wood we use is non-chemically treated; we use non-toxic, water-based dyes and non-toxic glue. Our facilities and toys reflect our respect for the environment and our commitment to designing unique, natural playthings for children.

How can your toys help children be close to nature?
We are very proud of the Bird House collection, which includes a bird house and a bird feeder. Children can put food and seeds inside to feed the birds. I think it's a really good way to encourage children to look out of their rooms and connect with the environment. Through bird-watching, children will also learn to co-exist with wildlife and nature.

We strive to promote comprehensive child development, not only intellectually, but we also want them to understand that we are part of this ecosystem in which they can relate to and learn from.

What are some of the up-and-coming trends in the toy industry?
Because of the changing lifestyle, people are more focused on what we can give to children. The Creative Play House, comprising three movable parts, is one of our new products. Children can arrange and create their own house: they can stack them and create a three-story building, or lay them down and decorate the roof with a garden. I think this sort of open-ended play will do really well.

What is unique about your patented material PlanWood?
PlanWood is made of sawdust, branches and wood chips that our toy factory produces daily, so we are truly using every part of a rubber tree. With some pressure moulding, we were able to create a high-density fibre, which is strong and durable. Because of the amount of pressure applied to the composite wood during production, very little glue is needed to bind the sawdust together, allowing us to make non-toxic, durable toys in different shapes and sizes. We want to make sure that nothing is wasted, and that everything is transformed.

How important is the Hong Kong Toys and Games Fair to your business?
We were previously more dependent on the US and Europe markets, but Asia now is an emerging economy and it's bringing in many new customers. We are now ready to focus on Southeast Asia and China. The Hong Kong Toy Fair is at the centre of it all. It brings a wide variety of visitors from the Chinese mainland, Korea, Middle East, India and Australia. We hope to gain more contacts through this exhibition.
Related Link
PlanToys