4 Feb 2015
The Joy of Learning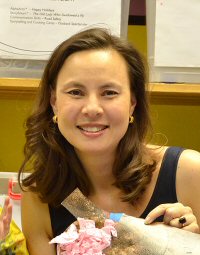 Hong Kong-born businesswoman and philanthropist Joanna Hotung left a successful consultancy career in 1996 to establish KG Group, a leader in children's arts and English-language education. Through its four brands – Kids Gallery, Star English, Face Promotions and Mills International Preschool – the group has grown to a regional network, providing 10 educational venues in Hong Kong, the Chinese mainland and Singapore, with more than 65,000 students. Recently named AmCham Hong Kong's 2014 Entrepreneur of the Year, Ms Hotung reflects on her entrepreneurial journey.

What fuelled your entrepreneurial drive?
My Chinese mother is from a traditional Shanghainese family, which did not support her wish, as a daughter, to seek higher education overseas. As a result, she instilled in me, from a very young age, the drive to succeed as a woman in whatever I aim to do.

My British father also encouraged me to participate in as many activities as possible to complement what I was learning at school. Their encouragement and support gave me the confidence to put myself forward for new opportunities as they arose.

From a young age, I also had regular yard-sales downstairs at my apartment building, selling bits and pieces to my neighbours.

What was it like 18 years ago for a young woman starting a business in Hong Kong?
It was a remarkably smooth time to start a business in Hong Kong, particularly in my sector – education. There were hardly any extra-curricular activities available for children at that time and I was able to fill a gap. The government bureaucracy on setting up a new business was also minimal. Rents were a concern then, as they are now, and signing the initial two-year lease was my biggest risk. It was also very important to find good teachers. I was able to do so partly through local sources and later directly from the United Kingdom and other countries overseas.

How is it different today?
The aspects that were smooth when I started 18 years ago have become more challenging. The education market has become saturated and customers have a great deal more choice, although the KG Group continues to hold majority market share for extra-curricular activities. Government compliance remains easy to navigate except in the registration of new schools, which is a highly involved, frustrating, and lengthy process. Rents continue to skyrocket and put huge pressure on all businesses, including mine.

On the other hand, support for entrepreneurs, in terms of business groups, conferences and mentoring, has developed greatly and provides much-needed peer reinforcement. Funding for new businesses has also improved through local incubators and some more forward-thinking banks.

You are also heavily involved in philanthropic work – why is that important?
I believe that entrepreneurs generally have a desire to work on several things at once. The interest in starting and getting involved in new projects doesn't wane. My charity work stems from this desire to learn new things, but also because of its direct relevance to me. I founded Youth Diabetes Action when my daughter was diagnosed with Type 1 diabetes at the age of seven. The other charities I have closely been involved with – Playright, Bring Me A Book, and the Hong Kong Ballet – stem from my joint passions for education, children and the arts.

What are some of the key takeaways you've learned from running your business?
Much of the perceived joy of starting and owning your own business comes from the belief that you will be your own master and have control over your day-to-day working life. I soon realised that actually I had gone from being at the beck-and-call of an employer to the beck-and-call of my customers. This meant that my working days usually extended from early in the morning until late at night as I tried to meet customer demand, tweaking products and services along the way.

It is easy to get burned out trying to be perfect and please everyone, so it's important to maintain perspective. Our biggest challenge was SARS in 2003, when schools were closed down for almost three months. We had no customers, but still had rent and salaries to pay, although, with the support of several staff willing to take pay cuts, we managed to survive and move forward.

There is little that could have been prevented when unforeseen events like these strike, but very important to make difficult decisions quickly and firmly, so that you can protect the business overall. For us, this meant downsizing and changing service methods – we turned some of our art classes into art packs, which we delivered to families stuck at home.

Has it been worth it?
Yes, it has definitely been worth it for me. My particular business has provided my children with many extra educational advantages. They grew up surrounded by learning and creativity and have benefited from this. They also grew up in a work environment where they learned to respect the importance of work, how decisions are made and problems are solved, how people work together, how they could contribute in their own small way (from stuffing envelopes when they were little, to leading focus groups of their friends as they grew up) – and not to disturb me when I was working.

From my own perspective, I have been forced to face many challenges and have learned a huge amount about myself and doing business, becoming a better thinker and doer over the years. I've also had the satisfaction of creating something from nothing and growing it into a much bigger entity.
Related Link
KG Group