2 March 2015
Gadgets Galore
Vietnam has been identified as one of the world's top five fastest-growing technology equipment markets, according to a survey by German market research firm GfK Group. It projected that sales in Vietnam's electronics sector will total more than US$0.6 billion in 2015. Vietnam is the only Southeast Asian country ranked in the top-five, with Indonesia and the Philippines coming in at number nine and 10, respectively, on the list.

All of the top-10 growth markets singled out by GfK are emerging economies. Contrary to the usual assumption that China is the strongest growth market in the technology sector, GfK predicts that India will enjoy the most growth. For the Indian market – as in many others – smartphones are seen as the main area of expansion, a move spurred in part by a fall in handset prices.

In Vietnam, overall spending in the electronics sector in the first quarter of 2014 was up 27.5 per cent on the same period in 2013. Other markets in the region also saw increases, but at a lower rate, with Indonesia up 10.6 per cent and Singapore up 7.3 per cent year-on-year. Smartphones and tablets remain the standout products, with phones accounting for some 40 per cent of total expenditure in the sector.
Revenue Growth
The big players in the electronics business in Vietnam are the FPT Group – a Hanoi-based company with branches in 14 countries – and Mobile World JSC, a specialist in mobile and digital devices.

In the first six months of 2014, FPT recorded steady growth in the software export sector, with its revenue up 21 per cent compared to the same period in 2013. In telecommunications, its revenue was also up; a 17 per cent rise exceeding expectations by a staggering 108 per cent.

FPT's retail and distribution divisions also showed considerable improvement. In particular, revenue from the distribution of iPhones was almost four times higher in the first half of 2014 than in the same period in 2013. Meanwhile, the company's bid to expand its retail chain has also met with some success, with retail sales in the first six months rising 81 per cent. In 2013, its retail arm actually recorded a loss.

Last November, Mobile World JSC was ranked 409th among Asia Pacific's 500 largest retail businesses by Retail Asia Magazine. This list is based on success in meeting various key criteria, notably sales, retail locations, total retail space and revenue per square metre.
"We are excited that we remain a major retailer, not only in Vietnam, but in the region as a whole," said Tran Huy Thanh Tung, head of Mobile World's Supervisory Board. "This is a well-earned acknowledgment of our success in raising the levels of convenience and service we offer our customers." In a busy month for Mobile World, November also saw the company open three new superstores.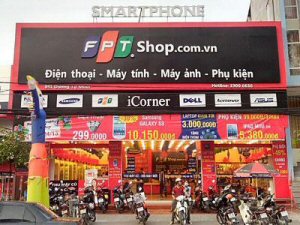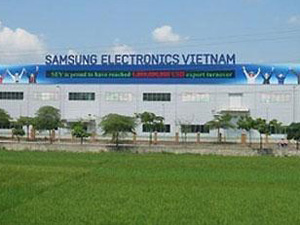 Buoyant Market
Apart from the smartphone and tablet sectors, demand also grew for other items, especially electronic/digital (televisions, speakers), refrigeration (refrigerators, air-conditioners), and electrical appliances (cookers, microwave ovens). These sectors enjoyed an across-the-board, 20 per cent year-on-year increase in sales for the first quarter of 2014. According to industry sources, Vietnam's electronics sector is expected to remain buoyant in 2015, attracting several new foreign firms to the market.

Samsung is already among the highest-grossing and most popular mobile phone brands in Vietnam, with the country now also home to one of the South Korean giant's biggest global production centres. In 2013, Samsung Vietnam shipped more than 100 million units, with 97 per cent of its output being exported. With two factories located in the country's Bac Ninh and Thai Nguyen provinces, Samsung's total investment in Vietnam is now about US$4.5 billion.

"We have promoted investment in Vietnam as it has political stability and abundant human resources, while the sector also has substantial government backing," said Shim Won Hwan, a Director of Samsung Vietnam. "We are now introducing our most advanced technological systems to our two factories in Vietnam, both of which are now key elements in Samsung's global production base. In terms of our overall strategy, Vietnam will also lead several aspects of our research and development activity." Several other blue-chip electronics brands, including Nokia, Sony and Canon, are investing heavily in Vietnam. More recently, Microsoft also announced plans to shift part of its production from China to Vietnam.
Strategic Shift
"Several years ago, for many of the world's major manufacturers, China was the number-one investment destination," said Singapore's Foreign Minister George Yeo. "The global production model, however, is changing as production and labour costs in China continue to rise. Many corporations are now making a strategic decision to shift their investment from China to Southeast Asian countries, especially Vietnam."

With a strong economic performance in 2014, consumer demand in Vietnam increased significantly, with the door now clearly open to Hong Kong businesses looking for new opportunities to invest. "Vietnam has a population of 90 million people, 70 per cent of whom are young," said Alain Chevalier, a Senior Advisor on export enhancement for the Swiss Government. "Obviously, there is very high potential in the electronic products market. It is also one of the reasons why foreign direct investors in the electronics sector are increasingly focusing on Vietnam," said Mr Chevalier.

For more market opportunities, please visit: http://research.hktdc.com/