6 March 2015
Art in Motion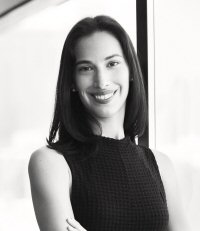 Hong Kong's newest contemporary art fair, Art Central, will bring 75 art galleries from 21 countries to Hong Kong. The inaugural event is scheduled to run, 14-16 March, alongside fair behemoth Art Basel Hong Kong, as part of Hong Kong Art Week.

The new fair will be held in a 10,000 square-metre custom-designed tent by leading UK architect Stiff and Trevillion at the Central Harbourfront.

Art Central's co-Director, Eve Share Banghart, previously worked for Art HK, which was subsequently bought by Art Basel to become Art Basel Hong Kong. Ms Banghart discusses how fairs are helping to develop Hong Kong into the region's art hub.

What tempted you to leave Art Basel for Art Central?
It's such a fantastic opportunity, I couldn't say no. I wanted to be able to help spearhead this next stage of art in Hong Kong. We really feel that this art fair will bring Hong Kong to the international level in terms of an arts hub.

How is Hong Kong progressing in terms of becoming a regional arts hub?
There's so much going for Hong Kong already. There's no tax on the import and export of art – that is huge. There's also an international collector base that comes from all over the region. I learned that half of the world's population lives within a five-hour flight from Hong Kong. Those people from Japan and South Korea, Taiwan and Singapore and, of course, mainland China, are all accustomed to coming to Hong Kong. It's easy for them to get here, to do business here, and it's easy for the galleries to do business here. All of those things add up to Hong Kong being a really excellent place to hold a fair.

How does a satellite fair raise Hong Kong's status internationally?
Having been involved in Art HK and seeing that grow into Art Basel Hong Kong was fantastic, but I think a fair has really "made it" as a fair when it has a proper satellite fair. I'm really excited to be bringing that to Hong Kong.

Are these two fairs competing events?
I think that visitors will want to see both. What we are able to offer as a newer, younger fair is probably a little bit more of a relaxed environment, a little bit more approachable. There is this sense that Art Basel can be a bit intimidating, especially to newer collectors. We don't have any of that. We're able to create this really amazing, fun, exceptional experience that's totally unique, in this enormous tent, and make it just a little bit easier for people to come and enjoy.

So you expect there to be a cross-over of the visitors?
Absolutely. We expect that people will want to see both fairs. I am certain that there will be some people who only see Basel and some people who only see Central, but the idea is that we are bringing more quality art to Hong Kong for all these people to enjoy.

How many visitors are you anticipating for this debut event?
We expect between 20,000 to 25,000 people to attend.

What about the range of artists showing? You have big names, including Chinese artist Stella Zhang, who is creating a large hand-sewn installation, as well as Indonesian artist Entang Wilharso, who has shown at the Venice Biennale. But there are also many less well-known artists. How do you make that selection?
Don't forget Rona Pondick, who is showing at the Whitney in New York. For us it's really about that breadth. To be able to see these emerging artists, who are relatively known in their regions, but not yet internationally, and put them on an international stage where so many people will come and see them, feels like an honour, actually. We're able to help support their artistic careers.

Tell us about the event's venue, which is a Stiff and Trevillion pop-up architecture concept at a huge custom-designed tent erected on the Central waterfront.
It's a real highlight. For me that's what makes this thing all work. There has never been anything like it here because there was never any place to put it until Hong Kong literally dragged the land out of the harbour. It's incredible what they've done. For us to be able to put up this tent, which is over 10,000 square metres, is unique. It's got a 12-metre high ceiling at its highest point. You are going to walk in and say, "Wow, this is how art can be shown?"

Where do you think Hong Kong's art scene will be in five years?
I'm sure that we will have established Art Central as the city's satellite fair. I'm sure that Art Basel will be an immense success, and I'm sure that we will continue to see more and more international galleries that want to come to Hong Kong. I'd also imagine more Hong Kong galleries will build up organically too, and hopefully, we will be showing more Hong Kong artists.
Related Link
Art Central