23 March 2015
Gem of a Sale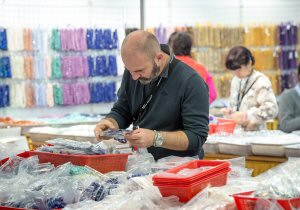 In the face of global economic uncertainty, Hong Kong's trade shows continue to deliver valuable business leads to small- and medium-sized firms from around Southeast Asia. The Hong Kong International Diamond, Gem & Pearl Show and the Hong Kong International Jewellery Show, held in March, registered a two per cent increase in the number of buyers compared to last year. The twin events, which form the world's largest jewellery marketplace, attracted more than 76,000 buyers from 140 countries and regions.

HKTDC Deputy Executive Director Benjamin Chau said both shows had recorded increases in buyer attendance, despite the challenging macroeconomic environment.

"It is a very encouraging result. Attendance from some traditional markets even recorded double-digit percentage growth, such as the United States, Italy, the United Kingdom and Japan," said Mr Chau. "Attendance from certain emerging markets such as Thailand, Israel and South Africa also recorded significant growth, reinforcing Hong Kong's position as a leading jewellery sourcing hub."

Market research by the Hong Kong Trade Development Council (HKTDC) found that 80 per cent of all buyers surveyed expected similar or increased sales after taking part. They were upbeat about market prospects in Hong Kong and in the Chinese mainland.

The majority of the 1,206 participants surveyed said Hong Kong's jewellery trade fairs were "must-attend" events because of their high degree of effectiveness. Roughly nine out of 10 participants surveyed said exhibiting in Hong Kong would create new supply channels, and about eight out of 10 say the fair was important for introducing new products.
Market Forces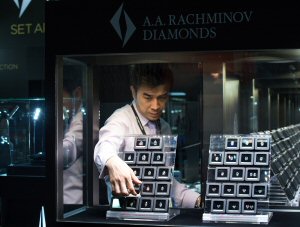 With economic uncertainty weighing heavily on many businesses, most exhibitors interviewed by Hong Kong Means Business said that selling in volume and being prepared to strike a deal, were key elements of the March fairs.

Pearl traders from Indonesia found a growing market in mainland buyers. Industry representatives say Hong Kong is the best location to meet major international buyers, whereas trade events in such places as Singapore tended to attract regional and retail customers.

Eric Tenggara, owner of Rosario Mutiara Pearl Farm and Marine Products, said 90 per cent of their buyers are from the mainland. The business cultivated large diameter, high-grade golden pearls to cater for a growing appetite in the mainland.

"We are fulfilling what the Chinese market wants. They want golden pearls, so we have increased our stock," he said. "Hong Kong is a very important show to grow Chinese customers, who are the ones now that are really spending."

Stephanie Liauw took over her father's pearl business and established Parva Candela. The company's perfectly formed champagne-coloured and South Sea pearls are also used in a line of jewellery under the same name.

"I think we are fortunate to work in an industry where demand for pearls is always ascending," Ms Liauw said. "Most of our buyers are from China, so Hong Kong is very important to us."
Mega-market Access
The mainland is also increasingly important for Pitousorkan Heng, who represented Cambodian gem manufacturer and exporter Heng Chhaykhy at the Hong Kong show. By exhibiting for the past three years in Hong Kong, he said that he has built solid relationships with mainland buyers. A specialist dealer of Cambodia's exclusive blue zircon, he said his key customer base five years ago was from Europe. "The Chinese market is getting bigger and bigger, which means Hong Kong is very important," Mr Heng said.

Hein Naing Oo, owner of Naing Family (Mogok) Gems Jewellery, is a regular visitor to Hong Kong, having attended the Jewellery Show since 2007, with his business specialising in natural stones, jade and crystals. "This year the event has been busier than expected, especially compared to the Bangkok show. Business here is good," he said.

"Our sales here are better than other shows we go to. Most of our customers are from mainland China and our older customers keep coming back and we also want to get some new customers."

Compared to his native Myanmar, the fifth-generation jeweller said the cost of showing in Hong Kong was high, but exposure to the raft of buyers at the show made it a lucrative trip.
Serious Customers
First-time exhibitor Fancy Spinel Gems, a loose spinel gemstones wholesaler and jeweller from Thailand, participated at the Hong Kong International Diamond, Gem & Pearl Show at AsiaWorld-Expo to pursue major business leads.
| | |
| --- | --- |
| "We came to the Hong Kong show as we were looking for more serious customers. We carefully craft our products and we want buyers who understand our work." | General manager Thanamwat Saenfoo said buyers in Hong Kong appreciated the work that went into his intricate jewellery, which could take a single craftsman up to six months to complete. |
"We came to the Hong Kong show as we were looking for more serious customers. We carefully craft our products and we want buyers who understand our work," he said.

"The customers are better than at the Bangkok show. We have met some really serious customers here. It's difficult to generate an appreciation of our product in Bangkok," he added, referring to the knowledgeable buyers drawn to the Hong Kong show.
Two from Two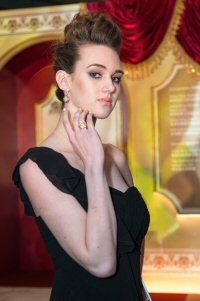 Returning exhibitor Special Jewellery, from Myanmar, exhibited at AsiaWorld-Expo for the second consecutive year. Owner Thida Mra, whose business is located in Yangon, said her sales team met new buyers from the mainland, Taiwan, Singapore, Sri Lanka, Germany, France and the Middle East by the end of the first three days of the event.
Starting as a jewellery business in 1992, Ms Mra branched into gems seven years ago. She said the fair had given her the opportunity to meet established clients. With unique opportunities to meet and do business, Hong Kong's trade events had not disappointed her yet, she said.
Related Links
Fancy Spinel Gems
Parva Candela