24 March 2015
Good Things in Small Packages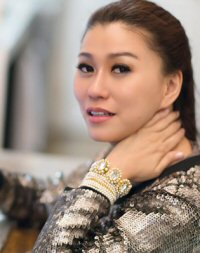 First Indonesia, then Hong Kong, then the world: this might sum up Eliana Putri Antonio's strategy to growing her eponymous brand, E.P.A Jewel.

For the past four years, the jewellery designer's reputation has grown, largely developed a loyal following, which extends to the Middle East, France and Malaysia.
Her first appearance at an international trade fair, at the Hong Kong International Jewellery Show, held earlier this month, has also opened potential lucrative new markets in the United States and Russia.

What led you to set up E.P.A?
I studied fashion design and styling in Japan in 1996, but my passion has always been accessories and fashion jewellery. I've been designing since I was in high school, making pieces for myself and my friends. But at the time, I was not really thinking seriously about it as a business. But five years ago, I lost my son from a car accident in Australia. After the accident, I moved back to Jakarta and my daughter asked me: "What do you love to do?" I started designing jewellery again.

Tell us about your business model.
E.P.A maintains a small operation that is self-sustaining. The business is based in Jakarta and I have a workshop in Bali. My work is currently stocked by two boutiques in Jakarta.

The team is driven and we're challenging ourselves to generate more profit. It has meant a great commitment from all of us to spend more time designing and producing for the local market, followed by the international market, for which we have had to increase our scale with more professional master employees and more equipment.

But I believe in "small and beautiful." I want to maintain a truly handmade product. Some people have offered to mass-produce my designs, but I am happy with the company's size right now.

What is your brand philosophy?
Our brand philosophy is "glam yourself." E.P.A has three lines: one is called Royal Vintage, the second is Glam Rock and the third is Sam and Eli. I also have the E.P.A Tribute for Indonesia collection, as I am proud of my heritage. The pieces combine my style and Indonesian traditional style.

The company's signature is "The Wing" logo. The wing holds meaning to me as I used to have two wings, but lost one when I lost my son.

The whole idea of the E.P.A business model and customer service offering is that the transaction must be a pleasure not pain. I want my customers to be in love with the product, to be eager to have it. I work with passion and I want everything to have true meaning.

What makes E.P.A different to other jewellery designers?
My designs are inspired by personal stories. E.P.A offers artistic handcrafted designs with varied collections of refined jewellery pieces. The design inspiration sometimes comes from my life experience, or sometimes I design to showcase other people's love stories or life stories, adding the "wow" factor in the details.

Tell us about your special collection.
My very special collection, called Prince Matthew, is dedicated to cerebral palsy and autism sufferers in Indonesia. When the accident happened, my son Matthew suffered brain damage. So the inspiration for the collection is to do something good for the future and for children.

How have you been promoting your brand?
The marketing team is dedicated to representing my vision, and we work together to decide when it is time to expand by increasing sales to existing customers.

Building strong relationships is a separate activity that I focus on. Promotions and advertising have taken our business to a new level. Social media is also useful and we have found new customers through Instagram, for example. Our first experience at this trade fair was a good step for us. To open the brand to an international market is very helpful.

What's next for E.P.A?
We are pursuing opportunities in other cities and countries where E.P.A can develop new skills and designs, but the work needs to be recognisable as uniquely Indonesian.

The trade fair [in Hong Kong] was good as we had many leads, mostly from the United States and Russia. The Russian buyers, in particular, like my designs as they say it suits the Russian market right now and they will choose from my collections and pick which one is suitable for their market.

What's your advice for a new company?
My advice to anyone starting out is; don't make the mistake of attempting to grow too soon.
Related Link
EPA Jewel