8 April 2015
Partners in Film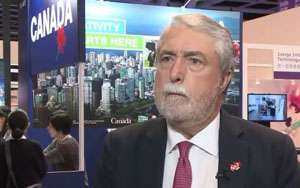 Richard Brownsey is President and CEO of Creative BC, the body responsible for promoting the development of creative industries in the Canadian province of British Columbia. Creative BC provides a one-stop shop for industry programming, production support services, tax credit administration, international marketing and policy development in the province.

Mr Brownsey led the BC delegation as part of the Canadian pavilion at this year's FILMART, which was held in Hong Kong last month. Mr Brownsey says there are plenty of areas for collaboration between Hong Kong and British Columbia.
Why has Creative BC joined FILMART this year?

Fundamentally, we see Hong Kong as the gateway to Asia, and we see Asia as an opportunity. When you look at the size and growth of the [entertainment] industry [in Asia], the number of people, the incredible growth in the economies, we thought that we wanted to be here and we thought that we must bring our producers and our industry folks here to get a sense of what those possibilities might be, and to begin the process of developing relationships.

In what areas can the Hong Kong and Canadian film industries collaborate?

I think there are several ways we can work together. We do many location shooting in British Columbia particularly, and there is interest in having films shot in British Columbia. We think there is the possibility of co-productions between Hong Kong and other Asian firms with companies in Canada. We have a shared history that goes back well over 100 years and we think there are stories that resonate on both sides of the Pacific. We also think there are opportunities in post-production and visual effects and in animation.
And finally, we see Canada and Vancouver as the natural landing point for companies from Asia. If you want to enter the North American market and need a soft landing spot, that's Vancouver. It's a very easy place to do business. So I think in all of those areas, there are opportunities. It will take time, but we are committed and we'll keep coming back.
Do you see Hong Kong as a platform to the Chinese mainland market, which is itself opening up to film and entertainment?

Absolutely. When I said that we see Hong Kong as the gateway to Asia, that includes the Chinese mainland. That doesn't mean we won't go to Beijing and speak to people there, but Hong Kong is a way into China that we need to explore and understand better than we do.

How can Hong Kong's FILMART, therefore, serve as major centre for meeting people and putting producers in touch with each other?

I really believe it has that potential. In Canada, we have traditionally looked to Europe as our co-production partners and as our business partners. So we have gone for many years to the markets in the south of France and in Germany. But there is a shift in the entertainment business; and in the world, and that is towards Asia. So this is, to my mind, the best market that I am aware of in Asia, and one we need to have a presence in if we are going to, at any time, figure out how we can be successful here in Asia.

Are Canada and Hong Kong equipped to respond to the new digital international television and film market?

We are in a digital business. There is no "film" any more. We have a digital hub in Vancouver: with one of the world's most significant digital effects centres and digital animation centres. We are also very much aware of Hong Kong as being at the cutting edge of the digital world. So we think there are possibilities, relationships that we can develop, and we are here to do so.

As a major international finance and business centre, what role can Hong Kong play in terms of financing for film financing?

Very clearly there is money now in Asia that is looking to get into the entertainment business – and looking for content. Canadians, on the other hand, bring their experience, knowledge of world markets, of the broadcast systems, their understanding of the distribution systems; they are bringing the incentive programmes, which are at the core of our business. I think that the combination of our experience and financing that we can bring to the table, with money that is available in Asia looking to get into the entertainment business, suggests to me that there are partnerships to be had.
Related Links