15 April 2015
Lighting the Way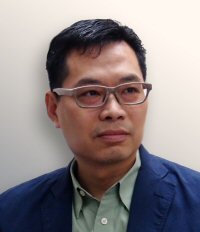 City Kaleidoscope, a three-metre signpost powered by eco-friendly light-emitting plasma bulbs, from Hong Kong-based Design Lava Consultancy Co Ltd, was among the winning designs at this year's Hong Kong Lighting Design Competition. The contest is held annually alongside the Hong Kong International Lighting Fair, which ended its four-day run on 9 April. Designer Cary Wong, from Design Lava, says the hard-to-miss road sign serves as a tourist guide and a reminder for busy commuters to "take a break."

Tell us about City Kaleidoscope
It serves as a directory for tourists who have trouble navigating around the city, including in shopping districts such as Central and Tsim Sha Tsui, and lesser-known neighbourhoods such as Sham Shui Po and Lai Chi Kok. It also allows city commuters to rediscover the communities they live in, giving them a new perspective on modern architecture and centuries-old historical sites they see every day. I want to show a different side of the city by providing a kaleidoscopic view on the seemingly ordinary.

How does it work?
The design is simple – it is a vertical aluminium capsule powered by plasma lighting from the United States. It is a silver metal tube with various destination names on the side. When light shoots through designated vertical slots, colourful paths can be seen on the ground pointing towards specific locations. The light stretches as far as two to three metres, to make sure that you won't head in the wrong direction when you're in a rush.
We partnered with Ka Shui Holdings, one of our clients that specialises in producing lighted road signs. One of the [competition] judges suggested that we add physical indicators so that the directory also serves a function during the day.

What were some of the challenges you encountered in coming up with the design?
It was difficult to source light bulbs that employ the light-emitting plasma technology, which is more environmentally friendly. Luckily, the problem was solved when we received approval from Ka Shui to use its bulbs in our design. We also had trouble producing a 1:1 prototype as required since our suppliers found it difficult to complete the task. There was also the challenge of transporting it. We needed a large truck and several strong people to carry it from one place to another.

How long did it take to develop the design?
About 20 days. It took us more than 10 days to conceptualise our design, and we used the remaining time for product development.

How did you get into the lighting industry?
It was by chance. I originally wanted to study interior design when I enrolled in a diploma course at the Hong Kong Polytechnic University. But a professor who I met during the interview said my potential was in industrial design, which was my second choice. That led me to what I am doing now.

What do you hope to take away from this competition?
I hope to meet real estate agents who are steering such projects as those related to the West Kowloon Cultural District, and the Hong Kong Tourism Board. I want them to know that there is a locally designed and made product for them to get their message across.

Many of your customers are from the Chinese mainland. How do they respond to new designs?
Their taste has matured since I started working in the industry 10 years ago. They were quite conservative then, but now, with exposure to international design through travel and the Internet, they have no problem staying ahead of everything. Some of the mainland clients I've worked with really understand their target audience; they can tell the difference between a German and Italian design very clearly if they specialise in the European market.

How can Hong Kong further develop its design sector?
There are many educational institutes offering courses to support young talent. Its strong basis really forms a foundation for the city's creative scene. It depends on keeping the industry up and running by striving to stay ahead of the times. The industry will only be sustainable when there is a market to support it. I think the way to go is to incorporate technology into designs. If we look at toasters, for example, we could look into the possibility of converting them into smart devices rather than merely changing the colour or appearance, which is the current practice.
Related Link
Design Lava Consultancy Co Ltd