21 April 2015
Fresh View of Feng Shui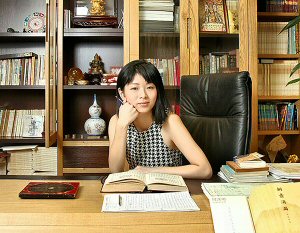 From the bronze lions that guard the entrance to the HSBC headquarters in Central, to the square hole that allows "qi" to flow through residential development The Repulse Bay, the ancient practice of feng shui still reigns supreme in Hong Kong, with many companies consulting feng shui experts to harmonise buildings and businesses with the surrounding environment.

Thierry Chow is combining her love of design and geomancy by launching a line of feng shui-themed homeware through her company, TRE. Set up last November on just HK$8,000, the online business Ms Chow started with Hong Kong-based artist Simon Birch offers a contemporary take on the ancient practice.

What attracted you to feng shui?
When I began apprenticing under my father in 2011, I had already been working in Hong Kong for a few years. I was teaching art, but wanted to do something different. I felt that if I didn't learn feng shui, maybe the practice would get lost, as it's not as popular among the younger generation.

Most of my clients are looking for non-traditional feng shui solutions. They don't really want to put dragons into their home. If your friends see dragon statues in your home, they know you have seen a feng shui master. I look at the different elements – copper, wood, water – and also use shape, patterns and materials [to balance feng shui].

When will the online site launch?
It's due to go live this summer. The first product that will go on sale is the copper clock, which will be available by June. Other products are likely to be launched by the end of the year. I'd like to bring the products to the Western market. I think the pieces could take off in the United States, but also in Taiwan, Japan and Korea; many Asian countries are interested in feng shui.

Tell us about the design of your contemporary feng shui compass.
The traditional compasses all look the same – they're bulky and [the square base] is always red [to symbolise auspiciousness]. I replaced the red base with a street art sticker, which I cut into pieces then pasted on. I'd really like to do exhibitions and collaborations with different artists. I also hope to team up with other designers on my upcoming homeware line, including local design collective Entendre studios.

How else are you bringing feng shui to a younger audience?
I have conducted several workshops, including "Feng Shui Fashion Therapy" as part of last year's Fashion Forward Festival, organised by the Fashion Farm Foundation. Participants learned how to read a feng shui compass at my feng shui accessories workshop, which was one of the sessions at last year's GO-SEES Shop + Art Tour.

How is feng shui applicable to daily life?
It's about becoming more aware of your environment: over-use of technology and walking past construction sites every day, these things can affect you. Feng shui is similar to yoga; you can use it to balance out negative elements, and use it every day to make you feel better and healthier. If you don't feel comfortable in a place, there's a reason for it. One of the most important environmental factors to be aware of is lighting. In Hong Kong, some people use really pale or neon lighting, but those kinds of light can make you feel really uncomfortable.

In addition to the website and product launches, what are your other plans for 2015?
I'm currently sharing an office space with my father in Causeway Bay, and it's my dream to open my own feng shui practice and retail store in one space. But I was looking in Tai Hang and it's so expensive. Hopefully, I can find some sponsors and investors, as we're looking at least at HK$250,000 [a year] for a space like that.
Related Link
Thierry Chow ~ Feng Shui