30 April 2015
Fast Food
Hotbeds of innovative culinary concepts from Los Angeles to London, food trucks may soon be coming to Hong Kong. In his budget speech in March, Hong Kong Financial Secretary John Tsang indicated that the government will look into granting food truck licenses to boost F&B start-ups.

While Hong Kong is home to some 12,000 eateries, including a range of Michelin-starred restaurants, the number of licensed hawkers, or street vendors, has fallen to about 6,000 since authorities stopped issuing new licenses in the early 1970s.

The latest government proposal to revive street food business with this modern "meals on wheels" twist has entrepreneurs in the food and beverage sector keen to explore this route.
Slice of the Action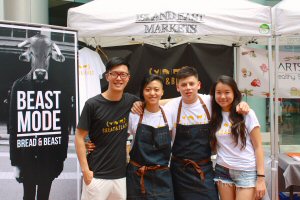 Chris Cheung, Marketing Executive of Hong Kong-based sandwich outlet Bread & Beast, said that food trucks share the open and communal dining culture that is popular in Hong Kong and ingrained in the local culture. "People of our generation are more interested in doing street food in a food truck because it is seen as something really cool," said the 25-year-old entrepreneur. "Food trucks would encourage people, including tourists, to revive the city's street food culture."

The lack of freshly-made, high-quality sandwiches prompted foodies and schoolmates Katy Cheung and Lewis Dai to set up specialty kitchen Bread & Beast when they returned from their studies in North America.

Launched in August 2014, Bread & Beast serves artisanal sandwiches using off-cut meats such as oxtail, and home-made pickles.

"Street food is not restricted to certain crowds," said Mr Cheung, "It's unfortunate that some of the street foods that I had in my childhood can only be found in certain areas, making it very inconvenient for me."
Raw Dining Experience
Tony Cheng of Drawing Room Concepts restaurants said that the set-up of food trucks differs from restaurants, where customers are largely shielded from kitchens, offering little chance to interact with the chefs.

"This raw dining experience is unique to food trucks," said Mr Cheng. "People could chat with the chef and see how their orders are handled, a practice almost impossible to achieve in restaurant settings." Mr Cheng sees food trucks as the right model for passionate F&B business start-ups that want to focus on making one or two specialty items. "With a team comprising three to four chefs and no rental cost, the profit margin will be relatively high."
Market Test-drive
From Korean-inspired short rib burritos to French fries sandwich stacks, food trucks have been thriving in major cities. Popular among the lunch crowd and late-night revellers, these mobile kitchens help food entrepreneurs cultivate a fan base before opening their own restaurants. Bread & Beast's Katy Cheung, believes that food trucks work as a trial for start-ups, especially when rents in established food districts such as Central run in the hundreds of thousands of dollars. "It's a style that allows a brand to test the market. So if it works, obviously it will work in a bricks-and-mortar shop," said Ms Cheung. "It also allows us to experiment with different areas as we are mobile; the trucks will be allowed to set up where parking is allowed."
Mexican Wave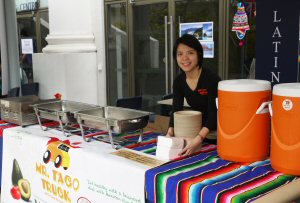 After several attempts to obtain a license to realise her food truck concept, Vivian Wong started Mr Taco Truck in 2009 in Central. Determined to recreate an authentic Mexican dining experience, Ms Wong opened a dine-in shop incorporating a built-in truck design.

"Food trucks provide delicious food at good value," said Ms Wong. "Unlike hawker stalls, food trucks are enclosed kitchens equipped with ventilation and disposal system aligned to restaurant standard operating procedures. This makes sure that the customers are not exposed to such risks as food poisoning."

The restaurateur believes that introducing food trucks will enrich Hong Kong's dining scene, and would be a boon to her growing business, whose clientele has expanded from expats to local and Chinese mainland customers.
Ms Wong estimates a food truck would cost up to HK$500,000, including license fees and remodeling expenses. She thinks the set-up cost is relatively low compared to a shop, making it attractive for start-ups that are uncertain about their menus and short on capital. "Big corporations are investing HK$3million to HK$4 million on a single store. If you open a small business like a coffee shop or cafe, it could take up to HK$600,000."
While there are concerns that the sector will be dominated by major food chains, Simon Wong, President of Federation of Restaurants and Related Trades, disagrees, saying franchising could be a way for start-ups to share a slice of the market.
"This is a good way to introduce traditional delicacies to tourists," said Mr Wong. "This will also curate creativity within the industry. If you look at the cutting-edge displays and colourful ads on trucks in the United States and Europe, they really light up the city's food scene." Mr Wong said many of his members are interested in the food truck business. An established restaurateur, Mr Wong said that he is also keen to roll out trucks serving the ubiquitous Hong Kong-style milk tea.
Surf and Turf
Bread & Beast has its eye on recreational spaces such as Stanley Main Beach and Tamar Park to avoid heavy traffic, which is seen as a major hurdle for introducing food trucks in Hong Kong. "The government has to set a limit on how many licenses they can issue," said the company's Operation Executive, Jacqueline Chan.

"I think they will restrict the number of food trucks to be operated in prime areas such as Central. You may need a different license for a different area." Mr Taco Truck's owner Vivian Wong agreed, saying quality eateries are needed in country parks and beaches, where pre-packaged sandwiches are often the only food on offer.

"There's a need for food trucks, particularly during special functions, such as music festivals." The Hong Kong Government is now considering the feasibility of introducing food truck licenses in the city.
Related Links
Bread and Beast
Drawing Room Concepts
Mr Taco Truck