11 June 2015
Thriving on Change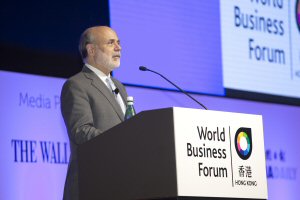 The inaugural World Business Forum in Hong Kong, held 2-3 June, featured eight speakers discussing issues that dominate today's business environment. With the global economy still in recovery mode, the conference was attended by some 1,200 senior executives at the Hong Kong Convention and Exhibition Centre, among them former United States Federal Reserve Chairman Ben Bernanke. On his first visit to Hong Kong, Mr Bernanke said China's measures to diversify its economy were "the right thing to do."

"We've learned the hard way in the last 10 to 15 years that financial reform is very tricky," Mr Bernanke said. "China is right to move in a cautious way and a step-by-step approach, so that they don't create any problems."

He said that China's slowdown is inevitable given its ongoing economic transformation from an investment and export-led growth model to a more services and consumer-oriented one. Financial reforms will remain the challenge, he said, to avoid disrupting the market. "Hong Kong, being the airlock between China and the world economy, will play a big role in bringing China into the global market."

Mr Bernanke said that other Asian emerging markets will also have to grapple with the same pressure to diversify, citing South Korea and Taiwan, which have also matured to the next step.
World Economic Outlook
With Europe and China's slowdown, the onus is on the US to be the sole engine for world growth; solid economic indicators point to continued US economic recovery, Mr Bernanke said. And while it's too early to tell if US consumer confidence has returned to pre-2008 levels, he said lower fuel prices will help spur spending. "You can always count on US consumers to spend," he said.

The risks for the US lie in slow growth abroad having a knock-on effect domestically; especially Europe, which he said has been slow to take action to address the problem.

For the medium-term forecast, the general consensus is for moderate growth, "but I'm more optimistic than some," Mr Bernanke said, citing gains in world productivity and a general rise in R&D spending.
Digital Transformation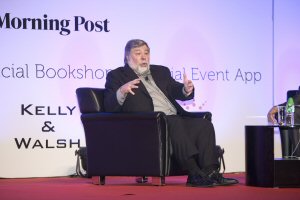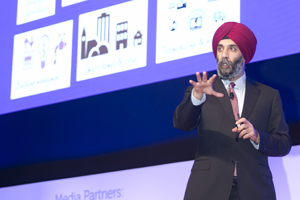 | | |
| --- | --- |
| "You can either surf the opportunities or be swallowed up by the disruption" | The growth in R&D spending is being fueled by the ongoing development of digital technology, which is revolutionising the way companies do business. |
"You can either surf the opportunities or be swallowed up by the disruption," said Mohanbir Sawhney, Professor and Director of the Center for Research in Technology and Innovation at the Kellogg School of Management.

In today's "hyperconnected world," Professor Sawhney said, people, information, things and infrastructure are connected via a broadband network, transforming work, life and business. "Technology is disrupting every aspect of society, from retail, health care, financial services," he noted.

The explosion in the growth of mobile devices has moved on to the next revolution, the Internet of Things (IoT). With the focus now on wearables, he said IoT will eventually connect homes, cities and industries.

The ongoing transformation makes these days "real exciting times," said Apple co-founder Steve Wozniak. Despite not being among the early adopters of the much ballyhooed smartwatches, Mr Wozniak predicted the market will rely on IoT "to do so much more."

He said that the next stage of development lies in artificial intelligence to make robots "more human," as well as virtual reality devices that "create emotional experience."

The digital revolution has allowed business disruptors, such as online rental accommodation site Airbnb and online car-service company Uber, to challenge traditional business models, transforming the market faster than in the last decade.
Culture of Innovation
Amid the evolving business models, reinvention is the key for companies, according to Tom Peters, co-author of the bestselling book In Search of Excellence. Mr Peters said that a culture of innovation is more important now than strategy. "There needs to be innovation in all departments of an organisation, not just in the research and development team."

Mr Peters was among several speakers who highlighted the importance of failure in spurring innovation.

"Creative individuals are not focused on success, but mastery," said Sarah Lewis, faculty member at Yale University's School of Art. Ms Lewis said that innovators are allowed to be amateurs, and given space to experiment. The "gift of failure," she said, allows successful innovators to be tenacious and flexible.
Dealing with Digital Disruption
Failure is part of the experimentation process, echoed Professor Sawhney. "If you succeed in your experiments, you're not trying hard enough."

To deal with digital disruption, Professor Sawhney suggested strategies that include creating or acquiring your own business disruptor and integrating digital technology with your company's physical assets.

He also advised that traditional companies learn from disruptors and integrate some of the disruptors' strategies into their business model, whether it means using social media, implementing a hybrid experience, and most importantly, adopting a disruptor's mindset.

"Digital disruption is a tsunami. What's the difference between a threat and an opportunity," said Professor Sawhney. "It is simply your ability to capitalise on it. If you move fast, this tsunami can be a powerful wave for you to ride."

Related Link
World Business Forum
Follow HKTDC on Facebook, Google+, LinkedIn, Twitter @hktdc