19 June 2015
Super-connector to Asia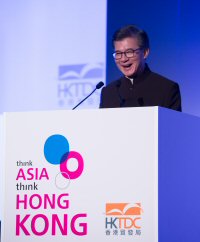 The crowds were animated and diverse at the latest "Think Asia, Think Hong Kong" (TATHK) promotion, a two-cities-in-two-countries event, held in Toronto, 8 June, and Chicago, 10 June. Organised by the Hong Kong Trade Development Council (HKTDC), the symposiums were the largest-ever staged in Canada and the US Midwest, and served to highlight Hong Kong's role as a springboard to doing business with Asia, particularly the Chinese mainland. Similar events have been staged previously in Europe and Japan as well as the US cities of New York and Los Angeles.

"No one knows the Chinese mainland markets better than we do in Hong Kong," said HKTDC Chairman Vincent HS Lo, who noted how Chicago and Toronto both served as "springboards for business" and "integral parts of larger economic engines," similar to Hong Kong's role in Asia.

"Our strategic position, not only as the gateway to the mainland but also as the global trade hub in Asia, also gives us a natural advantage as a springboard for international companies entering the Asian market," Mr Lo said.

The events were structured around a trade mission led by Hong Kong Chief Executive CY Leung, featuring a delegation of more than 150 business leaders from Hong Kong and the mainland. "We're here because we believe that our strong and longstanding connections, in business and in culture, offer the promise of a far more rewarding future for our two economies and the companies that drive them," said Mr Leung.
Beyond OEM Manufacturing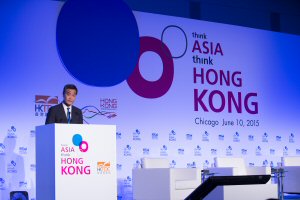 US participants travelled from as far away as California and Florida, with many saying they've had little or no business experience in Asia. High-level speakers at the symposiums urged North American businesses to look beyond China's traditional position as a low-cost manufacturing hub.

"We've stopped calling our Hong Kong [operation] a logistics hub. It's an 'intelligence' hub serving China, Korea, Japan and Taiwan," said Gebhard Rainer, President and Chief Operating Officer of luxury leather goods brand Coach. Mr Rainer highlighted Hong Kong's connector role in the company's increasingly global business, noting that Coach has two offices in Hong Kong; one to manage the supply chain of production out of China, and one to support their distribution operations in Shanghai and Tokyo.

Marjorie Yang, Chairman of fashion company Esquel Group, described the challenges facing manufacturers based in the Pearl River Delta region. With labour costs rising and the mainland market moving towards higher-quality consumer goods, low-cost manufacturers are feeling the pinch. "It's a critical time for them – only the fittest will survive." Ms Yang outlined partnership opportunities for American companies to help mainland businesses upgrade.

Other areas for collaboration include capital-raising, strategic direction and modern management, according to Dr Chu Gang, Chief Operating Officer for China International Capital Corporation. "My advice for foreign companies is to find your niche – don't just look to SOEs [Chinese state-owned enterprises]." Dr Chu added that the recently expanded renminbi bond market and the new Shanghai-Hong Kong Stock Connect initiative, has made partnering with foreign companies through Hong Kong much easier.
Breaking into China Market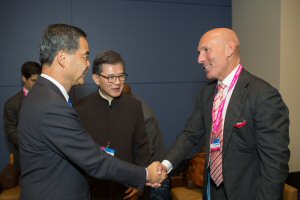 The mainland consumer market is also evolving. While demand for foreign luxury brands has drastically fallen sparked by the country's anti-corruption crackdown, the middle-class has become increasingly discerning and quality-minded.

That's welcome news to Denton Brown, whose company, Sonus Ventures, is looking to China for its new venture in high-quality cocoa distribution.

"It's impossible to know where to begin," said Mr Brown. "We know the market is there, we just don't know any of the players." He and his partner had planned a fact-finding trip to Hong Kong and Macau, but are now considering Hong Kong incorporation, citing Hong Kong's free-trade pact with the mainland called the Closer Economic Partnership Arrangement, which gives Hong Kong-incorporated companies a first-mover advantage in the mainland.

"You don't have to go far [from Hong Kong] – there is a huge population nearby," said Charles Ng, Associate Director-General of Investment Promotion at Invest Hong Kong. With the completion in the next couple of years of two major transport infrastructure projects; an express rail line, which will connect Hong Kong to the mainland's high-speed rail network, and the massive Hong Kong-Zhuhai-Macau Bridge, Mr Ng estimates there will be 65 million people within a single hour's travel time from Hong Kong.

Many TATHK attendees were also interested in attracting Chinese investment. Paul Pickard, Managing Director for private equity investment firm Stewart Capital Management, said Chinese investors were particularly interested in leading-edge technology. "I think they are definitely looking to improve their standing with strong IP" Mr Pickard added that while there's a perception that IP protection in the mainland remains weak, Chinese companies are eager to acquire technology brands that they can develop and expand in the domestic market and abroad. He has started looking for medical device companies for Chinese acquisition; an area he believes has strong growth potential.

According to Raymond Yip, HKTDC Deputy Executive Director, China now is the world's third-largest investor economy, with "60 per cent of that US$660 billion going through Hong Kong."
Trade Pact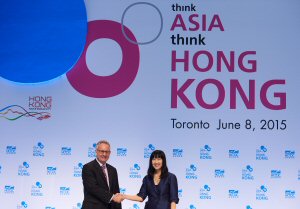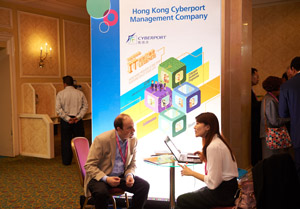 During the Toronto symposium, HKTDC Executive Director Margaret Fong and Canada's Minister of International Trade Ed Fast, signed a trade promotion arrangement between the HKTDC and Foreign Affairs, Trade and Development Canada. "Canada and Hong Kong have a longstanding partnership, strengthened by our people-to-people ties," said Mr Fast. Ms Fong added that the arrangement "further promotes business opportunities in financial services, logistics, food, technology and intellectual property."
Follow HKTDC on Facebook, Google+, LinkedIn, Twitter @hktdc