21 Aug 2015
Urban Green Thumb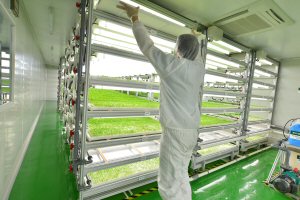 The practice of growing crops using mineral nutrient solution in water without soil, otherwise known as hydroponic farming, gained momentum in 2013, when iVeggie, a research centre largely funded by the Vegetable Marketing Organisation (VMO), was launched.

Hong Kong is now home to 19 hydroponic farms, located in the countryside and industrial buildings, with the government keen to promote the new farming technique.
Indoor Agriculture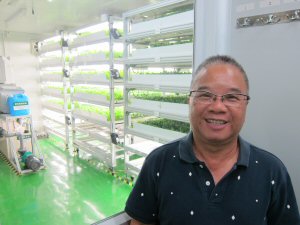 "The rise of hydroponics will not replace traditional soil cultivation – each technique is special in its own way," said Chan Siu Lun, Production Consultant at iVeggie and formerly with the government's Agriculture, Fisheries and Conservation Department. "Hydroponics is a modern approach to farming, which is also the direction of our research." He has high hopes that hydroponics will help boost local production. "The amount of locally-grown produce has dropped significantly over the years," said Mr Chan, who noted that 30 per cent of vegetables in the market in the 1970s came from local farms. That figure now is only two per cent.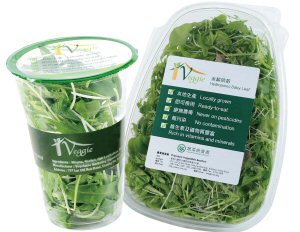 iVeggie's 2,500-square-foot indoor farm cultivates an area of 5,400 square feet of crops grown on multi-layered trays.

The centre supplies about 32 kilogrammes of ready-to-eat vegetables each day for food outlets and restaurants, including The Peninsula Hotel.

"Consulate representatives who have visited us have been amazed at the scale of the production," said Mr Chan, "Hong Kong is small and compact, but the technology we have here is comparable to that of the West." Farm produce that grow in a carefully-controlled environment is free of pesticide and is fresher because they take less than a day to reach retail shelves. "Supply is stable as the produce is immune from typhoons, droughts and other unpredictable weather conditions," said Mr Chan.

Hydroponics at Eco Expo


Hydroponics took centre stage in Eco Expo Asia 2013, a trading platform for green technologies and solutions in Asia. Wilfred Wong, co-founder of Hong Kong-based farm Amazing Greens Hydroponics, which exhibited at the Expo, said buyer tours helped bring people to the booth. "We are in close contact with buyers we have met during the fair; some of them are from abroad, while some are from Hong Kong and Macau."

Jointly organised by the HKTDC and the government's Environment Bureau, this year's event, to be held 28-31 October, will welcome the Illinois Pavilion. Now in its 10th year, Eco Expo Asia serves as a launchpad for enterprises from the US and beyond who are looking to tap the expanding green market in the region.


Farming App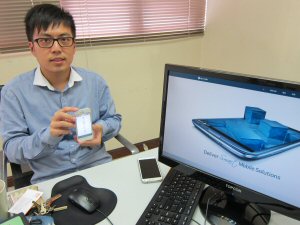 Its reliance on water and indoor lighting, however, makes hydroponic farming more energy-intensive than conventional methods. The initial investment could be up to several million dollars to set up water treatment, air purification and lighting systems.

High electricity usage has environmentalists questioning the green credentials of hydroponics. But Mr Chan said that while electricity use is high, water is recycled, whereas half of the water used in conventional farming goes to waste.

A Hong Kong company, together with its US and Chinese mainland business partners, has developed technology to help hydroponics be more energy efficient. Benny Chan, founder of Hong Kong technology start-up SillyCube, came up with the mobile application iFarm. "The app connects the facilities and farmers," said Mr Chan. "Users can adjust the lighting and turn on the energy-saving mode remotely." When used with water-proof pH sensors and humidity monitors, farmers will have access to the status of each plant. Mr Chan said the app suits larger-scale hydroponic farms, and those in places where labour costs are higher.
Reducing Carbon Footprint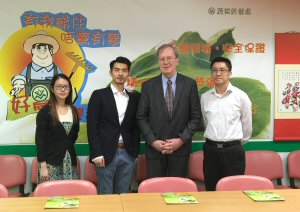 Hong Kong imports much of its fresh produce, resulting in a high carbon footprint. Therefore, consuming locally grown produce, including from hydroponic farms, is more sustainable, according to Camilla Yu, Business Development Manager of Hong Kong hydroponic farm, SCATIL. "Logistics costs are reduced if we consume more locally-grown produce." SCATIL was launched last December, after a year setting up the farm and gaining government approval. The initial set-up capital was high, she said, but the turnover is quick as crops grow faster. The farm produces 250 kilogrammes of vegetables a day. With their high-volume production, Ms Yu said their clients are mainly wholesale and B2B.

While hydroponics could help restore the city's former agricultural glory, iVeggie's Mr Chan warned that some warehouses and industrial buildings are not allowed to be converted for agricultural use. "Interested parties should check with the Lands Department and other relevant government departments, to see if it's legal to convert the premises into crop production sites."
Growing Demand
Mr Chan believes there's a potentially large market for hydroponics produce as awareness grows within the community, and as farmers expand their crop variety.

"Only plants with short stems, such as lettuce and rocket, are suitable for vertical farming," said Mr Chan. "One of our initiatives is to include Chinese broccoli and bok choy," which he believes will help broaden the demand for hydroponic produce.
Related Links
Eco Expo Asia
iVeggie
SCATIL
SillyCube
Follow HKTDC on Facebook, Google+, LinkedIn, Twitter @hktdc