24 Aug 2015
HKMB Wins Communicator Award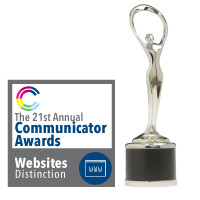 WHAT: The Hong Kong Trade Development Council (HKTDC) business information website, Hong Kong Means Business, has received the 21st Annual Communicator Award of Distinction – News Website Category.

WHEN: 2015

WHO: The Communicator Awards is a leading international awards programme recognising big ideas in marketing and communication. Other winners this year include global brands and multinationals, such as the Ritz-Carlton, Cisco and Mercedes-Benz.

WHY: Reaching more than one million readers each week, Hong Kong Means Business targets SMEs and key business decision-makers with an interest in Hong Kong.

With mobile compatibility and personalised subscriber profiles, HKMB promotes Hong Kong as a trading partner and a business platform for the Chinese mainland and the Asia-Pacific region, with content highlighting business opportunities in various markets.

WHERE: To subscribe to Hong Kong Means Business, please click here.
Follow HKTDC on Facebook, Google+, LinkedIn, Twitter @hktdc