9 Sept 2015
Kings of the Road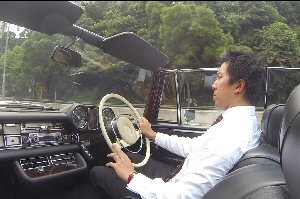 On the backstreets and byways, cruising in the countryside most weekends are some of Hong Kong's head-turning fleet of classic cars and their owners. The Classic Car Club of Hong Kong, which started life as an arm of the Automobile Association before breaking away in 1989, is one of the city's most fashionable clubs, with a membership hovering around 400 people. Each month, the club hosts a drive-out where 30 members regularly gather for a drive in the New Territories and stop for breakfast.

The club's Vice-President Carl Yuen, a Hong Kong born-and-bred barrister, said club members collect an array of classic vehicles, from multiple Ferrari 250 GTOs, Aston Martin DB5s, gull-wing Mercedes models, Lamborghinis and Bugattis, several Rolls-Royces and Bentleys.

Mr Yuen's passion came from both his father, who loved vintage cars, and his mother, a historian who gave him an appreciation of the past. "Every car I own is a classic," he said.
Collective Community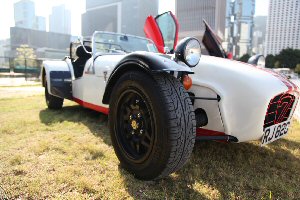 "The 1985 BMW 325i was a sentimental flashback from my days in London, and the 1992 Mercedes 190E 2.3 is exactly the same car that Dad bought me when I got my driving licence.

"My 1994 Toyota Celica GT-Four Group A Rallye (OK) edition is one of the hero cars when I was completely immersed in the arcade game Sega Rally, and it took part in the last Hong Kong-Beijing Rally in 1995."

Mr Yuen said the appeal of collecting differs from person to person. "For me, it's re-living many childhood memories as my Dad had a number of old cars – as they were known then, they have now been promoted to classics – and I have strived to buy the cars I grew up in," he said.

"For some, they aim for their silver-screen heroes and collect James Bond's Aston Martins, the Magnum PI Ferrari and Don Johnson's [Ferrari] Testarossa, not to mention [Back to the Future's] Marty McFly's DeLorean."

The cost of getting behind the wheel of some of this rolling stock? Anywhere from HK$10,000 to much, much more than a HK$1 million.
From the Heart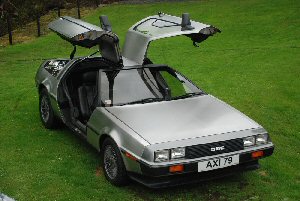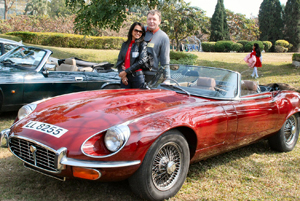 Architect Ian Foster is among the best-known figures in the Hong Kong classic car scene, with an impressive personal collection of 40 vehicles, six of which he keeps in Hong Kong.

"The special ones are my two 1981 DeLoreans – like myself, they were made in Northern Ireland – also an E-Type Jaguar, a couple of Porsches, an ex-Army Land Rover from Belfast, and a 1977 Austin Princess 'Wedge' that I learned to drive in," said Mr Foster.

"The latter car is one of the cheapest cars in my collection, but it is one of my favourites as it transports me back to the happy, care-free days when I was 18-years-old."

Mr Foster is a former chairman of the Classic Car Club and occasionally gives lectures on investing in classic cars. He says the most popular marques include classic sports cars, such as the Porsche 911, Ferrari and E-type Jaguars. Meanwhile, Mr Yuen says there has been a growing interest in collecting Japanese cars.

"I reckon it's a combination between people having more cash and having kids later and Japanese racing and drifting cartoons, such as Initial D, glamorising many boy-racing Toyotas, Mazdas, Nissans and Mitsubishis," Mr Yuen said. "Also with our definition of a classic car being 20 years old, these mid-1990s Japanese cars were better built and cherished, hence their popularity."

Club members say that inclusiveness cuts across culture within the membership, and leads to a wider expression of community. Enthusiasts tell you one of the best things about the classic car scene is the annual drive for the elderly, as well as the traffic-safety promotion campaigns.

There are also regular events, such as car shows and rallies, with the Hong Kong Classic next month and the car club's annual Chater Road show in the Central business district, which will be held this year on 15 November.
Classic Events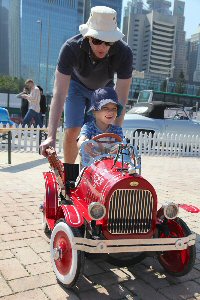 Mr Yuen said three key car club events to be held in the Chinese mainland in the coming months: the Great Wall Rally, the Beijing-Shanghai Rally and the Hong Kong-Beijing Rally 30th Anniversary celebrations in October, will see local members take part in a convoy travelling 1,800-kilometres over a week.

Another annual vintage-car event happening locally is the two-day Hong Kong Classic, to be held this year at the Central Harbourfront, from 9 to 11 October.

"We hope to create a festival that will bring communities together in a fun, informative and beautiful environment," says Melanie Riach, the young Briton who is part of the husband-and-wife festival team, Straight Six Automotive Ltd. It is the company's second annual vintage car festival on the foreshore. The event is billed as the biggest, most impressive collection of classic cars and motorcycles ever assembled in Hong Kong.

Among the expected 100 exhibits are a rare 1967 Lamborghini 400GT, previously owned by former Beatle, Sir Paul McCartney, and a 1991 AC Cobra, formerly owned by rocker Rod Stewart. But the star attraction will be a 1930s British racing car, the 24-litre Napier-Railton, which set 50 world speed records.
Related Links
The Hong Kong Classic
The Hong Kong Classic Car Club
Straight Six Automotive
Follow HKTDC on Facebook, Google+, LinkedIn, Twitter @hktdc