25 Sept 2015
Harvest Moon Festival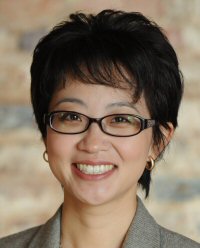 What do mooncakes, fire dragon dancing and paper lanterns have to do with 21st century business in Hong Kong? These traditions all form part of the Mid-Autumn Festival, a time when offices close for the community to celebrate one of the most important events in Chinese culture.

The festival dates back 3,000 years to the Shang Dynasty when, according to one legend, ancient emperors worshipped the harvest moon at mid-autumn, as they believed that the practice would bring them a plentiful harvest the following year. Occurring on the 15th day of the eighth lunar month when the moon is at its fullest and brightest, it is celebrated in modern society by sharing a sumptuous dinner, eating mooncakes, admiring the moon and socialising.

Though Mid-Autumn Festival is traditionally a time for family reunion, it is also an occasion for businesses to network and strengthen relationships. By joining in the festivities in a respectful way, said Bernice Lee, Director, ELI (The Etiquette & Leadership Institute), non-Chinese companies can impress Chinese business partners and clients by showing their knowledge of and respect for Chinese customs.

"Understanding what the Chinese expect and why they expect it is very important to Western companies that wish to do business successfully in China," Ms Lee said. "I suspect that, in many cases, the ability to do things the 'Chinese way' is impressive and flattering, and can make the difference between success and failure in a business deal. It shows respect and appreciation for Chinese culture."

Minding Your Manners


Canadian-born Bernice Lee set up ELI, The Etiquette & Leadership Institute, in Hong Kong in December 2013. She became a certified etiquette consultant after working in human resources and realising that many intelligent, educated young people failed to impress hiring managers because of their lacklustre social skills.

"Common examples include having poor eye contact and an inability to articulately express ideas and experiences, in English or Chinese," she said. "Etiquette training is one way to help people convey confidence, poise and sophistication in social and business situations."

The global labour market is highly competitive, Ms Lee continued, and it is very difficult for someone to succeed if they are not savvy in these areas.

She teaches Western etiquette and interviewing skills, business etiquette and interview coaching to individuals, managers and business owners. Increasingly, Ms Lee is also fielding requests from multinational corporations, particularly in relation to Chinese dining etiquette.

By "getting it right," non-Chinese companies can impress Chinese business partners and clients by showing their knowledge of and respect for cultural customs, she said.

Season of Giving
Similar to Christmas in the West, the Mid-Autumn Festival is a time for giving – usually mooncakes, a tradition believed to have originated from Yuan dynasty (1271-1368) revolutionaries, who are said to have used the pastries to pass secret messages between each other.

"In general, mooncakes are given to family and friends to express blessings," Ms Lee explained. For non-Chinese companies, giving mooncakes to valued Chinese colleagues, clients and partners shows a strong desire to build a relationship, continue the partnership, or to subtly win favour, Ms Lee said. "Many companies opt for beautifully packaged mooncakes from reputable bakers or luxury hotel brands since good quality is appreciated. They deliver the gifts in person or with a written message."

To signify the moon, round fruits such as oranges, watermelons, apples, peaches, pomelos, or pomegranates are chosen. "Some gift hampers include non-traditional items such as foie gras, wine, or tea," said Ms Lee.
French Infusion
Traditionally, mooncakes come filled with embedded egg yolks and lotus seed paste, but in multicultural Hong Kong, tradition is fused with innovation. Lyon-born Louis Antoine Giroud, CEO and head chef at IPC Foodlab, has created the Mooncaron; a cross between a mooncake and the iconic one-bite French pastry, the macaron, which he describes as a bridge between East and West. "The contrasting textures of the two pastries complement each other very successfully, providing a novel gastronomic experience while honouring Chinese tradition in visual terms," he said.

Similarly, The Peninsula hotel puts a lighter touch on tradition with its "secret recipe" mini egg custard mooncakes, so popular they are sold out well in advance of the festival.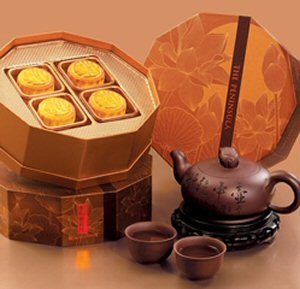 Etiquette demands that all mooncakes offered are graciously received, "even if you find yourself buried in them or you don't like the taste," Ms Lee said. "Senior managers often deliver mooncakes themselves to convey respect and their organisation's wish to connect with you or continue a partnership. Take the gift with both hands, a warm smile and a sincere 'thank you' to show your appreciation. Wish them a happy Mid-Autumn Festival."

Never reject mooncakes or act in a dismissive or distracted manner when receiving mooncakes, as this is considered very offensive, she said. "Never open the package in view of the giver. Rather than send a thank-you note, reciprocate by giving them mooncakes."
Enjoy the Moment
To consume them, cut the mooncake into thin slices – partly because the texture is dense and heavy, and also because sharing the mooncake is symbolic of the festival's theme of reuniting with loved ones. Enjoy it with a cup of Chinese tea.

Business aside, neighbourhoods across Hong Kong come together for a host of magical lantern exhibitions and carnivals, with the grandest event held in Victoria Park on Hong Kong Island.

Performances of the three-day fire dragon dance – a Mid-Autumn tradition that, according to legend, "miraculously" stopped a plague in the 19th century – are another festival highlight.

Events for this year's Mid-Autumn Festival take place from late September to 18 October, concluding with a nightly lantern display at the Hong Kong Cultural Centre Piazza in Tsim Sha Tsui.
Related Link
ELI
Follow HKTDC on Facebook, Google+, LinkedIn, Twitter @hktdc