2 Oct 2015
Hop to It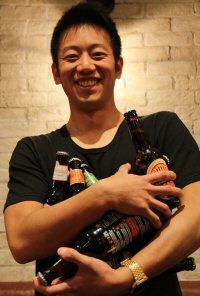 Talk to the players in Hong Kong's craft beer scene and you'll start to hear a familiar story: they were working in nine-to-five jobs in such industries as IT or teaching, but their passion for craft beer led them to embark on a colourful career change. And the result is a craft-brewing scene that is burgeoning, largely due to the entrepreneurial spirit of the people who champion the appreciation of carefully created beverages.

The rapid development of the Hong Kong craft beer scene is underscored by Canadian Jonathan So, who set up the Beertopia craft beer festival, which will be held for the fourth time on 9-10 October.

Mr So studied in Toronto before moving to New York to work as an account manager at a software company. It was there that he developed an appreciation for craft beer. "I started drinking craft beer and really got into it," he said. After moving to Hong Kong, he saw a niche for a craft beer festival and Beertopia was born. For someone without a background in hospitality or events, Mr So admits it was a leap of faith and, by his own admission, he has been "learning on the job."
Cheers to Beer Week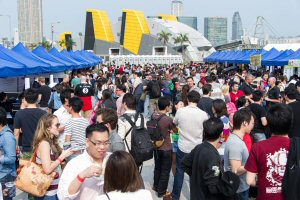 His instincts proved sound, with last year's event drawing 11,000 people. The expanded event this year includes Hong Kong Beer Week, which is being stage in the lead-up to the two-day festival that will feature more than 500 different beers and ciders. Beer Week will see discounts and special events at venues around the city.

Mr So remembers a time when there was just one craft beer brewery in Hong Kong, only two years ago. There are now a dozen, while the city has its own Craft Beer Association and microbrews being imported from around the globe to a thirsty customer base.

"It isn't unusual to find craft beer available in nice restaurants around the city. Two or three years ago that was not the case." Mr So believes the increasing popularity was due to people starting to think of beer more like wine, with a range of quality and variety.
Brewing Brotherhood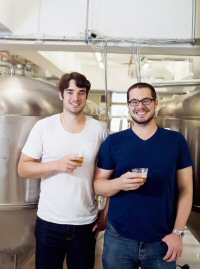 Among the local brewers showcasing their wares next month is Black Kite Brewery, one of the newer players on the scene that has been operating for just a few months.

Taking its name from a bird of prey often seen in the skies over the city, Black Kite is a venture by brothers Dan and Dave Gallie, who were born and raised in Hong Kong before heading overseas for university.

Dan said he always had the idea of opening a brewery, but as he started a career in IT and his brother in accounting, the dream took a temporary backseat. "The market was picking up in Hong Kong and craft beer was taking off," Dan said. Based in Aberdeen, an industrial area on the southern edge of Hong Kong Island, they stock six ales, including a light golden ale, an IPA, and a wheat beer. Dan says the interest in craft beer in Asia's World City reflected global trends, but the industry has also taken full advantage of a government decision in 2008 to scrap taxes on wine and beer. Black Kite is preparing some special ales for Beer Week, including a brew with a special Asian twist.
Tea, then Beer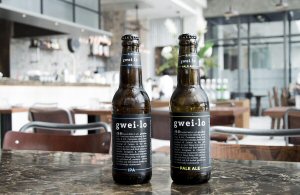 Another local craft beer brand is Gweilo Beers, named after the Cantonese slang for foreigners. The company was set up by Emily Jebbitt and Joseph Gould in 2013.

Ms Jebbit, a school teacher, arrived in Hong Kong with her husband in 2012. Fans of homebrew beer, the couple was disappointed at the lack of a local tipple. Upon meeting Mr Gould, a product designer also from the UK, a year later, the pair decided to embark on a project to bring fresh, locally brewed beer to Hong Kong.

The business partners decided to use existing family recipes and tweak them to better suit local palates. "The research process involved benchmarking over 150 craft beers for inspiration, then stripping the brewing process back to basics by doing hop and malt sensory sessions," says Ms Jebbitt.

"We made 'teas' with a number of hops and malts, in search of the right ingredients and flavour profiles. Next, we did small-scale test brews to perfect the recipes, before selling the first pint of Gweilo Beer in June 2015."

The company has two beers in the market: a Pale Ale and Gweilo IPA, which won Best British Style IPA at the Hong Kong International Beer Awards 2015. "Gweilo beers are 'British' session-style ales with a tropical hop twist to complement Asian tastes and flavours," she said. "Both of our beers are 'sessionable' and can be enjoyed in the Hong Kong heat."

More than 45 bars, restaurants and shops currently stock Gweilo Beers, which are brewed under licence by the Hong Kong Beer Co in Chai Wan.
Seeking a Perfect Pairing
Despite its rapid development, Mr Jebbitt says there's still a long way to go for the city's craft brewers. "It is early days for Hong Kong's craft beer market, with craft beer only representing around one per cent of the beer market," she says. "Compared to the United States, Canada, Europe, Japan and Australia, Hong Kong is years behind."

But that can only mean that the local craft beer market has yet to be fully tapped. "The greater the variety of craft beer out there, the more people will be encouraged to believe that if they think they don't like beer, they just haven't found the right one yet," she says.

"People are also becoming increasingly interested in the provenance and traceability of what they eat and drink. Therefore, a craft beer brewed in small batches with high-quality ingredients by people with passion is a much more attractive prospect than mass-produced commercial beer."
Related Links
Beer Week
Beertopia
Black Kite
Gweilo Beer
Hong Kong Beer Co.