16 Oct 2015
Wine and Dine Fiesta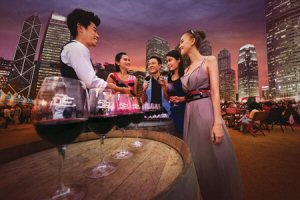 Travel company Flight Centre rates it among the world's best gourmet festivals. Luxury Travel Advisor urges epicureans to mark their calendar. Forbes names it among the top 10 international gastronomic events, while CNN Go calls it the best wine and dine fiesta.

The whole world, it seems, is talking about the Hong Kong Wine & Dine Festival, which returns for a seventh year from 22 to 25 October, kicking off Hong Kong's food and wine month.

Asia's largest wine and epicurean event gathers more than 140,000 connoisseurs from around the world, and 340 food and wine exhibitors for an extravaganza along the Victoria Harbour waterfront, with the iconic Hong Kong skyline as the backdrop.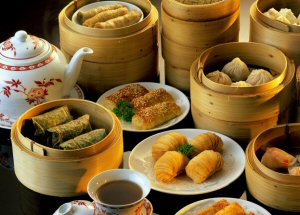 The four-day event showcases the city's internationally acclaimed culinary and wine scene, introducing two new zones this year dedicated to craft beer and whisky; and even more gourmet offerings.

"Home to more than 11,000 restaurants, Hong Kong is the epicentre for gourmet dining – from authentic, traditional Chinese fare, to modernist and international cuisines at Michelin-starred restaurants – Asia's World City has become a melting pot of sophisticated epicurean culture," said Bill Flora, US Director of the Hong Kong Tourism Board. "Each year, we showcase this unique mix at the Hong Kong Wine and Dine Festival, which has grown to be one of the most popular epicurean events in the world."

Portugal Takes Centre Stage


With Portugal as Partner Country, the 2015 HKTDC Hong Kong Wine & Spirits Fair offers a strong line-up of Portugal-themed wine events and activities. On the fair's last day, members of the public are also invited to enrich their own wine appreciation by joining buyers and traders in wine tastings and cocktail demonstrations.

Representatives from several traditional and emerging wine-producing countries will showcase their featured wines. They include Consulate General of the Argentine Republic, Wine Australia, Austrian Wine Marketing Board, Sopexa, Wines of Germany, Wines of South Africa, Spanish Institute for Foreign Trade, North Carolina Department of Agriculture & Consumer Services and ProMexico.

Anita Ma, Sopexa's Director for Hong Kong & Macau, said last year's fair delivered results for French wine traders. "The Hong Kong fair provides an important showcase for us to promote French wines to the Asian market, especially the Chinese mainland and Hong Kong because it draws large numbers of Asian buyers," she said. "It is a good place for us to do business, to meet with existing business partners and to look for new customers."


Tasting Events
Wines from 21 countries and regions will feature during the festival, the highest number since the event began. Two new food zones, Star Avenue and Gourmet Trails, will present masterpieces from Michelin-starred and other award-winning restaurants. On the weekend of 24-25 October, 25 chefs from Michelin restaurants in France and Hong Kong, together with award-winning chefs from Hong Kong's Best of the Best Culinary Awards, will present exquisite feasts in the Tasting Room.

The event comes amid good prospects for the food and beverage industry in Asia. According to Euromonitor International, regional wine sales amounted to US$77.5 billion in 2014, up 54 per cent compared to five years ago. For 2013-2018, wine sales are forecast to grow 4.4 per cent per annum in value.

Sales on the Chinese mainland are even more spectacular, reaching US$48.1 billion in 2014, a 116 per cent increase over five years. For 2013-2018, annual growth of 6.1 per cent is forecast, fuelling an already vibrant wine market in Hong Kong, where the government abolished wine duties in 2008.

In 2014, Hong Kong's wine imports rose 4.5 per cent in volume and 5.1 per cent in value, amounting to HK$8.4 billion. Total exports grew 15.9 per cent by volume and 52.1 per cent in value to HK$2.4 billion, reflecting Hong Kong's emergence as a regional wine trading hub and wine gateway to the Chinese mainland.
Industry-leading Fair
The festival leads into the eighth edition of the HKTDC Hong Kong International Wine & Spirits Fair, 5 -7 November, at the Hong Kong Convention and Exhibition Centre. A tasting and sourcing platform for wine enthusiasts and traders, the fair is expected to attract more than 1,000 exhibitors from around the world. Buoyant market demand and an established reputation for excellence saw the fair attract about 20,000 trade buyers from 75 countries and regions in 2014. On the fair's last day, more than 30,000 public visitors attended, a 30 per cent increase on 2013.

Events taking place during the three-day fair include wine tastings, master classes, cocktail demonstrations and seminars, offering opportunities for buyers to soak up the latest market intelligence, and product and marketing developments in the wine industry. Asia's first Master of Wine, Debra Meiburg MW, will again serve as advisor and moderator of the Wine Industry Conference, sharing latest industry updates with hundreds of wine professionals.

Following last year's debut, the acclaimed Whisky and Spirits Zone will return, giving fair-goers a chance to enrich their knowledge through tastings and educational workshops.

At the Cathay Pacific Hong Kong International Wine & Spirit Competition, an adjudicating panel, comprising Asia's top wine judges, will take into account the Asian palate and consumption culture as they select the best wines of the year; with the results serving as an ultimate wine guide for Asian consumers. Several awards will be given out, including the Asian Food and Wine Pairing award and Best Wine from China award.
More New Restaurants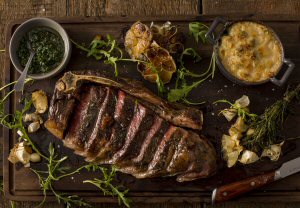 Visitors to Hong Kong in November may also try out some of the city's newest restaurants. These include British-themed London House, Gordon Ramsay's second Hong Kong establishment; craft beer and steakhouse Mr & Mrs Fox; and Maison Es, a contemporary French restaurant by chef Esther Sham.

Newcomers to Sai Ying Pun and Kennedy Town, Hong Kong's up-coming dining district, include vibrant tapas restaurant Casa; modern Mexican-themed Chino, managed by former Nobu chef Erik Idos; and Comptoir, an open kitchen serving traditional wines and tapas.

On the bar scene, Korean-themed K-Pocha, whisky specialist Bar Ginger and Safe Bubbles & Malt, a whisky and champagne bar fashioned to resemble a bank vault, offer new experiences.

With Gourmet Traveller noting that Hong Kong, one of the world's great dining capitals, has shifted into overdrive with more – and better – restaurants opening faster than ever before, there is no better time for gourmands and oenophiles to visit the city.
Related Links
Cathay Pacific Hong Kong International Wine & Spirit Competition
HKTDC Hong Kong International Wine & Spirits Fair
Hong Kong Wine & Dine Festival