11 Dec 2015
A Record-breaking City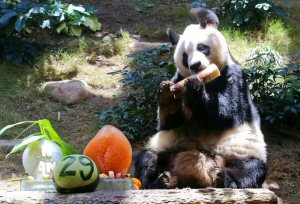 Hong Kong is a world record-breaking city: nightly spectacle the Symphony of Lights is recognised as the largest permanent light and sound show globally by the Guinness World Records, with 47 buildings on Hong Kong Island and across Victoria Harbour in Kowloon taking part.

Another popular tourist attraction is Ocean Park, home to much-loved panda Jia Jia. Since turning 37-years-old in July, Jia Jia has been the holder of two Guinness World Records: the Oldest Panda Ever in Captivity and the Oldest Living Panda in Captivity.

The city is also home to the world's highest hotel in a mixed-use building, the Ritz-Carlton, which occupies the 102nd to 111th floors of the ICC tower, Hong Kong's tallest building. Hong Kong International Airport, meanwhile, is the busiest airport for cargo globally, receiving 4.38 million tonnes of cargo in 2014.

Arguably Hong Kong's most famous movie star, Jackie Chan currently holds two Guinness records, including most stunts performed by a living actor and most credits in a movie – 15 including director and fight choreographer – for 2012's Chinese Zodiac.
Star Guitar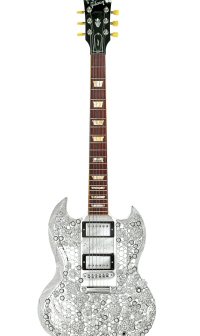 Last March, a diamond-encrusted Gibson six-string, Eden of Coronet, was crowned the world's most valuable guitar at the Baselworld watch and jewellery show, with the masterpiece estimated to be worth US$2 million.

Featuring more than 400 carats' worth of diamonds embedded in 1.6 kilogrammes of gold, the guitar is a collaboration between Hong Kong jewellery designer Aaron Shum, creator of the patented Coronet diamonds brand, and Cantopop musician/designer Mark Lui.

It took 62 artisans, three product-development specialists and two project managers 700 man-days to create the guitar. The biggest challenge the team faced was creating large pieces to adorn the instrument in its factory, as its machinery is intended to handle small, delicate jewellery, according to Yvonne Shum, Assistant to the General Manager. "The team was also given a really short production lead time to meet the deadline of the Guinness World Record application, and the situation was especially stressful as the production period overlapped with Chinese New Year," she adds.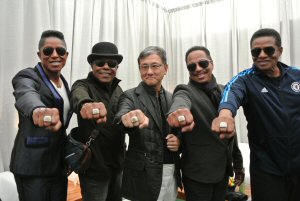 Being the first Hong Kong jewellery brand to be housed inside the prestigious Hall 1 at Baselworld attracted global publicity for the company, and musician Jermaine Jackson – who played the Eden of Coronet at the BBC Proms in the Park concert in London last September – invited Aaron Shum to become the family's jeweller and create personalised rings for the brothers.

If the right opportunity arises, Aaron Shum is open to creating more masterpieces like the Eden of Coronet. "Setting a Guinness World Record with these creations will be a great addition to our portfolio," says Ms Shum.
A Shoe-in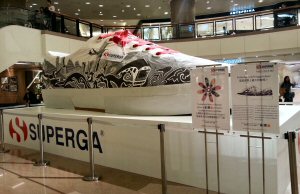 Italian shoe brand Superga, meanwhile, set a world record to coincide with the launch of its first Hong Kong store in April 2013 by creating the world's largest shoe, the more than 20-foot-long (six metres) Giant Superga.

"We wanted to do something that was particular to Hong Kong," says Peter Solomon, Chairman and CEO of fashion bureau Electric Sekki, which came up with the Giant Superga idea. "With this in mind, we immediately thought of SCAD (the Savannah College of Art and Design) and approached them to design the shoe. SCAD were very enthusiastic about the project and the skills their students would take away from it, so they actually asked us, in return, if they could be tasked with the whole production of the shoe. We gladly obliged and could not be more pleased with the result."

Taking around six weeks to assemble, the brand approached the Hong Kong branch of the noted design school to help create a sneaker with a Hong Kong feel, and its imagery includes buildings from the city's iconic skyline, the Peak Tram and the Big Buddha. More than two years on, it is still the largest shoe ever created.
Stepping up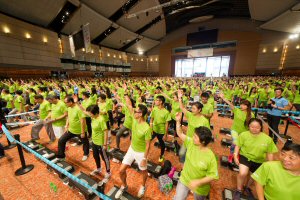 Going for a world record attempt is a great way to boost team spirit and support company goals. Insurance group AIA, for example, led close to 2,000 employees in successfully breaking a Guinness World Record for the "Most People Doing Step Ups Simultaneously" this August, with participants exercising non-stop for five minutes. Setting the record was a prelude to the launch of AIA Vitality, a wellness programme that encourages staff to take charge of their health by eating better, exercising more and quitting smoking.
Asana Record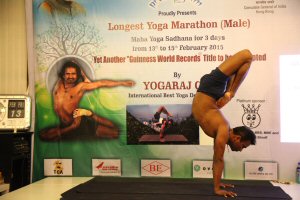 Hong Kong-based Indian yoga teacher Yogaraj CP, who runs Pranayogam studio in Tsim Sha Tsui, set a new Guinness World Record for continuously performing more than 1,500 asanas (yoga poses) for 40 hours and 15 minutes this February. He also holds another record for doing 23 asanas while riding a motorcycle, which he set in 2011. "As a teenager, I used to watch the Guinness World Records programme on TV and it was my dream to set a record," he says.

For his first Guinness World Record, Mr Yogaraj completed a 28-hour yoga marathon in 2009, beating a previous record of 24 hours set in India. However, his record was broken a few months later by an Austrian, who did yoga non-stop for 29 hours.

Mr Yogaraj is set to attempt another world record next month in Dubai with new yoga studio 136.1, which has asked him to lead a yoga-teaching marathon. This record falls under the "aerobic exercise" activity: the current record-holder taught aerobics non-stop for 30 hours and Mr Yogaraj hopes to push that to 40-plus hours. "When compared to holding poses for hours, I think teaching yoga may be easier," he says.
While setting a Guinness World Record is undoubtedly exciting, it can also be expensive. "When I did the record in 2009, it cost HK$20,000; now it's double that price. Anyone attempting to set a world record also has to supply a first-class flight ticket and five-star hotel to the adjudicator."

Nevertheless, this hasn't put Mr Yogaraj off trying to get into the famed record book, and he hopes to try and set one yoga-themed record annually to promote this ancient Indian practice, with "most scorpion hand push-ups" being his next world record attempt.
Related Links
Aaron Shum Jewelry
AIA
Ocean Park
Pranayogam
Superga