5 Jan 2016
Learning and Earning through Licensing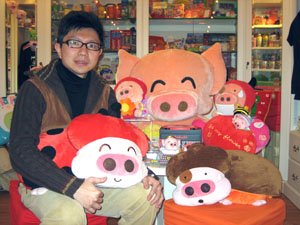 The Asian Licensing Association (ALA) was set up in 2011 to foster the development of the licensing, creative and innovative industries. To further those efforts, the group will exhibit at the upcoming Hong Kong International Licensing Show, to be held 11-13 January, at the Hong Kong Convention and Exhibition Centre. Founder Dr Toby Chan explains how Hong Kong serves as Asia's regional licensing hub.

Why did you set up the ALA?
We started the ALA in 2011 to allow individuals to search and approach worldwide licenses or brands through our association. The licensing industry had been neglected without much recognition of its potential. In 2011, I realised that the Asian market had changed greatly, especially in China, where the need for brands and licensing was huge. There was no organisation that could line up all licenses or brands from around the world.

What are your organisation's goals?
Our mission is to make Hong Kong Asia's licensing and creative hub. Indeed, many Asian cities, including Singapore, Beijing, Shanghai and Guangzhou, are vying with Hong Kong to become the licensing and creative hub in Asia – as creativity is one of the crucial elements for economic transformation. We seek to gather and unite all the local licensing expertise and practitioners and promote Hong Kong as the international licensing and creative platform.

What are some of Hong Kong's strengths to make it an ideal licensing hub?
A sound legal system and simple taxation system and low taxes are Hong Kong's advantages that attract many companies to sign licensing and commercial contracts here. It's also easy to enter the retailing and licensing business in Hong Kong.

Apart from Hong Kong's geographical advantage as gateway to China, it is also the leading stop for foreign brands that want to enter the world's fastest-growing market. Hong Kong's expertise is its familiarity with Chinese culture and work style. Most importantly, Hong Kong has already developed good, deep connections with licensing partners on the mainland. As a hub, Hong Kong can introduce these international brands into the Chinese market. On the other hand, Hong Kong also has its own creative brands.

The ALA promotes Hong Kong-designed brands to other countries, while also promoting brands from Japan, South Korea, Singapore, and Western countries. So the ALA plays a middleman's role, plus we have marketing, design, licensing, retail, franchising and e-commerce talent. We integrate each party and create the industry chain.

How has Hong Kong's licensing landscape changed since the ALA was established?
In the past, only worldwide licensing companies had businesses in Hong Kong. Most of these famous brands or licenses had their own regulations, culture and customs – mainly from Europe and the United States. However, it's not viable for them to apply western regulations, culture or customs in the Asian market.

The ALA has created room to facilitate connections among licensors, licensing agents and licensees all over the world, ensuring Asian licensees and licensing agents benefit, since they are the major stakeholders.

In addition, due to the contraction of the US and European markets and the expansion of Asian markets, now is the best time to modify licensing cultures and practices to better fit the Asian market. Apart from the ALA in Hong Kong, we have set up a China chapter in 2013 and a Korea chapter early last year.

What's a good example of how licensing has provided new revenue streams in China?
Jeep is a well-known US car brand, but was not that well-known in China as it wasn't sold there. About 10 years ago, Jeep started their licensing business in the China market through a Hong Kong licensing agent. The Hong Kong licensing experts promoted the brand by granting the apparel license in the mainland. With the success of Jeep apparel, the licensee even became a listed company in Hong Kong. Originally, the income yield was only from the sales of cars, and IP did not play an important role in the business. By licensing the brand in different industries, the brand had greater exposure, which definitely raised its popularity.
Related Link
Asian Licensing Association (ALA)