12 Jan 2016
Daring to Dream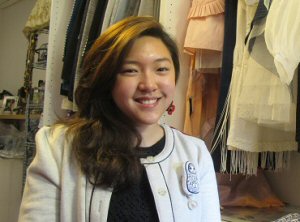 Designer Steffi Chan combined her business know-how and a love of fashion to set up Hong Kong label Dare to Dream in 2013. Her signature indigo knitwear earned a strong following, and in 2014, the company opened a flagship store in Macau. Its biggest success to date has been through partnerships with online retailers ZALORA and YOHO, which have allowed the brand to extend its reach beyond China.

Why did you set up Dare to Dream?
I graduated from the University of Nottingham with a business degree, but I've inherited my family's love of fashion. I developed an eye for quality clothes from my grandfather, who was a textile manufacturer. I started designing T-shirts for a society at my university. The satisfaction of producing clothes inspired me to build Dare to Dream, and made me think about branding and setting up my own company.

I've interned for various brands while on summer vacations. Interning for Urban Outfitters, for example, helped me to understand the communication process between designers and factories. Inspiration can come from bizarre places and moments, including from the food you're eating.

How did you end up partnering with online fashion retailers YOHO and ZALORA?
YOHO was our first online buyer. We met them during our first trip to the Chinese mainland organised by the HKTDC in 2013 to participate in a Beijing fair called Chic. It was an unusual experience to see so many established brands in one place. We organised a fashion show, which greatly helped to boost our brand's exposure. Unlike buyers from the United States, people in the mainland make decisions quickly. Many wholesale and consignment deals were struck during our first meeting.

We met ZALORA at World Boutique 2014. We came prepared for the 15-minute business-matching meeting, bringing many samples and brand profile information. We were able to enter ZALORA's main catalogue within one month. Starting this season, we moved to ZALORA's marketplace, where we manage our own site. Instead of relying on ZALORA, we hope to develop our brand image using our own resources.

What are the unique features about online retailing?
Visuals are critical in online retail because customers cannot feel the fabric until they buy it. Many e-tailers provide photography services, but the images are standardised. With our new online team, we can produce and edit photographs to align with our image. Social media engagement is also important. We have to put in a lot of effort to draw people's attention. But the returns are rewarding; about two to three times that of a physical store.

Tell us about some of the consumer preferences you've picked up from running your business.
I've learned to my surprise that Chinese customers are very open to bold designs, including items in bright colours and large prints. Mobile shopping is popular in the mainland. The price range is broad as mainland consumers are drawn to a wide variety. Tourists in Macau, including from Japan and Portugal, also like colourful clothes. Winter collections perform better in Hong Kong than Singapore, which rarely gets cold. But Singapore, Hong Kong and Malaysia share relatively conservative tastes, which gravitates towards black and white items. Wholesaling partners from the US place emphasis on the fabric and generally find Asian brands cool.

What's in store for 2016?
We will continue to expand to new markets. We learn different things from different shows. We were in Taipei IN Style last November, and Who's Next fashion show in Paris in 2013, when we met another online retailer, buyMeDesign. Buyers from Italy and Spain like our indigo knit, and people from France like our accessories. I think the HKTDC's new fashion event CENTRESTAGE in September will be very interesting and we hope to be part of the debut show.
Related Links
CENTRESTAGE
Dare to Dream (Zalora)
Hong Kong Fashion Week for Fall/Winter