22 March 2016
The Daily Bread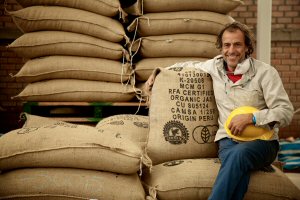 Renowned for its artisan breads and use of organic ingredients, restaurant-bakery Le Pain Quotidien – the daily bread in French – debuted in Hong Kong this month. Partnering with Hong Kong restaurant group Dining Concepts, Le Pain's first store launched in Wan Chai, with another outlet on Hong Kong Island scheduled to open in August.

Belgian baker and chef Alain Coumont is the man behind Le Pain Quotidien. Inspired by the rustic loaves of his childhood, Mr Coumont launched his business in Brussels 25 years ago, crafting his bread from just four ingredients: organic stone-ground flour, salt, water and the wild yeast levain. Le Pain, which has 340 outlets, around the world, will turn to the Chinese mainland market next, once the company firmly establishes its brand in Hong Kong.

How did the partnership with Dining Concepts come about?
Dining Concepts approached us, as they had been thinking about launching more casual dining restaurants in the city for a while. They didn't want to do coffee, as Starbucks has already saturated the market, and were interested in quality breads and organic products. Rather than build their own brand, they wanted to partner with an established brand like us.

We've been impressed by their responsiveness. When we opened, we felt the kitchen was underequipped, so two days after opening, we had a new refrigerator. Working with big companies such as we do in Tokyo, the decision-making process is much slower than we've experienced in Hong Kong.

Business has been very good so far; so good that during our soft opening in early March, we needed to ship more organic flour from France. Some people know the brand from Paris or Tokyo; it's good to see we're not totally unknown.

Since many of your dishes are made with organic ingredients, will you be working with local suppliers here?
In our Paris restaurants, 96 per cent of what's on the menu is organic; from flours and butter to jams and chocolate spread. We're hoping to be completely organic there pretty soon. We like to get involved with farmers and build a supply chain that way. It may take a while in Hong Kong, but we're already working on sourcing more local food.

Why did you choose Wan Chai as the location for your first store?
This was suggested by our partner, who was looking for a long-term lease for us and has a good relationship with the building's landlord. While our outlets in the United States, for example, are housed in more character buildings and a new building is more challenging for us, we have still created an old-world cozy feel.

What do you think Hong Kongers will make of your healthy menus and informal approach to dining, which revolves around communal tables?
I sense that we've entered the end of the luxury period, and even the wealthy want "real" food and things like proper bread. We've always had a lot of vegetarian and vegan options on the menu and have been serving soy milk and rice milk for the past 20 years. Starbucks still charges extra for those, so in some ways, we're ahead of the curve.

One menu item unique to the city is the Hong Kong Breakfast, which consists of organic rice pudding with fresh coriander, dried fruits, mixed nuts, steamed green vegetables and warm rice water.

Many of our clientele come every day and see Le Pain as a second home. The Managing Director of Dining Concepts, Sandeep Sekhri, was familiar with our New York outlets.

Hong Kong serves as a springboard to Greater China and Southeast Asia for many businesses. Will you open elsewhere in the region?
We are in no hurry to expand. First we want to open two or three stores in Hong Kong and really master our menu here, then we will look at the China market. Opening more outlets is about economies of scale, as you need two to three stores to justify the bakery operation.

What's in store for Le Pain?
My goal is for our restaurants to be completely organic, and to work on developing more gluten-free breads. Even if you're not allergic to gluten, it can be dangerous for you and damage the intestines depending on how much you eat, so there will be more gluten-free options on our menus in the future.
Related Link
Le Pain Quotidien