6 April 2016
Where the Jobs are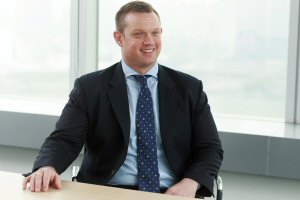 Hong Kong's employment market for 2016 looks promising for a range of skilled professionals, according to leading recruitment firm Hays. Dean Stallard, Regional Director of Hays in Hong Kong, shares his view on where the jobs are this year, and other trends gleaned from Hays' regular workforce surveys.

Firstly, where does Hong Kong stand overall in the Asia-Pacific region in terms of candidates' job prospects for 2016?
Over the years, Hong Kong has built and maintained its status as a financial and commercial hub in Asia, attracting multinationals and businesses looking to position themselves close to the Chinese mainland and gain a foothold within the region. With its open business environment, low tax rates, world-class infrastructure and close proximity to the mainland, many multinational companies use Hong Kong as their Asian base.

Hays research shows that, in Hong Kong, wages in high-skill industries are rising much quicker than those in low-skill industries relative to the past. These conditions have led to an extremely competitive talent landscape in Hong Kong, and employers this year will face challenges with balancing the wider regional economic setting, further skills shortages and wage pressures.

The areas of opportunity for jobseekers relate to sectors where candidate shortages are most extreme. As reported in the 2016 Hays Asia Salary Guide, this includes entry- and middle-management accountancy and finance staff, middle-management engineering, IT, marketing, operations and HR talent and entry mid-level sales roles.

Which do you see as high-growth sectors?
Internal auditors, IT security and anti-money laundering compliance are three key areas of staffing demand. In accounting and finance, increased regulations placed on Hong Kong banks are fueling demand for internal auditors, while financial planning and analysis managers are needed too as business heads demand more from their accounting teams. Top-tier banks are seeking compliance professionals equipped with strong regulatory knowledge. And due to rapid changes in regulations, banks also need general compliance candidates with a legal background, and licensing and drafting experience.

What about sectors outside the finance and banking industry?
Hong Kong's active property market and construction boom are giving skilled candidates numerous opportunities to benefit from the buoyant growth of these sectors. Several projects are in the pipeline, thanks to mainland investors' continued interest in Hong Kong's commercial and residential properties, and this is expected to spur active recruitment of construction professionals and property managers. Indeed, the investment spree by mainland investors into Hong Kong is already attracting Hong Kong professionals back from the mainland to take advantage of the opportunities here.

How are Hong Kong employers addressing their manpower needs?
A severe shortage of candidates in Hong Kong's life sciences recruitment market, for example, is leading to stepped-up efforts by multinational companies to attract talent from overseas to fill vacancies.

Hong Kong remains a dominant regional base for multinational companies to expand their businesses in Asia, and overseas applicants with regional experience are highly sought after. We forecast a rise in hiring activity and difficulties in securing high-skilled talent in the local market, which will force companies to consider candidates from abroad.

What are other significant trends that you see?
A growing number of candidates in Hong Kong are now more open to temporary or contract work – 34 per cent, according to our latest survey. Contrary to popular belief, temporary/contract work is not limited to entry-level office-support roles – rather, professionals at all levels and across various sectors are working on a temporary basis. For example, there is substantial demand for temporary or contract accountancy and finance and procurement talent in Hong Kong.

What do you attribute this to?
Short-term roles offer a number of benefits for both employers and job seekers. On the one hand, flexible hiring allows employers to recruit particular expertise as and when needed for special projects, peak periods and unforeseen workloads. The added benefit of short-notice periods can also help address challenging times in the business cycle.

From the job seeker's perspective, temporary/contract assignments allow a broadening of expertise, perhaps through exposure to new industries or the opportunity to diversify their skills. This should make the candidate more attractive and employable in future.

Working as a professional contractor means you can pick and choose your assignments, allowing greater control and flexibility over your work arrangements. These positions typically offer a higher hourly rate – at the trade-off of selected permanent staff benefits – which is more attractive to some professionals, particularly when there is high demand for their skills.
Related Link
Hays