24 May 2016
Homemade in the Digital Age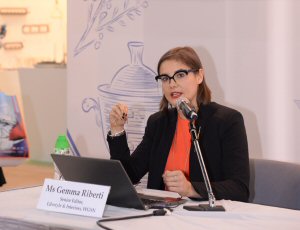 Gemma Riberti, Senior Editor of Lifestyle and Interiors for global foresight platform WGSN, believes the design theme of homemade will be a "red thread and a driving concept" for the upcoming year in the houseware, textiles and interior design industries.

Ms Riberti oversees the direction of interior design and product development for WGSN, and provides insights for materials, consumer design and product development trends. The graduate of Milan's Politecnico has more than a decade of experience in the interiors and design research fields, and is known for her keen eye to colour, design and print.

Ms Riberti led the WGSN TrendTalk: Houseware & Home Textiles 2017 Forecast seminar at the HKTDC Hong Kong Houseware Fair in April. During the seminar, she discussed the concept of homemade as the driving inspiration for 2017 interior design trends.
Tell us about the homemade trend.
Homemade revolves on the concept of the home; the home as we see a house becoming a home. Especially with today's many displacements and migrations, home becomes a feeling. Wherever we are, no matter how small the space or how temporary that space can be, we need to surround ourselves with things, objects and materials that give us comfort, reassurance and protection. The homemade trend focuses on the importance of tactility, warmth and objects that are cozy and surrounding.
Is technology at odds with the homemade home?
On the contrary, the homemade home is driven by this constant connection to technology. The more we are connected, the more we also feel the need to disconnect and get back to reality. That is why we look to the earthen, natural designs and materials to reconnect through the tactility, touch and feeling they provide. We have been so obsessed by technology, but we always had such a futuristic idea of it. I don't see it as being so threatening anymore. Technology is part of our lives and it is going to be more and more involved with the Internet of Things (IoT) technologies. But this does not mean that it has to be antiseptic and cold. Design can incorporate technology with a beautiful wood surface or a beautiful textile; it is just that it will respond better to our input.

Will the combination of technology and nature be a trend for 2017?
Most definitely, yes. In our forecast, we have directions that look into the warming up of technology with the use of metals, finishes and even shapes that are softer to the touch and look, as well as the use of earthen and natural fibres and materials.

Have you seen evidence of these trends at the 2016 Hong Kong Houseware Fair?
I have seen quite a lot of brands that are working into this homemade direction. The textile halls upstairs are very inspiring. There is a lot of research on natural materials, tactility, natural fibres and rough and course weaves that are in line with these directions. Even for kitchenware and table-top designs, I have seen a predilection for unglazed and untreated materials, beautiful earthenware and clay. For kitchen accessories, I have seen the mimicking of lava-stone finishes and surface treatments that are quite speckled and stone-like. I would say I am finding quite a lot of confirmation of the homemade trend across the show.
Related Links
HKTDC Hong Kong Houseware Fair
HKTDC Hong Kong International Home Textiles and Furnishings Fair
WGSN