31 May 2016
Going Greener Every Day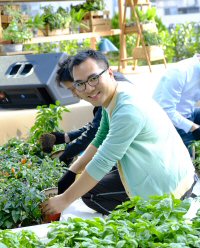 After launching a series of successful start-ups in the technology, investment and lifestyle retail sectors – the first at age 23 – David Yeung, a committed vegetarian, turned his focus to environmental causes, co-founding Green Monday, a self-sustaining social enterprise, on Earth Day (22 April) 2012. The business has three arms: Green Monday, a "green eating" movement, which began in Hong Kong and is now a global platform; Green Common, a fast-growing chain of plant-based grocery stores; and Green Monday Ventures, a venture capital arm, which invests in healthy lifestyle start-ups. Green Monday was named by Fast Company as one of China's Top 50 Most Innovative Companies in 2014.
Why venture into the green living business?
I'd always been involved in philanthropy and am very familiar with both profit and non-profit businesses. Having been vegetarian for 13 years, I had also come to learn about the benefits of plant-based eating, and the damage over-consumption of meat causes to climate change, food insecurity and resource depletion. Growing food for animals to eat, so that we can eat them, is a very inefficient way of feeding human beings. It seemed a natural evolution of my skills and experience to promote and enable green, healthy and sustainable living. Through Green Monday, co-founder Francis Ngai and I show that change through business is actually possible.
How does Green Monday work?
We invite all food-service establishments – restaurants, school canteens, company cafeterias – to come on board. We don't actually ask them to stop serving meat on Mondays, but rather, to offer more plant-based options every day. A shift in mindset is our goal. Rather than [aiming for] 40 per cent of the world being vegetarian, we'd like 100 per cent to be part-time vegetarians. Statistically, if half the dishes on offer are plant-based, many more people would become "accidental vegetarians," without even knowing it. We are not out to remove meat from menus, because the moment you take something away, you get a backlash and push back.

How is the message taking hold?
In 2013, there were only 148 vegetarian restaurants in Hong Kong. Now, there are 229, so the number has gone up by 55 per cent in three years. These businesses wouldn't be opening if patrons weren't coming. In addition, non-vegetarian restaurants are adding more plant-based options, and we're talking in the thousands, including big chain restaurants such as Café de Coral, Café Habitu, Tsui Wah Group and noodle chain Tam Jai San Gor. We even work with McDonald's; their Create Your Taste menu has mainly plant-based ingredients.

Our Go Green 88 Restaurant Guide, published in 2012 with regular online updates, also continues to do well. The unique thing about our guide is that it doesn't just include vegetarian restaurants, but restaurants that have good plant-based options. Vegetarians dine with meat-eaters as well, and we want to be inclusive.

Our green concept store, Green Common, where people can learn about greener eating and buy the ingredients, now has three outlets, with a fourth to open by the end of this year. Plant-based is becoming the future of food – even great Michelin chefs are putting delicious and innovative vegetable dishes on their menus, which is opening people's mind and appetite to a whole new world.

What about beyond Hong Kong?
We are proud to say that Green Monday is now a global platform present in 10 countries and regions, including the United States, Japan, Singapore, Germany, the United Kingdom, Albania and Mexico. Usually, we work with schools and companies as a first entry point. Currently, some 300 universities around the world follow Green Monday, including Columbia University in New York, Washington University in St Louis, UCLA (University of California, Los Angeles), Tokyo University, the National University of Singapore and Monterrey Institute of Technology in Mexico. In the US, we also work with eBay's headquarters in San Jose. In Hong Kong, we are also in the cafeterias and dining rooms of Credit Suisse, Standard Chartered, HSBC and Google.
Green Monday is much more than meat versus non-meat: it's a movement from mindful eating to mindful living.
What's in it for them?
First, it doesn't cost them anything. We begin by talking with the director of sustainability, or dining service, or human resources. We quantify how they can so easily lower their carbon emissions, conserve natural resources, and indirectly, how many people in the world they can feed as a result. That becomes a powerful tool.

Doing something solid to make the world a better place helps build a company's image, and chances are it will enhance their business. Sometimes we do get knockbacks initially, but once an organisation sees what others are doing, it becomes an easy choice. The message then goes viral for many reasons. We get many inquiries daily about Green Monday from around the world.
Where do you see Hong Kong's role in this "green awakening"?
Green Monday is much more than meat versus non-meat: it's a movement from mindful eating to mindful living. We, as a society, used to eat mindlessly, either by not thinking about sustainability, or ordering too many dishes. Now people pay more attention to waste reduction and climate change. Hong Kong is a trendsetting city, where word spreads fast – a trend gains momentum, and soon becomes a movement. As a melting pot of culture, economics and great food, Hong Kong can set the mindful living trend and become a change-agent that leads Asia in this food and lifestyle revolution.
Related Links
Go Green 88 Restaurant Guide
Green Monday