27 June 2016
Reaching for the Sky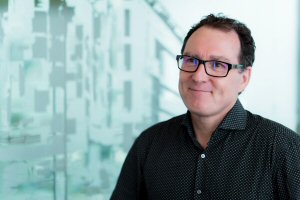 Simon Bee is Managing Director-Global Design of Benoy, a United Kingdom-headquartered global architectural firm whose largest studio is in Hong Kong. For its second annual Peter McCaffery Fellowship, established in memory of Peter McCaffery, the company's late Global Director, Benoy launched an internal design competition, inviting architects employed in its global offices to design new concepts for mixed-use, high-rise buildings in Hong Kong. The 42 designs from 67 entrants across seven Benoy offices are featured in an exhibition, Sky Spaces, in Hong Kong Island's Quarry Bay, until 1 July.

Tell us about the company.
Benoy was founded by Gordon Benoy in 1947 as a small architectural company in rural Nottinghamshire. Hong Kong was our first overseas office – opened in 2002 – and remains our biggest. Acting as the springboard to our wider presence across the Asia-Pacific region, the Hong Kong studio has seen Benoy flourish throughout Asia. As a consequence, we now work in more than 90 cities and have over 50 built projects in the region.

Our Hong Kong team not only delivers projects across the Asia-Pacific – such as the award-winning Chengdu IFS and Parc Central in Guangzhou and Indonesia's first international-standard theatre with Ciputra Artpreneur in Jakarta – but also works across the globe, delivering schemes such as the Bahrain International Airport's new terminal, for example.

Our global network includes Shanghai and Beijing in China, Singapore, Mumbai in India, Abu Dhabi and Dubai in the Middle East, Kuala Lumpur, Malaysia, and Melbourne, Australia – alongside the studios in Hong Kong, London and Newark. We employ more than 450 staff across these 11 locations.

How did this design competition come about?
Peter McCaffery was one of the first staff members to join the Hong Kong team in 2002 when Benoy took the bold leap into foreign markets. His impact was fundamental in establishing and propelling Benoy's presence in Hong Kong, China and indeed throughout Asia.

An incredibly respected designer and leader, Peter oversaw and guided Benoy's success not only in the Asia-Pacific region but around the world. His legacy continues to live on at Benoy through the annual fellowship. It aims to inspire our designers to think outside the box and continue to push the boundaries of design. For the winners each year, the fellowship offers the opportunity to travel around the world to undertake research on a chosen design topic.

Why choose Hong Kong as the setting for a global design competition?
Hong Kong is a fantastic city. It's why I moved here, from the UK, in 2014, and I love it. It's a city of great contrast and great global presence. But as architects, we always think of how we can improve situations in terms of urban regeneration. This issue doesn't just affect Hong Kong, but all dense cities anywhere in the world in terms of land becoming scarce, buildings getting taller, and ground space reaching a premium.

Benoy designs high-rise, but we're mainly known for our retail and urban regeneration projects. From a branding perspective, we wanted to raise the profile and the collective creative talent of our team in tall building design.

We tasked the entrants with designing an inspirational contribution for Hong Kong's new central business district, on a site in Kowloon Bay currently under development by Swire Properties. The new high-rise building could reach to a maximum of 175 metres above street frontage, pushing up the density and encouraging integrated, high-level, civic spaces and an imaginative mix of uses around a core workplace element.

Swire, whose executives Gordon Ongley and Desmond Ng were on the judging panel – along with UK developer Peter Rogers, of Lipton Rogers Developments – was particularly interested in this exercise as well, to see where the agenda might take them in the future.

Why is this mixed-use, high-rise design concept particularly relevant today?
There's a business imperative in building buildings that people – the office workers, apartment residents, retail and commercial tenants – actually want to be in.

By integrating all the things you need for daily life – the restaurants and cafes, green open spaces, community plazas, creches, gymnasiums, jogging trails – we're generating districts and neighbourhoods within the building itself, rather than providing them somewhat remotely and sporadically at ground level. Your tall building – your piece of vertical city – becomes a microcosm of the city itself, a cluster of synergistic uses that work together, keeping people happy.

What impressed you about the entries?
Across the submissions, everyone has combined creativity and deliverability in a very compelling way. The two winners are Jiang Wu, from Benoy's Shanghai studio, whose Cloud Walk concept of a vertical park celebrates greenery, bringing it centre stage within the built environment; and Jess Wilkinson and Clarissa Wenborn, both from Benoy's Newark studio in the UK, for their entry entitled Street in the Sky. Runners-up were two teams of two: Kin Chun Ma and Charlotte Law from the Hong Kong studio, whose Green Torque design was commended by the judges as "a unique and elegantly crafted scheme," and Javier de Santiago and Hieu Dao from Benoy's Singapore studio with their design, Amethyst HK.
How does this design competition contribute to Hong Kong's design landscape?
This competition brings forth new thinking for Hong Kong's future tall buildings, promoting two very important ideas: landscape replacement and gross floor area exemption for green civic spaces. The entries showed that highly imaginative, public realm and landscape-enhanced vertical structures are possible under flexible planning codes. With this in mind, we aim to encourage discussion on the planning agenda that currently shapes Hong Kong's cityscape.
Related Link
Benoy