25 July 2016
On the Cusp of Success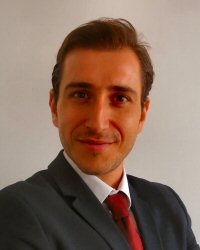 A year after arriving in Hong Kong as an accounting intern with no salary and no firm prospects, Stefano Passarello launched his own accounting, tax and corporate services firm, People & Projects Ltd (P&P). From a start-up in 2005, the company has grown into a network of 10 offices globally, serving more than 1,500 clients.

When not running his business, the Italian-born accountant is literally running – at events such as the Hong Kong Standard Chartered Marathon, where in 2009 he set a record time that still stands today. He also keeps busy with a charity he founded (The Crayon Society) and mentoring aspiring start-ups on the merits – and challenges – of venturing out on their own.
Why are start-ups so exciting?
Successful start-ups revolutionise, influence and ultimately transform the way end-users adapt. In a word, they represent progress.

I regularly speak to aspiring entrepreneurs at industry-organised forums and through the financial incubation programme of my firm, P&P, so I need to define what exactly is a start-up. It's not the guy who wants to sell a Chinese-made plastic tree to Italy: it's someone who can show scalability through technical innovation; disruptiveness through a different, or at least improved, business model; and satisfy a massive social need/consumer habits. The top 20 unicorn companies [those with a valuation of more than US$1 billion] all satisfy a massive social need. Look at how Uber and Airbnb have twisted the perception of the consumer.
The exciting part about Hong Kong is that it's transforming from a city of traditional, one-on-one trade business, to a global platform where you find people of different nationalities working together and bouncing ideas, starting a company to take it global. Some 30 per cent of the start-uppers are non-Chinese, and that's a huge number if you think of the population. It's also exciting because the biggest single consumer market – two-thirds of the world's population – is within five hours' flight to Hong Kong. If you want to have a customer base, there is no other place you need to be.

Apart from location, what does Hong Kong offer start-ups?
Well, look what it's done for me! But you have to plug away. When I started, I had no rich daddy – as many of the Hong Kong entrepreneurs did at the time – and I felt excluded. I went to the top business school in Italy, but it wasn't the same. I wanted to show that I was a survivor and could make it here.

I was extremely "hungry" – I'm still hungry. My disruptive idea, which also satisfies a social need, was to have good accounting at a decent price. I wanted to give companies the same services they would get at the Big Four [accounting networks], at one-fifth or even one-tenth of the price. You've got to cut your ego and take a more affordable office outside Central. By working, and delivering, we convinced clients there is no need for a fancy office as long as you can deliver.

There are many supports for start-ups in Hong Kong, such as incubation programmes, networking opportunities, and structures such as InvestHK, and you need to make use of them. As for investment funding, there is so much dry powder in the pockets of family offices and venture capitalists in Hong Kong, that we haven't even scratched the surface yet. I can see that the money is there, and the eco-system is evolving. And because of the market size of the region, you are in an ideal place.
What are the key stumbling blocks in launching a start-up?
There are about 1,700 start-ups in Hong Kong right now; 40 co-working spaces; 4,000 work stations; and almost 4,000 people employed by start-ups, including founders. Three years ago, this number was divided by 10.

Nevertheless, only one in 10 will succeed big-time. The rest will either fail, or flood out, meaning that they will be a medium-renumerated business. Running out of cash is the number one reason. Start-ups that are bootstrapped – or self-financing in the beginning – are less likely to fail due to absence of cash. The founders are more used to the concept of using money wisely, whereas the start-ups on steroids of cash don't have risk aversion whatsoever. The second main reason for failure is that their business model cannot get validated – in other words, people are not interested.

What advice do you have on overcoming these challenges?
Make sure you have a durable competitive advantage, one that can be there in the future. Think of Heinz ketchup. If you start using Heinz ketchup, you don't want to use anything else. I use Spotify [for music downloads]. If Apple offered me music for free, I still wouldn't change. A good start-up has a barrier to entry for others. This might be either through investment in expensive technology, like e-commerce platforms, or you can bombard people with marketing, to penetrate the market as fast as you can to gain first-mover advantage, as Airbnb did.

How do you create barriers to entry? With money. If you want to be one of the 10, you need to have big money from day one. Forget about going to the bank for seed funding – banks are risk averse, and they won't be interested. Be self-funding, through your own savings, from friends and family, or angel investors.
"Don't have a Plan B. If you have a Plan B, you are subconsciously admitting that your Plan A may not work."
How do you effectively pitch to an angel investor?
This is my favourite question. If the pitch is for seed finance – so an idea, a prototype; it's not making any money yet – you need to convince them that the theme is ethically good.

Show them your work ethic: you are willing to do anything to succeed. You would die for the business idea you have. You want to validate it and top it out – that is the only thing you want to do in your life. I will invest with those kinds of people because I'm one of them myself. Be obsessive, because obsession is correlated to success.

You'll also need to show them when this idea will be money-generating. The most convinced guy in the world will not put a dime into it if he has no clue when he's going to make money.

The second round of financing is for financial gain: I want to know growth, traction and how sustainable the business is.

And what would be your overall advice for start-ups?
Don't have a Plan B. If you have a Plan B, you are subconsciously admitting that your Plan A may not work. As an investor, I don't want to hear people with Plan B.

Secondly, take care of your burn rate – the speed at which you burn cash. You have limited start-up resources, and you need to use them as best as you can. Don't waste money on fancy things; use it to grow the business. You will have time for champagne10 years from now, not now. Now is the time to eat sandwiches from 7-Eleven – as I still do, actually.
Related Link
People & Projects Ltd (P&P)