28 Sept 2016
Franchise Model Ripe for Export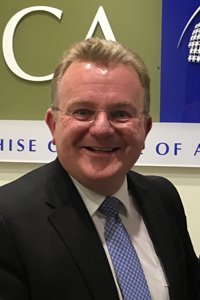 During his time as the Australian Government Minister for Small Business, Bruce Billson saw first-hand the depth of opportunity for SMEs and entrepreneurs beyond their nation's shores. Now in the private sector, he is Executive Chair of the Franchise Council of Australia and CEO of HubHello, part of the disruptor start-up Judo Capital, providing SMEs with better access to finance. He also leads Agile Advisory, a strategic advisory business, which supports SME growth.
Speaking ahead of two major trade events – the National Franchise Convention 2016 being held in Australia in October, and the Hong Kong International Franchising Show in December – Mr Billson explains why the franchise model is ideally suited to overseas expansion.

What awaits Australian SMEs seeking regional or global outreach?
We are fortunate to have many world-class businesses that can excel in international markets offering goods and services that the international community is keen for. Free trade agreements have certainly expanded opportunities for hundreds of millions of prospective new customers. Australian small-business men and women have proven to be agile and customer responsive, and are well-placed to take advantage of these new markets.

What are some of the markets that stand out?
The North Asian markets are particularly tantalising – China, Korea and Japan are areas where Australian businesses have been valued by consumers and other businesses in the past, and that opportunity is even more enhanced now through the free trade agreements.

Hong Kong is particularly significant in this opportunity. Many Australian SMEs have proven business models and proven customer appeal, but sometimes you need a beachhead of knowledge, support and capital to expand into those markets. Hong Kong is a very attractive launching platform for that kind of opportunity.
"Many Australian SMEs have proven business models and proven customer appeal, but sometimes you need a beachhead of knowledge, support and capital to expand into those markets. Hong Kong is a very attractive launching platform for that kind of opportunity."
What can be gained from the Hong Kong platform?
We have great similarities in the commercial ambitions, and the experience of trade and investment between the two economies is long established. Hong Kong can be a very surefooted launching pad for businesses looking to push into the north Asian markets, particularly the Chinese mainland.
There are delicious mutual opportunities there that are well within reach. The people-to-people links between Australia and Hong Kong have been mutually beneficial for generations, and there is an opportunity to take that even further. With the door open for greater engagement, particularly in China, Hong Kong can bring knowledge, capital and great potential partnerships that I'm keen for Australian SMEs to explore.
Why is franchising particularly suited to SME expansion?
One of the great things about the franchise model is that the franchisor brings proven business acumen, reliable supply chains, systems and marketing horsepower to the task of creating new enterprises.
The franchisee brings their commercial experience, energy, capital and their knowledge of local market, and blends that with the insights that the franchise system can provide. It's a fantastic model for success and replication, and is something that really lends itself to exporting as well. The economy is challenging at the best of times in Australia because of costs and other demands, and the focus, efficiencies and disciplines this demands prepares an exporting franchise system well for success in north Asia in particular, where there is a real appetite for what we do well. Franchising is a great model for carrying forward that kind of business success in Australia to an international marketplace.
What kinds of support can they tap into?
In Australia, we have a fantastic supportive infrastructure: Austrade, Efic (the Export Finance and Insurance Corporation), the Export Council of Australia and our foreign affairs officials and trade diplomats are all great allies for Australian businesses looking to export. Efic's "Export Essentials" app is a free how-to guide with practical advice and support for people looking to pursue export opportunities, and I highly commend it.
Hong Kong, of course, has a rich SME ecosystem as well. InvestHK and the HKTDC are very supportive of Australian businesses looking to invest in Hong Kong, offering a wide range of resources, advice and practical support. There's a great fraternity, too, of business men and women who have "gone before" and are very keen to share their networks, make people feel at home, and put SMEs in touch with expertise and contacts in the countries they are targeting.
Are there particular business sectors that are well suited to export?
There are proven models around healthy dining, such as Zambrero, a Mexican quick-serve restaurant franchise and humanitarian enterprise. The food and beverage marketplace brings great quality food, healthy and clean credentials and sophistication from Australia, and a number of franchising models have taken those strengths and transformed them into highly successful and authentic dining opportunities.
In the professional services area, expertise around business systems and advice, design, accounting and human resource management is proving to be very successful as well, as are personal services. The standards that are applied in Australia are well-regarded overseas and we've got a great franchise model in which local practitioners can develop first-class services for international market places.
Our business success stories are the pathfinders for those successful businesses to come. They have shown how to succeed, and the lessons that they can share with others new to export opportunities are crucial; not only to build people's confidence that they, too can be successful, but also to make sure that the competence and the capacity is built to emulate the success that others have achieved.
Export is not easy; there are challenges. It needs to be embedded in your business strategy; you need to stay at it; build the networks; understand the markets; and refine what you're offering. Success is within reach, but it's not gifted to you – it's something that needs to be worked at.
Related Links
Franchise Council of Australia