29 Sept 2016
Early Learning Goes Digital
The Chinese mainland preschool education sector is tipped to be on the verge of explosive growth, which exhibitors at this year's International Kid's Education Expo, held in Guangzhou in June, were keen to tap. The Internet+ kindergarten model was particularly popular, with a significant number of exhibitors focusing on enhancing connected learning for the very young.

According to research by the mainland consulting group, Zhiyan, the number of children aged six or under is set to reach 144 million by 2020. This will be due to the combined impact of the mainland's four-year baby boom in the late 1980s, and the recent implementation of the two-child policy. As a direct consequence, the total value of the preschool education market is expected to reach Rmb373.2 billion, representing a compound annual growth rate of 21.36 per cent, as well as a 2.2-fold increase over 2014. Currently, kindergartens form the core of the preschool education industry, with overall enrollment rates rising steadily.
Internet + Kindergarten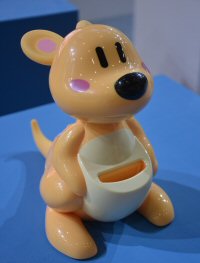 Combining Internet and classroom learning has been popular with many parents, driving companies to stake their claim in this hugely lucrative sector. Among them is Guangdong SunVision Education and Science Technology, the business behind the Xiaoshuidi Classroom. Developed as a bespoke cloud platform for preschool education, the Xiaoshuidi Classroom extends across a kindergarten education information platform, a family education information platform and the Xiaoshuidi smartphone app.

The company said that the design and operation of its software allows school education to work in partnership with family-based learning, while helping children develop through Internet interactivity. Via the Xiaoshuidi app, the kindergarten principal can remotely manage the overall educational programmes and parents can track their children's progress.

Kindergarten teachers can also use their smartphone to prepare lessons via the Xiaoshuidi app, from which they can access various teaching resources.
SunVision currently focuses on thematic lessons for children in the three-to-six age bracket, frequently using animation to catch user's attention. The Xiaoshuidi Classroom system offers both integrated and hobby courses, and can be customised via a selection of teaching resources and through different system settings. Teachers can select their optimum courses from the company's database, with options including language, health, civic education, science and art.

The company has also developed a variety of course materials as teaching aids for its hobby courses. In the teaching resources section, information relating to Chinese culture and health, as well as a number of age-appropriate stories are available for teachers developing their own courses. In the My Documents section, teachers can upload their own teaching notes and materials, allowing them to create their own courses.
App-based Learning
Other companies also exhibited connected-learning products at this year's event. Among them was Guangzhou Witroad Software Technology, which promoted an app-based learning platform specifically developed for kindergartens. Its system included proprietary learning programmes dedicated to the needs of children, parents and teachers.

By contrast, the Zhangxin Baobei app – developed by Shenzhen Cloud Brought the World Technology – was more focused on kindergarten management and parent-kindergarten communication. The system aims to enhance a kindergarten's "soft power," facilitating greater interaction among teachers, parents and kindergarten principals, ensuring they stay informed on children's developmental progress.
Preschool Smart Products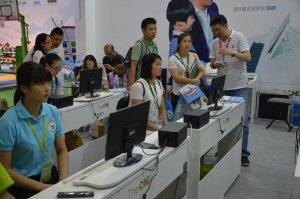 A wide variety of smart preschool education products were on show at this year's expo. The range extended to smart systems, smart mirrors and even smart pianos from Xiaoyezi (Beijing) Technology.

Billed as The One, the company's smart piano uses keyboard lights to help children learn how to master the instrument. A similar system is also available for adult learners.

According to Lin Shangyou, a Xiaoyezi Instructor, the company's smart piano teaches children to play though a series of challenges. Children can practice by following the 88 indicator lights, while learning music theory by tackling the challenges in an accompanying game. The system was reportedly a bestselling musical instrument on Alibaba in 2014 and 2015.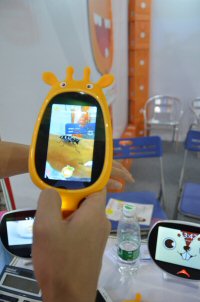 The Miraffe magic mirror, developed by Shenzhen Xiaoxi Technology, meanwhile was designed to help children identify various objects. Shaped like a cartoon giraffe, the mirror comes with a display screen and webcam at the front and a second webcam at the rear.

Explaining how the system works, Huang Jialong, Xiaoxi's Operations Manager, said: "A child can use the Miraffe to take a picture of any object. Then the 'magic' mirror can tell the child what it is, making the learning process lively and interesting."

The magic mirror comes with 100 smart cards, which can be used to generate augmented reality images.
Meanwhile, the Alilo smart story system, developed by the Shenzhen-based Booyue Lifestyle, comes with the facility for real-time dialogue. The machine uses a button-based menu to allow for the selection of storytelling, FM radio, children's songs or dialogue options. If parents are away, they can access the system via a smartphone app, enabling them to tell the story or play the music of their choice.

A companion piece, the Alilo reading pen comes with recognition cards, an emotions picture book, a map and a toy car. The reading pen is shaped like a rabbit and includes a rear sensor. When the pen touches a sensor point on the map, it lights up and reads out the relevant information. The pen also comes with scent-emitting recognition cards. A card featuring a picture of a peach, for instance, will give off a corresponding smell of the fruit.

For more China market opportunities, please visit: http://research.hktdc.com.