5 Oct 2016
Virtual Reality Scores Big at ChinaJoy
Virtual reality, e-sports tournaments and live-streaming platforms were front and centre at the July Digital Entertainment Expo & Conference in Shanghai. While massed ranks of avid computer game fans thronged the event, otherwise known as ChinaJoy, industry professionals also negotiated some US$400 million worth of business during the four-day fair.

If the attendance is any indicator, China's gaming industry is, indeed, putting on a strong performance. Long queues formed daily as soon as doors opened, with gaming fans keen to get sneak previews of up-and-coming games or purchase limited edition spin-offs. Two-hour queues just for a photo opportunity were common, while some players stood in line for up to three hours for the chance to preview the latest gameplay.

According to the China Gaming Industry Report January-June 2016, which was released at the fair, more than 489 million mainland consumers regularly played computer games in the first half of 2016, a 6.7 per cent year-on-year increase. In the same period, the mainland gaming market was valued at more than Rmb78.75 billion, a year-on-year growth of 30.1 per cent.

The mainland's gaming industry has entered a period of steady growth, while homegrown titles are also making greater inroads abroad. Additionally, e-sports tournaments and games are increasingly complementing one another, creating a host of new business opportunities. Against this backdrop, Virtual Reality (VR) games are now seen as the likely engine for growth.
Virtual Reality Set to Take Off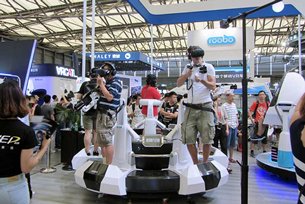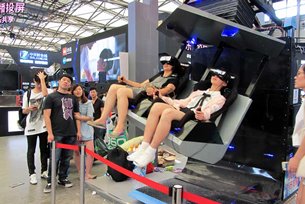 Many exhibitors at this year's ChinaJoy featured the latest developments in VR technology across the mainland. This saw many of the leading games companies using the event as a platform to launch their latest innovations in the sector, including several experiential projects and even a VR theme park. Almost every VR stand was jam-packed with players wearing headsets to roam a variety of virtual reality worlds. One would-be player awaiting his turn said: "I really want to have a go and discover what the latest technology is all about. I am very curious."

According to the China Gaming Industry Report, many games companies have accelerated their involvement in the VR games sector. This has seen many of them investing heavily in new immersive games, while also developing the required headsets and consoles.

Products offering the VR experience were available in various forms at the event. One such example was the PS VR Farpoint Aim Controller, which uses a motion-tracked light gun to allow the user to aim and walk around in virtual reality. Then there was a VR motion seat that came in the shape of a flying saucer. This can support up to four players and allows them to simultaneously experience different adventures. A little more off-the-wall was HyBuilder, a building-block game that uses a double handle and a positioning device to allow players to roam streets they have created, experiencing them by day and night.

Compared to other forms of games, VR offers a complete immersive experience. According to mainland industry experts, as new VR hardware continues to enter the market, the related games will offer a host of new development opportunities, with the sector becoming a distinct niche in its own right. With regard to the current problems with portability and performance, the authors of the China Gaming Industry Report believe that these will soon be resolved.
E-sports Tournaments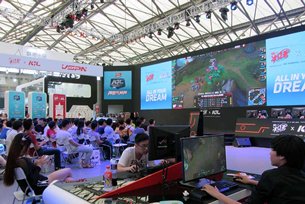 This year's ChinaJoy played host to several e-sports events. The standard equipment required for these tournaments included a huge central LED screen, flanked on either side by the computers and seats of the competing teams. Tournaments such as WCA and campus e-sports, as well as those focusing on the StarCraft and League of Legends games, attracted large crowds.
Experts say that in the last two years, companies have launched fewer traditional large-scale games and have, instead, concentrated on creating e-sports events, whose success, they say, has been largely due to access to a huge pool of global players with tournaments taking place on an international basis.

According to the China Gaming Industry Report, e-sports will develop into an important force in the gaming business due to their effectiveness in maintaining the active participation of a high number of users over an extended period.
Live Game Streaming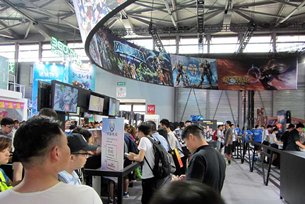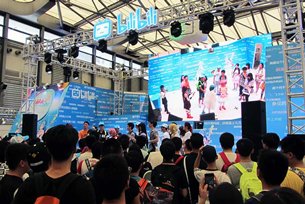 Apart from VR and e-sports tournaments, live-streaming was the other high-profile element of this year's ChinaJoy. Large and smaller companies featured live-streaming facilities.

The stand of one well-known first-person shooter game, for instance, boasted its own "bullet curtain" facility – a system that allows other users to live-stream comment and advice directly onto the screen from their smartphones. Overall, some 30,000 viewers logged on to watch the live stream of the game in real time, frequently interacting with the player and the on-screen action.

Eleven live streams were set up in the four major game zones, allowing options for single players, online gaming, e-sports and mobile gaming. On a main screen featuring the top 10 live-streams, nine were devoted to games.

Across the mainland, live-streaming of games represents a huge percentage of the output of all streaming websites. Such is their popularity that investment into the sector has surged in the last six months. The sharp rise in the number of would-be users has also contributed hugely to the growth of live-streaming. As a result, many gaming platforms now use live-streaming as a key way of attracting new players and subscribers.

For more China market opportunities, please visit: http://research.hktdc.com.