18 Nov 2016
Cab Competition Heats up
Online ride-booking services have become part of the daily commute on the Chinese mainland, with this type of non-professional taxi service becoming the top choice for many travelers. As a result, an increasing number of people have also opted to become full-time drivers for such services.

To access the service, users simply install the app on their smartphone, enter a pick-up and drop-off point, then wait for their assigned car to arrive. Fares need not be paid in cash, with the cost of the journey automatically deducted from the passenger's electronic wallet.

Given the mainland's vast size and relative shortage of public transport services, there is huge potential for price-competitive, reliable, door-to-door taxi services, with apps offering the ideal platform to match available drivers with passengers.
Taxi Challenge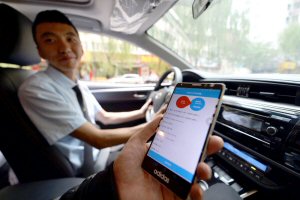 Demand for such services has been fueled by problems facing the traditional cab business in many mainland cities. Notably, the government has been reluctant to raise the number of licensed taxis and drivers. The problem has been compounded by growing dissatisfaction with conventional taxi services.

At the same time, there has been a drastic increase in the number of drivers working for online booking services, with drivers potentially earning up to Rmb10,000 (US$1,500) a month, a substantial income in mainland terms.

Apart from such issues as legality and passenger safety, the online ride-booking sector faces opposition from established car-hire operators, who have seen the new business model eat into their business. The tensions have resulted in strikes by licensed taxi drivers, protest marches and even assaults on Uber drivers.
New Regulations
To tackle these problems, the State Council, last July, published new directives, legalising the online ride-hailing service, while seeking to strike a balance between promoting upgrading of the industry and regulating the online ride-booking business.

The new policy, in the long-term, also looks to merge the two modes of business. In terms of short-term changes, private car owners now need to change their car registration to the "ride-booking service" category and obtain a hire-car permit and driver's license to take online bookings.

The policy also allows local city governments to introduce their own rules regarding the industry. The new directives are expected to lead to the general adoption of three general principles: control supply; protect the local hire-car business; and limit demand by imposing higher charges on online ride-booking services.
Uber-Didi Merger
In August, Uber China and Didi Chuxing (Didi) – the two giants of the sector – announced a US$35 billion merger. Under the deal, Uber China secured a 20 per cent stake in the merged entity, while Didi will invest US$1 billion to obtain a 1.47 per cent stake in Uber's global business. The founders of the two companies will also join each other's boards.

Of particular note is the 20 per cent stake held by Uber China, which now accounts for about 17.7 per cent of Uber's global business, with other shareholders holding a further 2.3 per cent share. While Uber has become the largest shareholder in the merged entity, it only holds 5.8 per cent of the voting rights under an agreed weighted voting rights system. Significantly, this leaves Didi in overall control. In the short-term, the two businesses will continue to operate their own ride-booking platforms.

The merger may well be in the best interest of both parties, with each having invested huge sums in the Chinese market without making a profit. Didi has effectively eliminated its major competitor by giving Uber a 20 per cent stake, while Uber has wiped out its biggest potential global competitor by ending its own bid to dominate the mainland market.

Ultimately, the deal is a win-win scenario for both sides, by allowing them to share the profits emerging from the mainland market rather than engaging in a cut-throat price war.
Post-Merger
Given that the Uber-Didi merger has created an entity with an 80 per cent share of the Chinese market, it has generally been seen as marking the end of competition in the sector. Recent statistics, however, have shown that the monthly number of Uber China active users dropped by 740,000 – nearly five per cent – in the month following the merger. Didi fared even worse, losing 2.71 million active users in a month, close to six per cent. Contrary to expectations, smaller online ride-booking operators showed growth over the same period.

A possible explanation is that both Uber China and Didi have cut or abolished driver subsidies, a consequence of liquidity pressures and their assumption of market dominance. This has seen a number of drivers quitting the two platforms, resulting in extended wait times for passengers.

Additionally, the two both raised fares in many cities, reducing their price advantage compared to conventional taxis. As a result, many passengers have started looking for cheaper alternatives or have returned to traditional means of transport.

While Didi has become the dominant player, there is still room for other contenders in the sector. Significantly, these smaller players are now looking to beat the market leader in terms of price and service.
New Entrant
The early days of mainland online ride-booking was dominated by three main players: Alibaba-backed Kuaidi Dache (Kuaidi), Tencent-backed Didi Dache and Baidu-backed Uber China.

Eventually, Kuaidi and Didi Dache merged to form Didi Chuxing, then a serious rival to Uber China. One of the smaller players – Zuche – then took advantage of a gap in market share created by the merger. It secured its own niche with a guarantee of safer and better services, which was particularly welcomed by female and business customers. It was then able to undermine the dominance of Didi, ultimately resulting in a second-generation three-way split – Didi, Uber China and Zuche.

History would seem to be repeating itself, with another three-way battle for China's online ride-booking market already underway. A new contender, Yidao Yongche (Yongche) is backed by LETV, a producer of TV programmes and films, as well as a mobile phone manufacturer and an e-commerce pioneer.

While Yongche's market share cannot compare with Didi at this stage, its inter-city carpooling, car booking and high level of passenger services are proving hugely popular with its customers. With a range of high-end services designed to keep its affluent users on-board, and backing from LETV's rich and diversified resources, its uptake is gradually growing. Inevitably, customers who have exited the combined Uber China and Didi operation have turned to Yongche.
China's online ride-booking sector now faces a new three-way battle, with Didi, Zuche and Yongche. This can be seen as a clear sign of the market's continuing potential, while illustrating the opportunities open to innovative newcomers to the sector, particularly at the higher end market.

For more China market opportunities, please visit: http://research.hktdc.com.