5 Dec 2016
Learning through Play
High-tech gadgets dominated at the recent China International Trade Fair for Toys and Preschool Educational Resources, otherwise known as the China Toy Fair. Apart from drones, 2016 also appeared to be the year augmented reality (AR) is finally ready to go mass market, a development spurred in part by a new generation of do-it-yourself smart app design technologies.

"High-tech is now ubiquitous in the mainland toy market," said Li Xu, Marketing Manager for Shanghai Le Genius, a subsidiary of the Les Enphants Group. "This is partly in response to the changing preferences of children and because parents see such toys as a means to nurture their children's technology skills."

According to one industry study, this year the Chinese mainland toy market will be worth some Rmb60 billion (US$8.9 billion). Chinese customs figures show that in the first eight months of 2016, the mainland's exports of baby and children's products, including toys, reached US$34.37 billion, a year-on-year growth of 3.84 per cent. Over the same period, the total value of the imports of baby and children's products, including toys, into the mainland amounted to US$1.37 billion, up 66.34 per cent year-on-year.

Thanks to government backing, mass entrepreneurship and innovation have become national obsessions, with state schools especially keen to nurture student creativity, which toy companies are now tapping.

"Society now expects the younger generation to have a wide range of abilities, some of which parents have little knowledge of," said Mr Li. "It is incumbent, then, for companies like ours to stay ahead of the market and help point parents in the right direction."
Nurturing Programming Skills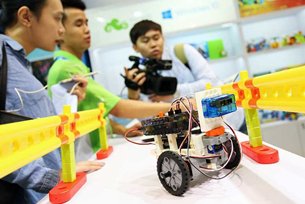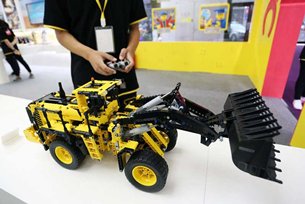 The ubiquity of the Internet and the rise of open-source hardware have seen the "maker" or DIY culture, blossom in the mainland. Many toys are incorporating DIY elements to foster the maker culture. Typically, such toys focus on spurring creativity and help children better understand technological essentials and scientific principles through play. In future, high-tech toys are expected to take an app-led approach, similar to the way that the smartphone sector has developed.

Among the early adopters is S4A (Scratch for Arduino) smart building blocks set, a remote-controlled interactive toy produced by Chongqing-based Acer Group. "The S4A software allows programming to be done by simply rearranging building blocks," said Sun Liming, a Marketing Planner with the company. "This programming is then transmitted to a control box, and then used to remotely guide a model car around a series of obstacles."

According to Mr Sun, the toy is suitable for children aged nine and above. More than 40 operational programmes can be created using the building blocks. Interacting with the toy helps children learn many of the basics related to programming, physics, mathematics and design, and according to Mr Sun, "nurtures a love of innovation in very young children."
AR Technology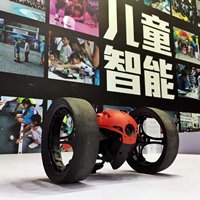 AR products were also on offer from more than 20 manufacturers, with such applications as alphabet and animal recognition, storytelling, graffiti interaction and virtual social networking. All had one element in common – the use of technology to seamlessly integrate real and virtual information, creating wholly new sensory experiences.

One of the pioneers in this sector is Yangshu Wenhua, a Shanghai-based developer of child-focused interactive smart hardware and AR education products. This year, the company promoted its Magnifier NEO system, a handheld smart device designed for children. Using its built-in AR high-definition camera, the NEO captures images from the natural world and renders them in a dynamic 3D style.

The company is now jointly developing content for the NEO in association with several children's book publishers and museums, resulting in many famous illustrations and renowned works of art coming "to life" under the NEO lens. The system's built-in interactive encyclopedia answers questions, while offering other functions, including voice and text recognition.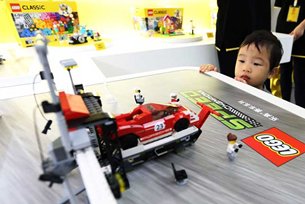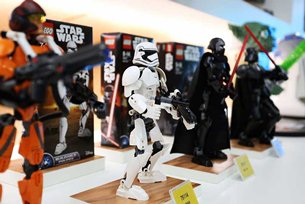 According to the California-based digital investment consultancy Digi-Capital, the AR market will eventually be worth more than US$100 billion. "Although 2016 marks only the very beginning for AR in the educational-toys sector, we expect exponential growth in the very near future," said Liang Mei, President of the China Toy and Juvenile Products Association.
Droning on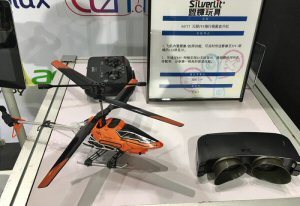 While drones are now a relatively well-established part of the toy industry, there is no shortage of innovation among manufacturers in the sector.

For instance, Hong Kong-based drone manufacturer Silverlit Toys Manufactory this year launched its SkyEye FPV, an outdoor helicopter equipped with a real-time camera. Registered as a toy, this drone requires no license and has an operational range of up to 50 metres. Lightweight and measuring only 33 centimetres long and 14 centimetres high, the helicopter's video streams feeds to a pair of first-person view goggles, allowing the operator to see everything the unit's cameras see in real-time 3D.

For more China market opportunities, please visit: http://research.hktdc.com.