7 Dec 2016
Mexican Magic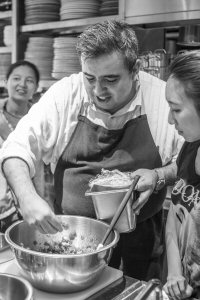 Hong Kong F&B brand ZS Hospitality Group is expanding its reach fast, recently transforming the building at 8 Lyndhurst Terrace in Central into a dining hub featuring Thai (My Tai Tai), Italian (Ee Da Le) and Mexican/Cuban (Mamasita's Cantina) eateries.

At the helm of Mamasita's kitchen is chef Edgar Navarro Vazquez, who is bringing the tastes of Mexico to the city with a menu that goes beyond typical fare like tacos to include slow-cooked suckling pig, huachinango (white fish and shrimp) ceviche and hanger steak with refried beans and corn tortillas. The Cuban-themed bar upstairs, meanwhile, offers aged rums, tequilas and mezcals, plus Cuban cigars on the terrace. Chef Edgar explains why Mexican food is hot in Hong Kong.
The restaurant is based inside a building with three other dining concepts from the same brand. How does that work?
We're marketing ourselves as a dining destination – we can refer people to our other outlets, as locals often want to start in one place for either food or cocktails then go on somewhere else, which makes good revenue for our other restaurants.

What dishes are proving popular with Hong Kongers at the moment?
Hong Kong and Mexican diners are quite similar as we both love pork, and the pork ribs are going down very well. The hanger steak is another top seller, as are the ceviche items on the menu.

Mexican food is very hot at the moment – everybody wants to try it – but many have only tasted tacos before. Before we opened, we researched existing Mexican restaurants in Hong Kong, and they mostly serve tacos. We're offering something different, like authentic mains and traditional sauces to accompany them. We import many of our ingredients from Mexico. I always tell customers we use Mexican avocados, not Australian ones as they have a different flavour from the soil.
"After a typhoon 8, I thought we'd have to cancel all the bookings, but it was one of the restaurant's best nights. There's such a big culture of eating here."
Who is your customer base?
As we're located in Central, we've hosted a lot of people from the finance industry, and we're additionally attracting many Asian-Americans who want authentic Mexican food. The terrace has also proved very popular – we've hosted two private parties there, one for Deutsche Bank, and another for UBS since we soft-opened in October.

What makes the Hong Kong dining scene unique?
I was surprised because I've lived in many big cities, but in Hong Kong, nobody wants to eat at home. After a typhoon 8 [in October], I thought we'd have to cancel all the bookings, but it was one of the restaurant's best nights. There's such a big culture of eating here, and it's all about sharing too. Westerners will typically order one plate when they eat out, but in Hong Kong, everyone will order a lot of courses – maybe eight or nine – because they want to try as many dishes as they can and have the full experience.

How is your restaurant different from others?
It doesn't matter how busy I am, I will always go and chat to diners. I follow the food from the kitchen to the table and want to get everyone's feedback. And we plan to keep diners coming back by refreshing the menu with new items two to three times a year.

It's also about efficiency – if people make a booking on Facebook, for example, we try to secure their reservation in less than 10 minutes. I think that's particularly important in a faced-paced industry such as F&B.
Related Link
Mamasita