8 Dec 2016
Field of Dreams
With baseball's growing popularity across the Chinese mainland – both as a sporting pastime and a CV requirement for those looking to study in the United States – appropriate training facilities and coaching are increasingly in demand. In a sign of the sport's strong following, Beijing is now home to a fiercely competitive Little League; an annual tournament for junior baseball teams; while this year's Asian U12 Baseball Championships will take place in Guangdong this month.

Overall, the number of junior baseball clubs has grown significantly over the last year, with a quick Internet search identifying 40 such organisations in the Beijing area alone. Still, industry representatives believe the market has further room to grow.
A Slice of the Market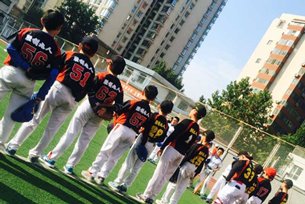 "The cake is big enough for none of us to need to worry unduly about too much competition," said Chen Xiao, the Manager of Beijing's Niupeng Baseball Club. "We currently have a steady flow of youngsters looking to sign up. Many parents want to find a sport that really appeals to their children – after all, not everyone loves football, basketball or volleyball."

The passion for this particular sport, however, is not solely parent-driven. While only recently backed by education authorities, more than 100 primary schools in the Beijing area already have baseball training facilities in place.

The rising number of Chinese students studying overseas at a young age has also driven enthusiasm for the sport. In particular, parents see baseball skills as a strong asset to secure places for their children to study in the US.

Keen to fit in with the demanding schedule of Chinese students, many professional baseball organisations now time their training sessions to coincide with academic downtime. This has led to the increasing availability of weekend, summer and winter training camps. The majority of these are organised in cooperation with local schools, which frequently offer access to their training facilities.

A more recent trend has been the introduction of overseas training camps. Typically priced at between Rmb30,000 and Rmb40,000 (US$4,400-US$5,900), apart from teaching baseball skills, such camps also offer an introduction to the sport as a cultural phenomenon, while looking to build interpersonal skills between youngsters of different nationalities.
Branding Trend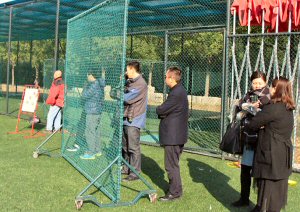 While still in its infancy, the mainland baseball industry is believed to have huge potential. The key factor will lie in nurturing interest among the young, who will form the bedrock for developing the sector among future generations. A coach with Beijing baseball club Winners Shengli stressed that the focus now should be on popularising the sport among students.

Despite the rapid growth of the number of baseball training clubs in Beijing, however, very few have emerged as trusted brands. At present, hardly any – apart from Shengli and Niupeng – have strong recognition levels among parents.

And after two years of rapid growth, the junior baseball training sector has seen uneven development, including substandard operators. The high levels of demand, however, have allowed even the less professional operators to turn a profit and attract young sign-ups. The sector is expected to start maturing over the medium term, with the better-quality operators rising to become respected brands, while the substandard ones squeezed out of the market. To achieve this, however, many issues will need to be addressed, most notably, refining business models for some operators, while improving the quality of facilities and coaching staff.

The sector this year received considerable boost from a number of targets announced by the government for 2025. They include the establishment of 200 official baseball training grounds and setting up 5,000 professional and amateur teams. Overall, it is envisaged that about five million mainlanders will have an active interest in the sport in the next nine years.

The Chinese Baseball Association is also committed to nurturing the junior training sector, including by creating affiliations for privately run baseball clubs and creating a register of approved baseball training courses, taught and organised by association members.

For more China market opportunities, please visit: http://research.hktdc.com.