14 Dec 2016
The Eyes Have it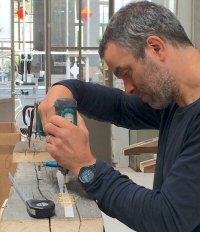 Leading Dutch designer Piet Hein Eek has made his name hand-crafting scrapwood into fine furniture, some of which are displayed in prominent museums including the MoMa in New York and Stedelijk Museum in Amsterdam. He has since branched into eyewear design. His new PHE-branded collection of titanium eyewear – a collaboration with Dutch brand More Eyewear and Hong Kong distributor Must Eyewear – was featured at last month's HKTDC Hong Kong Optical Fair.

Why specialise in scrapwood?
When I started my career in the early 1990s, scrapwood was cheap and readily available. It was a material I always preferred – I like to design from what's available. I have a much larger collection now, including some of my original scrapwood furniture, as well as metal furniture and lighting, using both recycled and new materials, in various techniques.
How did you get into product design?
In recent years, I've been approached to collaborate on a variety of products, ranging from wallpaper to clocks. I look at each opportunity and if it's a nice commission, I will take it.

What interested you about eyewear?
Jaap Bloemer, the son of one of my early clients, who founded More Eyewear, wanted to work with a new designer. He asked me, and I thought I could do something that hadn't been done before.

What was that?
Using logic, I redefined the concept of an eyewear frame and brought it back into three original lines: one solid line for the top front, one for the lower front, and one for the temple. Each thin strip of lightweight titanium curves around the lenses, pinching together at the bridge and clasping the arms in between at the hinges.

The frames are light and comfortable, yet extremely robust. From the front the frame appears thin, but from the top and side views, the thickness of the titanium shows. The eyes are always visible from the side because of the iconic twist in the temple. The inclination angle is adjustable because of this twist.

What was your biggest challenge when coming up with this design?
Finding a production partner was actually the biggest challenge for this concept. After two years of consultation, a small Japanese family business accepted the challenge and made my titanium collection.

We currently produce four models of spectacles and sunglasses, distributed through local eyewear chains in Hong Kong by Must Eyewear, a company that is developing the collection and working with original and international design concepts that fit Asian faces and eyewear needs. Must Eyewear also showcases my PHE accessories with the eyewear collections, enhancing the whole brand concept.

Do you have other projects in Asia?
We've been working in Japan since 2006 and currently have two projects – a basement interior for a department store in Hakodate; and a commission for a restaurant in Tokyo.

A lot of our products are sold by our European dealers to Asian countries, including Korea, Hong Kong and Singapore. My pieces are sold through selected distributors around the world, including Lane Crawford in Hong Kong. We also do a lot of architecture projects in Europe.

Is the Asian market something you would like to develop further?
The commission is the most important [consideration]. If I'm happy with the opportunity, then it's okay. I like working in Asia, and with Asians, so yes, I am interested to explore collaborations.
Related Links
More Eyewear
Must by Grafix
HKTDC Hong Kong Optical Fair
PHE
Piet Hein Eek