5 Jan 2017
Innovation Pays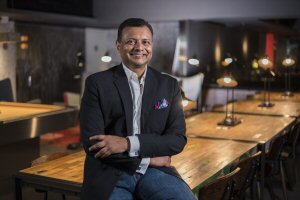 For his innovative approach to the hospitality sector, Ovolo Group CEO and founder Girish Jhunjhnuwala was awarded the 2016 EY Entrepreneur of the Year (Hong Kong and Macau). The company he established in 2002 has grown to become among Hong Kong's largest independent, owner-operator hospitality firms, with five hotels and a serviced apartment property in Hong Kong, and three Australian hotels across Sydney and Melbourne. As Mr Jhunjhnuwala explains, Ovolo has bigger plans beyond Asia-Pacific.

How would you describe your business model?
I didn't start out with a view to disrupt – I just thought about all the things I didn't like about the hospitality industry, and went about changing them. For instance, why should you have to pay [extra] for everything? I find this "nickel and dime" approach – the Wi-Fi fees, the mini-bar with sensors that notch up a charge the minute you pick up a water bottle – to be very unfriendly. We provide everything in the room for free, including Wi-Fi for multiple devices, free happy-hour, free mini-bar and self-serve laundry.

We also thought about the needs of the modern traveller – providing everything from charging points at the bedside, to Apple TVs in all rooms. We can give guests a Wi-Fi password before they arrive, and have a local SIM card delivered if they need one.
How have you changed your business strategy over the years?
Ovolo began as a serviced apartment operator, but we switched to hotels in 2008. This was primarily in response to the global financial crisis. We relied on the financial sector for our guests, and whereas those numbers looked likely to fall, inbound tourism to Hong Kong was booming. It made sense to us to cater to the shorter-stay market, since most serviced apartments in Hong Kong are restricted to a minimum of 28 days' stay. Hong Kong regulations were also tightening so that serviced apartments had to be located in residential buildings – so the time was right for us to shift gears along with the changing market.

What role has innovation played in your business success?
It's been crucial. We understand what our guests are looking for, and we are able to make those changes quickly. We continuously innovate to make guests feel more comfortable and provide the right tools to help today's travellers. For example, people love the music we play in our hotels. We got so many requests for the playlist that we created our own radio station called, radiovolo, which everyone can download and take with them wherever they go.

Responding to guest needs is something a lot of hotel brands talk about, but innovation is something you can't stop. And it's working; people like it. Our guest feedback, which is incredible, is the biggest testament that we are getting it right.

How has operating from Hong Kong played a role in your business success?
I was born and bred in Hong Kong. The city has an entrepreneurial spirit, which I love. The speed and vibrancy that Hong Kong offers is still the best, unmatched anywhere. The greatest advantage is its level playing field. You can do all the things you want to do in Hong Kong; there is no glass ceiling. If I can succeed, coming from a minority cultural background, then anyone can. The sky's the limit.

What are your future business plans?
Ovolo is just at the beginning of its growth. I often tell my people we are still a start-up, as the energy and vibrancy in our office is so exciting. We want to grow more in Australia – there are so many cities there – and from Australia, we want to target Europe and possibly North America. We hope to open at least another four or five hotels in Australia over the next two years, and concurrently we will start looking into Europe.

How do you respond to the disruption occurring in the hospitality sector?
It's true that there are many more boutique hotels in the market now, but if the competition follows what we are doing we are only happy about that. It means that what we started out to do really has improved the guest experience. We continuously look at what else we can do, and one thing you can't copy is the culture. That's something we have greatly absorbed into our hotels and our people, and that cannot be replicated easily.

As for Airbnb, I think it's a fantastic business model. People have been offering their homes for vacation rentals for many years – what Airbnb did was channel it into one data base. It's not going to diminish the hotel's value. It allows people to travel more easily.

If somebody wants to stay for two weeks, a hotel might not be the right place, and serviced apartments have their limitations. People who come to Airbnb are not going to disrupt our industry – it gives people more choice, and that's a boon for everyone.

Related Links
EY Entrepreneur Of The Year
Ovolo