26 Jan 2017
Cashing in on China's Ski Boom
With the 2022 Beijing-Zhangjiakou Olympic and Paralympic Winter Games just five years away, skiing – a highlight of the Winter Games – has enjoyed a surge in popularity across the Chinese mainland. Apart from growing public interest, the sport has been nurtured by investment in new facilities and training, and by government support.

Last November, China's General Administration of Sport, alongside several other ministries, issued the Ice and Snow Sports Development Plan (2016-2025) and the National Winter Sports Facilities Construction Plan (2016-2022). Under these initiatives, the government anticipates that the mainland ski industry will be worth some Rmb600 billion by 2020, rising to Rmb1,000 billion by 2025.

These forecasts are based on several trends identified through recent official statistics. According to the August 2016 Annual Report on the Development of the Ski Industry in China, for instance, there were 568 ski resorts operating across the mainland by the end of 2015, representing a 23 per cent increase from 2014. By 2022, it is estimated that as many as 1,000 ski sites will be operational.
Exponential Growth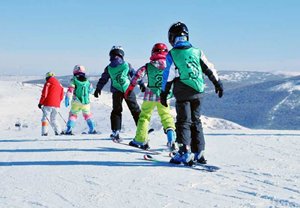 According to industry representatives, the surge of interest in skiing interest began three years ago. "For the 2014/15 season, just 30 people enrolled in our winter camps. For 2015/16, though, we had more than 300 applicants," said Shang Li, Marketing Director of the Magic Ski School, which introduced a US-style ski-school system to China. "This year, we already have had 600 applicants and we hope the final number will be around 800. At present, the total value of our advance online and offline sales is already more than Rmb4 million."

Similar growth has also been reported by Zhang Chen, co-founder of Everkid, a specialist provider of outdoor activities for children. "When we launched the company in 2011, very few parents were keen on their children taking ski lessons," he said. "For the 2015/16 winter season, though, more than 200 have already signed up for ski classes. We expect the final figure to be in excess of 500."
Geographically, the development of the mainland's ski industry has followed the national strategy of nurturing expansion in the south and west. One company that has followed this pattern is Beijing-based Tus Qiaobo.

The company plans to build 12 to 15 indoor ski domes over the next three years. Construction work is already underway at four sites – Ma'anshan, Chongqing, Xuzhou and Nanning. Other companies in the sector are understood to have plans to develop similar facilities.
Development Challenges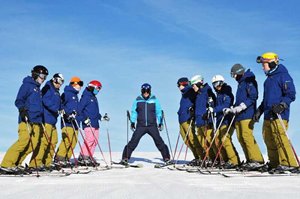 The rapid expansion of the mainland ski industry, however, has also highlighted problems, many of which the sector has yet to address. Most notably is the lack of official industry-approved quality standard and a shortage of properly trained staff and support facilities.

Typically, most mainland ski instructors are local residents, employed on a part-time basis and lacking any official qualification. This problem has been further compounded by a similar shortage of experienced managers and technical operators. With qualified staff in demand, many managers flit from one company to another, while professional snowmaking technicians and snow-plow drivers are almost impossible to find.

The seasonal nature of the industry and its geographical constraint have also hampered development. As most ski resorts only open for about three months annually, this means operating costs cannot be spread across the whole year, driving many mainland skiers to travel abroad instead. Cost-wise, visitors have to pay thousands of renminbi to cover ski passes, instructors' fees and board and lodging. Crucially, without spending significantly more, enthusiasts could enjoy a skiing holiday in Japan or Korea.
Industry Reshuffle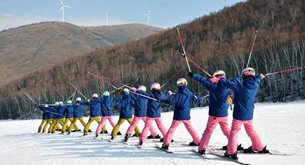 Another problem is the mainland business model. While such sites in Europe are largely operated on a local community basis and the US ski industry is dominated by a small number of large companies, in China the owner-operator model is most common. Another feature is the preponderance of privately-run ski resorts, which are not run strictly on a commercial basis.

Given the necessity of operating across a large area of land, the ski industry has also been seen by some as a real-estate proposition. A prime example here is the Mylin Valley Ski Resort, a development owned and operated by the Mylin Holding Group. Mylin's core business is real estate and it is already looking for buyers for a number of its ski properties.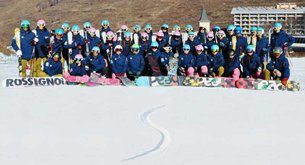 The industry has also caught the attention of other real-estate developers, including Vanke and Wanda. This year, the Vanke Lake Songhua Resort announced the launch of a joint venture snow industry investment consultancy in association with Jilin's Beidahu Ski Resort. This new company, Wanshan, is said to be the largest mainland ski resort operation and management company.

The huge injections of capital could trigger market consolidation, resulting in a smaller number of larger, well-regulated companies dominating the sector. In light of such a sea change, smaller operators are expected to focus on the more bespoke niche sectors in order to survive.

It is also expected that the inflow of private capital will help bridge the existing gaps in China's ski-industry chain. "Skiing is a high-tech sport," said Mr Zhang. "At present, most of the ski equipment used across the mainland – including skiing accessories, ski wear and snowboards – are produced overseas. As the ski industry continues to expand, however, there will be immense business opportunities for domestic manufacturers."

Another factor is the growing popularity of digital accessories and virtual training programmes. Virtual-reality technology is expected to allow for safe ski training away from the slopes. At the same time, GPS monitoring systems are boosting on-site safety.

In addition, several dedicated skiing O2O platforms have also been developed. At the forefront is GOSKI, a smartphone app that allows users to buy ski passes, watch ski instruction videos and form individual ski groups.

For more China market opportunities, please visit: http://research.hktdc.com.