7 Feb 2017
Styling Thailand
The second-largest economy in the 10-nation ASEAN community, Thailand also has the highest number of outside-ASEAN tourists, making it a solid international showcase for products and services from Hong Kong.

In Style • Hong Kong, the largest-ever promotion of Hong Kong services and products in Thailand, was staged in Bangkok by the Hong Kong Trade Development Council (HKTDC) last October. The promotion attracted tens of thousands of people to a series of events, including a month-long citywide promotion highlighting Hong Kong lifestyle theme. The centrepiece of the citywide campaign was the Hong Kong Galleria at the city's landmark Siam Paragon shopping mall, which drew over 58,000 visits.

Following the In Style • Hong Kong promotion, two Hong Kong consumer brands, Kilovest and HyOne, were picked up by local concept store Be Trend, and later expanded to a presence within the Bangkok department store Siam Discovery. Hong Kong company Sherpa Ltd had a similar experience selling at another concept store, The Selected, and has since expanded to Loft.
Own Brands Shine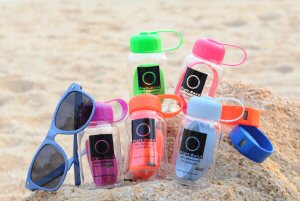 Sam Yeung is Managing Director at Kilovest (HK) Ltd, a company founded with his wife in 1992. "We began by selling watches, but by 2005, we had developed our own brand – the innovative SiliBAG, made from eco-friendly silicon – and expanded to lifestyle goods," he said.

In addition to watches, the company has branched into selling a range of travel-related goods – wallets, belts, passport cases – under five original brands, all designed in Hong Kong, and made in the Chinese mainland.

The company's core export markets for years had been Europe, Japan, Korea and Taiwan, but Southeast Asia has become a strong market for the company.

"The HKTDC's In Style • Hong Kong was an opportunity to expose our product in a high-fashion shopping mall in Bangkok," Mr Yeung said. "We achieved good sales from that, and business has grown as a result – from one point of sale, we now have two more shops displaying our goods."

The company's most successful product to date, the SiliBAG tote, features a fun, cheerful original design, which Mr Yeung says "accentuates an easy-going, carefree approach to life." The bag, which is made from waterproof silicone material, comes in a riot of colours. Launched in the HKTDC's Design Gallery, the SiliBAG was selected by the Van Gogh Museum shop in Amsterdam in 2014.
Zeroing in on Potential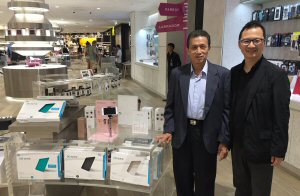 David Lo, Managing Director of the HYone brand of premium gifts, mobile accessories, gadgets and consumer gear, has long wanted to crack the Thai market, which Mr Lo said offers vast potential.

"Thailand has a population of over 66 million, and is a developing country with strong and growing tourism," he said. As HYone produces high-quality, mid-priced merchandise, tourists represent one of its target customer bases. Among the countries in HYone's global distribution network, "Thailand is the one of our most interesting Far East Asian markets," said Mr Lo.
At In Style • Hong Kong in Bangkok, the HKTDC arranged business-matching meetings and a dinner to help participating Hong Kong traders make connections with local buyers.

"This direct contact was very efficient, and a good opportunity for entry to the Thai market," said Mr Lo. "From there, we found an agent and started selling our products in the top three shopping malls in Bangkok."

The small selection originally stocked was well-received by Bangkok shoppers, who appreciated the original designs. Retailers later asked to stock a full range of HYone products in an individual display stand with a view to long-term cooperation.

"We also found a local agent to develop our network in Bangkok in 2017," said Mr Lo, who aims to achieve 50 to 100 per cent growth in both sales and network coverage for the brand this year.
Sowing Seeds of Growth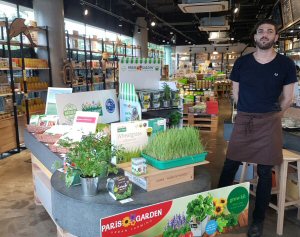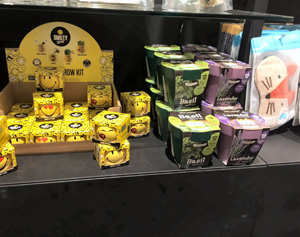 Sherpa Ltd used In Style • Hong Kong in Bangkok to introduce its Paris Garden, a brand of mini-urban farming kits it launched in 2000. Lucas Bessodes, Business Development Manager, said the kits come with Australian-grown seeds guaranteed for both purity and germination, and with soil imported from the Netherlands. "We aim to develop our brand in Asia first and Thailand is one of ASEAN's unmissable developing countries," he said.
The HKTDC has provided key support in the company's efforts to penetrate the Thai market, Mr Bessodes said. "The HKTDC helped us display our products in two lifestyle stores (The Selected and Be Trend) they had a partnership with. Buyers responded well and we managed to find a wholesaler able to store our products in Bangkok and dispatch them to several retailers." The initial feedback at In Style bodes well for Thailand's potential, said Mr Bessodes. "We are happy about the start."
Related Links
Kilovest
In Style • Hong Kong
Paris Garden