23 Feb 2017
Collaborative Technology: Trade's New Trend
Bankers' projections, e-commerce players' experiences and trade developments signal growing use of the latest online software and techniques to trade successfully. That's according to speakers at a 13 January seminar, organised by the Hong Kong Trade Development Council (HKTDC) and HSBC entitled, "Trade in the Digital Age."

Digital technology and e-commerce are poised to re-define the way businesses operate, reshaping traditional business models, said HSBC's Rachel Wei, Head of Global Trade and Receivables Finance for Hong Kong and Macau, speaking in the seminar's panel discussion on trade digitisation. "Internet and mobile platforms could help business explore new markets and opportunities, while international trade is increasingly changing from physical to digital, particularly crucial in documentation."

Ms Wei pointed out that the method of doing business hardly changed for generations, relying on traditional methods of payment using paper, like letters of credit, cheques and telegraphic transfers.
Business Gap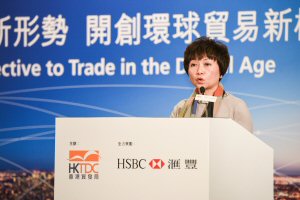 Indeed, a recent market study by HSBC revealed that while people were very familiar with personal online use via computers and mobile devices, the trend has not necessarily translated into the business sector in Hong Kong, mainly due to expertise and cost factors. "But the majority of Hong Kong businesses know that technology can bring significant advantages such as improving efficiency and driving business development," she said.

Ms Wei noted that many buyers in the United States and Europe have already adopted a digital supply-chain model. While letters of credit is a laborious process, customised products – such as in the garment industry – and services are growing in market popularity, with last-minute changes, speed and efficiency critical in supply chain management.
Streamlining Trade Services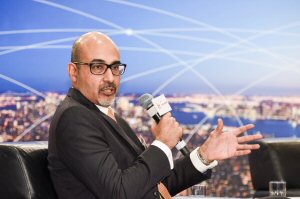 "HSBC has been exploring digital usage like applying blockchain technology to streamline the trade service process. For example, letters of credit can be done securely through a straight-through automated platform, increasing efficiency and reducing paper work and human error."

Blockchain or Distributed Ledger Technology (DLT) combines several technologies to create a distributed, consensus-driven database combining key technical features.

"DLT relies not on a single centralised record but rather a shared ledger, visible to every participant," said Bhriguraj Singh, HSBC's Head of Documentary Trade Product Management, Global Trade and Receivables Finance. DLT also involves the use of public key cryptology, making the content both public and secure, while the process by which data is added to DLTs prevents tampering or amendment. The consensus mechanism also means that DLT data are trusted and mutually agreed on the record, said Mr Singh.

DLT provides a tamper-proof, single version of the truth visible to all while remaining secure against infrastructure failure, cyber attack and data corruption.
Blockchain Prototype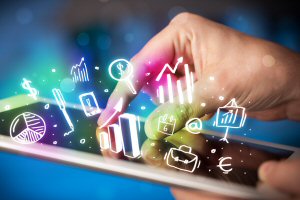 HSBC has developed a prototype solution built on DLT technology for trade finance. "The proof of concept we worked on demonstrated that letters of credit could be on a distributed ledger. We used a four-corner model involving a buyer, a seller and respective banks to replicate the flow of a letter of credit transaction from application to issuance and all the way to presentation, acceptance and finally, settlement. At each stage we were able to show the relevant party could post data onto the DLT securely under a smart contract," said Mr Singh.

"We believe DLT has the potential to fundamentally transform trade finance, enhancing bank services in this area of finance, risk mitigation and settlement. You don't necessarily need blockchain specifically, but this technology delivers a central point of control, data visibility and improves transparency, three factors that, in tandem, deliver real benefits, while banks also have the advantages of automation and straight through processing, cost savings, fraud reduction and operational errors as well as better compliance." But Mr Singh noted that DLT needs more work on issues ranging from cyber security to standards, protocols and design to become a commercial reality.

Ms Wei added that banks cannot develop DLT alone. All stakeholders in the supply chain, she said, need to be ready to collaborate. As an international trade hub, Hong Kong would significantly benefit with its large volume of trade transactions, she noted. Blockchain technology could bring efficiency and speed while increasing users' competitiveness. Hong Kong could particularly benefit under China's Belt and Road Initiative as trade flows accelerate between Belt and Road countries.
"We believe DLT has the potential to fundamentally transform trade finance, enhancing bank services in this area of finance, risk mitigation and settlement."



Digital Opportunities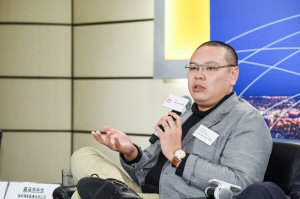 In another panel discussion moderated by HKTDC Economist Wenda Ma under the title "e-Commerce Means Business," speakers described digital opportunities for trade on the Chinese mainland. Jacky Chung, HKTDC Regional Director for Eastern and Central China, presented an overview of e-commerce trends, underlining the exponential growth of e-commerce transactions (particularly via mobile devices), including, "the Rmb120 billion revenues taken by Alibaba's TMall GMV on 11 November (Double 11 Singles' Day) last year within 24 hours, a 32 per cent increase year-on-year."

Chois Choi, Strategic Consultant for Source Network Media Group, said Hong Kong companies should familiarise themselves with the mainland's e-commerce market by first learning about WeChat, a popular SME platform, to build their own networks of consumers. But he said that they should not ignore offline channels, as mainland consumers also react to peer endorsement and read reviews. The best approach, he said, is an O2O strategy, backed by actual events to encourage loyalty and referrals, with an initial focus on southern China, where cultural perceptions are closer to those in Hong Kong.

One company that has moved up the value chain to embrace the mainland's e-commerce opportunities is Freedom Industrial Corporation Ltd. The OEM manufacturer bought the Australian online fashion-forward designer clothing brand, Sudo, aimed at kids aged from two to 14.

There's considerable potential beyond the Australian and New Zealand markets – and particularly in Greater China," said Michael Hui, Managing Director. "The brand is taking advantage of the HKTDC's CENTRESTAGE Asian fashion event each autumn to penetrate Asian markets, particularly through buyer connections."
Trade Outlook
Earlier in the seminar, Daniel Poon, HKTDC's Principal Economist (Global Research), forecast marginal improvement in the world trade environment in an economic and trade outlook for 2017. "China will see slower growth amid its restructuring process, although developing Asia should stay as the world's outperformer," he said.

While Hong Kong exports this year are not expected to fare better than in 2016, Mr Poon underlined the performance of the electronics sector in the past year, bolstered by the popularity of mobile devices and constituting an overwhelming 65 per cent of Hong Kong's total exports: an uplifting message for digitisation in 2017.