9 March 2017
Mobile Phone Recycling Goes Mainstream
Thanks to widespread Internet access and increased efficiency in the logistics sector, recycling mobile phones and other consumer-electronic items in the Chinese mainland has grown into a considerable market sector in its own right. It's a diverse industry, with operators that vary from small offline businesses to sizable chain companies, while their specialties can range across B2B, B2C, C2C or even a fusion of elements from all three.

Traditionally, barely legal mobile-phone recyclers operated in shady locales, most notably Shenzhen's Huaqiang North Road and Zhongguancun, home to many of Beijing's electronics markets. Now, while the sector has expanded in line with greater public interest in sustainability, the mainland's used mobile-phone recycling market is far from saturated.
Surge in Unwanted Mobile Phones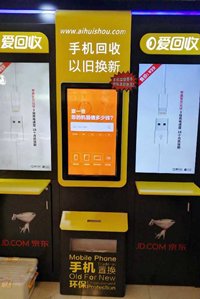 According to recently released Ministry of Industry and Information Technology figures, the number of mainland mobile phone users grew by 50.54 million in 2016, to 1.32 billion. While this shows an average penetration rate of 96.2 phones per 100 people across the mainland, in 10 provinces and cities – including Beijing, Guangdong, Shanghai and Zhejiang – there are far more than 100 phones for every 100 residents.

Figures from the National Bureau of Statistics show that 2.05 billion mobile phones were sold in 2016, with export sales over the first 11 months of the year accounting for 1.17 billion units. Although there are no official statistics relating to the number of unused handsets on the mainland, there is clearly a huge discrepancy between the per-annum unit sales and the net increase in mobile-phone users. Even taking into account export sales, it is clear that a huge number of users are upgrading their handsets, suggesting there is now a large and growing reservoir of unwanted and obsolete mobile phones on the mainland.

In line with this, figures jointly compiled by the CECC and Aihuishou ("Love Recycling"), some of the mainland's leading recycling platforms, show that individual handsets typically last between eight and 16 months before owners look to upgrade. Similar findings came in a mobile phone recycling report released by the 360 Internet Security Centre showing that, in 2014, about 50 per cent of users replaced their handsets within 18 months, while 20 per cent did so within a year.

Thanks to excessive demand for new models released by the most popular brands, mainlanders tend to replace their handsets more frequently than the global average. For instance, two days after the launch of the iPhone7, more than 25,000 phones were sent for recycling across the mainland, more than double the number of phones recycled three days earlier.
Resale Value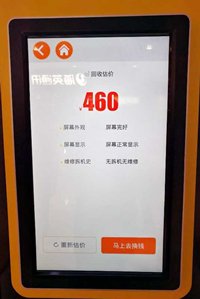 At present, Aihuishou, Huishoubao and Lehuishou are pre-eminent among the growing number of phone recycling platforms on the mainland. Users can use their services to resell mobile phones by mail, at physical recycling points or via a door-to-door collection service. The widest range of options are available in the mainland's tier-one cities, while the compensation offered has encouraged the supply of recycled handsets.

According to a recycling report by Aihuishou, the annual update of the iPhone spurs consumers to buy new models, while also stimulating the growth of a secondary market where Apple users can resell their old handsets. Although Apple offers trade-in deals to its user base, its relatively poor terms have failed to woo consumers.

With many of the official recycling channels failing to appeal and a high level of distrust towards the unlicensed sole traders, it was perhaps inevitable that a more formal, regulated and orthodox phone recycling sector has emerged, with several recycling platforms securing venture-capital support, and even a couple going public.

Turnover at the Shanghai-based Aihuishou, exceeded Rmb1.7 billion in 2016, following its successful recycling of some five million handsets. The company announced in December last year that it had secured Rmb400million worth of Series D round financing, which in turn has triggered the start of a planned IPO process. Earlier in the year, competitor Huishoubao received Series A+ round financing from SMC Capital China, one of the mainland's top 50 private-equity investment houses.
Diverse Profit Sources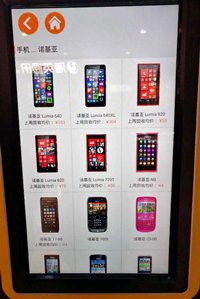 Typically, mobile phone recycling platforms work closely with handset manufacturers, e-commerce companies and the secondary trading market to collect relatively recent models – those that still retain a certain cachet for users. These are then cleaned and repaired where necessary, with all previous user data purged before being resold at hugely competitive prices.

In the case of badly damaged – but still current – models, these will be dismantled, with any intact components resold. At the very bottom of the scale, obsolete models are simply sold en masse for metal extraction.

According to Chen Xuefeng, Aihuishou's Chief Information Officer, his company's primary source of income comes from revenue-sharing with recycling bodies – including supermarkets and factories. Typically, such an arrangement yields a gross profit margin in excess of 10 per cent.

A 90 per cent-new 128GB jet black China edition iPhone7, for example, sells for about Rmb5,399 via Aihuishou, while the resale price of a branded China edition iPhone7 of the same colour and configuration – unused, but without the complete packaging – is Rmb3,865. If its case were slightly damaged, however, the price would drop to Rmb3,345.

Compared with Aihuishou, Huishoubao generally offers on average Rmb200 less for a handset. While not every business has the resources to develop into a mega-platform along the lines of Aihuishou or Huishoubao, smaller operators have the option of franchising as a way into the sector. Such an arrangement would allow SMEs to work under license with one of the existing platforms to source or distribute second-hand or unwanted new handsets.

For Aihuishou, it is specifically looking for would-be franchisees as it seeks to extend its activities into China's tier-three cities. "It would be unrealistic for us to directly operate recycling points in all China's tier-three and below cities, despite the fact that the need is there," said Zheng Fujiang, a Senior Partner in the business. "As a result, we are looking to off-line recycling channel franchisees to fill this gap. As the investment costs are not high, this could prove a lucrative opportunity for small and medium-sized businesses."

For more China market opportunities, please visit: http://research.hktdc.com.