17 March 2017
Centre for Trade Diversification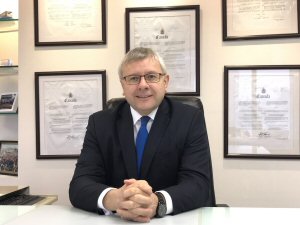 With 12 international offices supporting business activities abroad, the Canadian province of Alberta has an extensive free trade network with a growing focus on Asia, particularly China, where it attracts 70 per cent of Chinese investment in Canada.

In 2014, the Government of Alberta tasked Ron Hoffmann, a former Canadian ambassador with postings in Afghanistan and Southeast Asia, to help support and deepen Asian trade links as Alberta's Senior Representative for the Asia-Pacific Basin, from its base in Hong Kong.

Why was Hong Kong chosen as your base of operations?
Of the 12 offices Alberta has globally, nine of those offices are in Asia. That reflects the evolving markets here, our diversification drive, and the sectors that we have great potential to capitalise on. We needed a hub where I could operate and oversee those nine offices, but also to do high-level strategic engagement of governments and business to set up frameworks and key relationships in the areas of investment, trade, technology and government policy cooperation. After quite a thorough analysis, there was only one location that really met all of our needs and that was Hong Kong.
Why is there growing focus on Asia?
Alberta is one of North America's premier energy centres. We have the world's third-largest oil reserves after Saudi Arabia and Venezuela. We are also a high-tech province partly driven by our complex oil deposits and are a leading country for agriculture, forestry, education, culture, sports and tourism. In all of these areas, it's really exciting to see not just the potential, but the actual business engagement and partnerships that are emerging across Asia. With energy prices down and likely to stay much more moderate for the foreseeable future, we have a driving need to diversify our economy not just beyond energy but beyond the United States. As we look around the world in terms of where we are going to do that, the logical region is Asia.
How is Alberta responding to the threat of rising Western protectionism?
Canadians are traders. Alberta is a key trading part of Canada. We have geography that is twice the size of Germany and we have a population much smaller than Denmark. There is no way we can ever meet or grow our level of prosperity without being connected to the world. Alberta is always very supportive of any trade liberalisation instruments that bring mutual benefits and create net new opportunities. With that philosophy in mind, Alberta has been working closely with Canada as it embarks on deepening discussions with China on free trade. The TPP, I think, had tremendous potential and would have been really good for our province in a number of sectors. That clearly is not going to happen now because of [US] President Trump's decisions. But that doesn't mean that we don't have opportunities in Southeast Asia, where we can do more.

What is Hong Kong's role?
Hong Kong is a great hub for trade with or without free trade agreements. Whether it is to capitalise on potential future trade agreements or just deepening investment, trade and economic relations within the frameworks we have, like the World Trade Organization, Hong Kong is a great centre. There is so much professional expertise here underpinned by the strong rule of law that exists in Hong Kong, and the combination of those things makes Hong Kong a really important centre.

How is Hong Kong important when it comes to expanding in ASEAN markets?
When I was ambassador in Bangkok, I would remind people that there is more Canadian direct investment in ASEAN markets than in India and China combined. We have a lot of established relationships in both directions. If we look across the region, there are several markets that are individually important to us now and will grow in importance. Hong Kong is also important for that. We have an Alberta office in Singapore that manages Southeast Asia relations, but I oversee that from here and many of our partners in Hong Kong are central to our interests in Southeast Asia. I think of Hong Kong as an integral part of Southeast Asia, just as I see Hong Kong as fundamental to our interests in China.

How can Alberta, and Canada overall, tap opportunities arising from China's Belt and Road Initiative?
I think Hong Kong's political and business leaderships' decision to put emphasis on the Belt and Road is absolutely the right one; it makes a lot of sense. In terms of whether China's Belt and Road Initiative matters, I think if China's leadership thinks it's important and is putting political capital and resources behind it, then it is important. I think Canadian companies have a lot to contribute in areas where we are strong, granted in some niche areas. Our engineering firms, transport firms and our experts in resource development all have a contribution to make.

As an expat living in Hong Kong, what are your favourite aspects of the city?
My wife and I are thrilled to be here. I work crazy hours and after a long week of travel, when I get home to Hong Kong, it's just a thoroughly wonderful place to spend the small amount of free time I have. What surprised us moving here was the joyful discovery we had of its green space, its beaches, and frankly, its cool relaxed vibe when people stop working. The business and work ethic is tremendous and that is one of Hong Kong's strengths; but it also knows how to relax.
Related Link
Government of Alberta